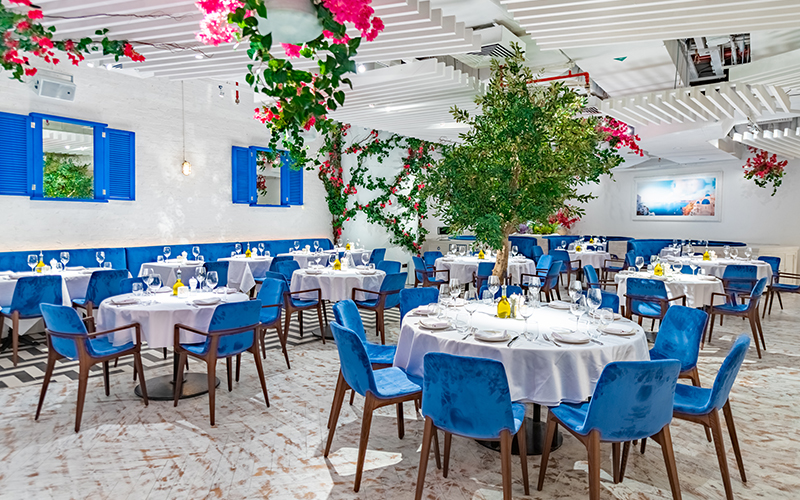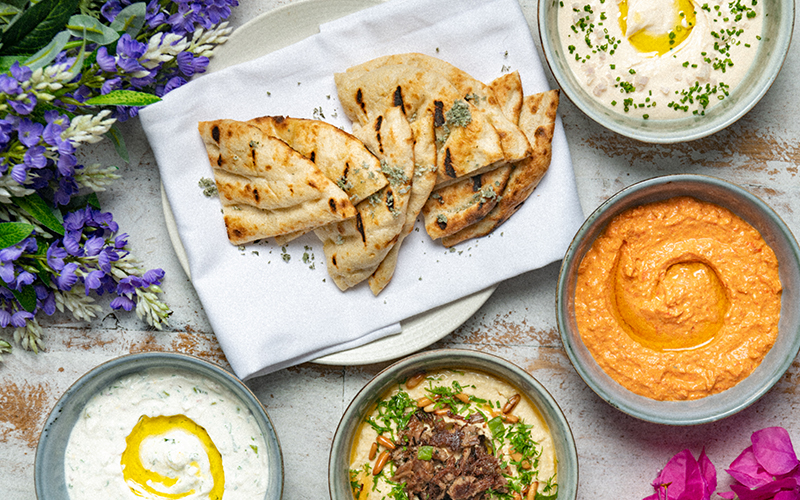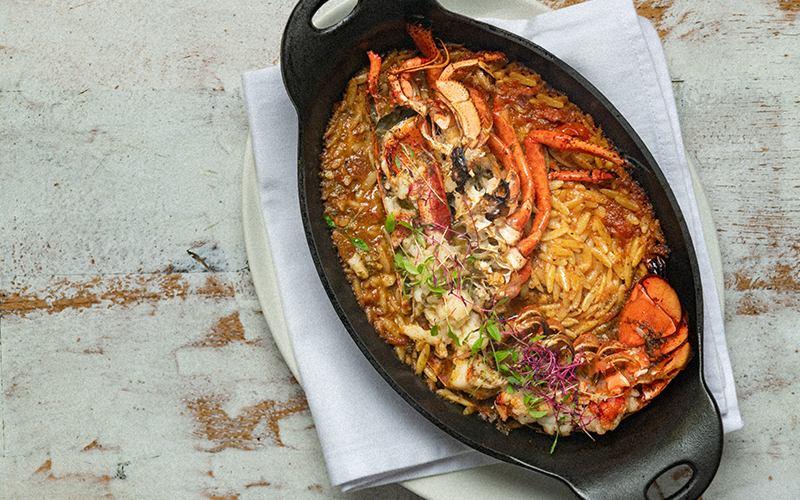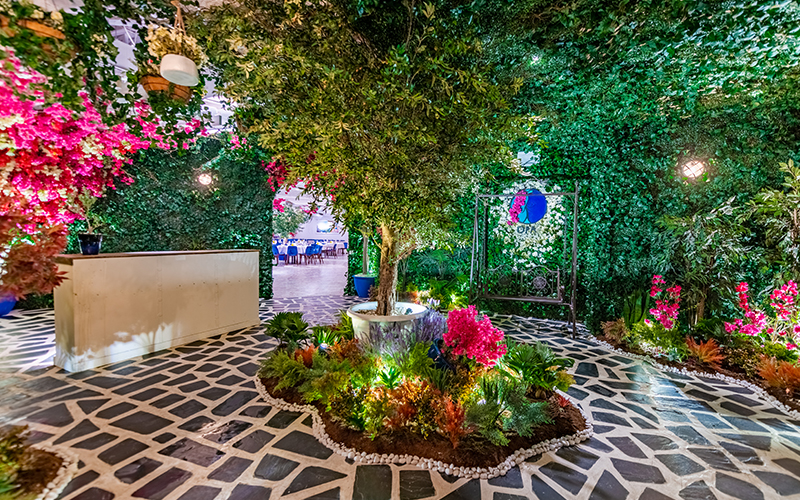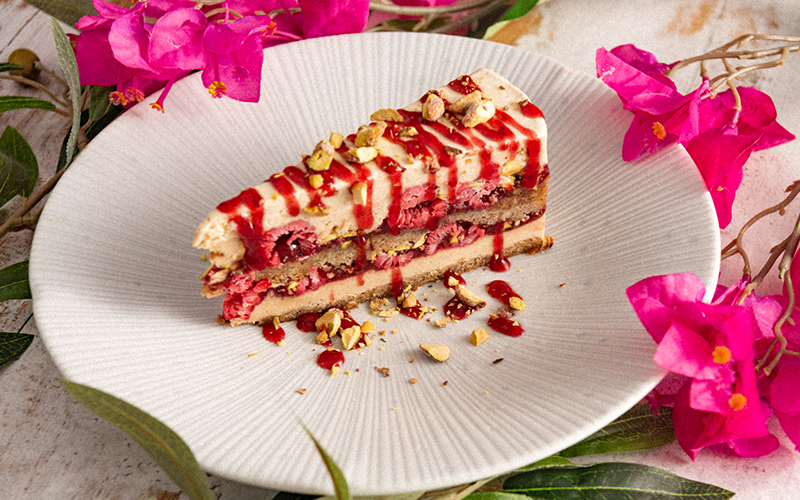 What's it like?
We enter the first-floor venue via a private lift to the side of the hotel and make our way to the restaurant through a beautiful leafy entrance hall. Dozens of bright pink bougainvillea flowers (native to Greece) add a pop of colour to the dimly lit, paved reception area, and create a stunning backdrop to snap that Instagram-worthy selfie, should you be willing to queue for a slot on the swing-seat.
We head straight to our table for two, which is seated within touching distance of our neighbouring diners and doesn't make for the most intimate of dining experiences. Nevertheless, the restaurant itself is, quite frankly, stunning – white walls with royal blue shutters, large plush seats and an olive tree situated in the centre give a real Santorini vibe to the place.
What are the food highlights?
Greek food is certainly making moves in the Dubai dining scene, with the likes of GAIA, Mythos, Ammos and, most recently, Taverna at Souk Madinat Jumeirah now all offering diners a taste of traditional Greek cuisine, right here in the UAE.
So, what differentiates Opa from the burgeoning competition its up against? Many may pinpoint this as its traditional entertainment offering that takes place on a daily basis (more on that later). But in fact, the food alone at Opa is enough of a reason to pay the restaurant a visit; it's reasonably priced, full of flavour and served in stunning surroundings – what's not to love?
We start with dips and pitta breads; the spicy feta packs a punch, while the tzatziki is light and perfect for dunking the warm pitta in. We try the beef carpaccio from the cold starters' menu, which is served with tarama (a Greek spread made from fish roe) and capers. It is topped with Myzithra cheese which I find lacks flavour, but the beef itself is tasty and tender. Don't miss the prawns saganaki from the hot starters'; meaty king prawns served in a rich, spicy tomato sauce that you'll undoubtedly be mopping up with the leftover pitta bread. We round off our starters' course with a fresh Greek salad, served with juicy tomatoes, flavoursome olives and a hearty helping of feta – delicious simplicity at its best.
For mains, we try the kleftiko and lobster orzo. The braised lamb shoulder melts in the mouth and is served with a creamy feta mash and mint jus, while the lobster is a crowd-pleaser and ideal for sharing – like many of the menu's dishes. The tenderloin also comes highly recommended from our waiter, Speeros – it's served with roasted red pepper mash and a salsa verde, sounds delicious!
Full to the brim after over-indulging on the dips and pitta (bread will forever be my downfall), we opt to share the baklava sundae for dessert. Generous scoops of caramel and Greek yoghurt ice cream arrive encased in a filo pastry basket, topped with a rich chocolate sauce, pieces of baklava and crispy filo flakes. It's a spectacular dessert in both appearance and taste, and certainly not one to miss!
Before the evening draws to a close, we're treated to a Zorba performance from the Opa waiters (and diners!), as they take to the floor and dance around the restaurant. Before long, everyone is out of their seats and armed with a complimentary plate to smash on cue, shouting "Opa!"
The bottom line:
Ideal for a group night out with friends, you'll leave Opa having had a fun-filled evening with great food and a taste of true Greek traditions. As mentioned earlier, the restaurant doesn't lend itself to a romantic night out for two, so grab your mates, book one of the booths and indulge in a selection of tasty sharing dishes – just like the Greeks would. The Zorba performance takes place at least twice a night, so you're guaranteed a glimpse of the action regardless of the time of your booking.
Details: Opa Dubai is located at Fairmont Dubai, Sheikh Zayed Road. Priced at approximately AED 250 per person for a sharing four-course meal, without beverages. For more information, visit opadubai.com or call 04 357-0557. To read more of our restaurant reviews, click here.