Nestled in a picturesque cove along the Jumeirah Beach coastline, Cove Beach welcomed my dining partner and I with a sophisticated and seductive atmosphere – definitely a place for the easy-going, trend-setter type.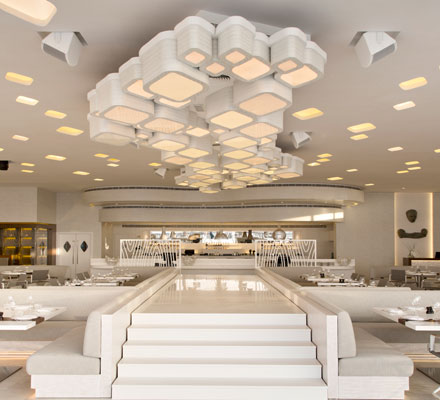 Although the restaurant and beach club serves both lunch and dinner, we visited at 7pm on a Tuesday evening (which, quite conveniently was also the outlet's '60 shades of rosé ladies' night'). The venue offers both inside and outside seating, however, due to the heat we opted to dine inside, followed by drinks on the air-conditioned, outside terrace.
Our knowledgeable waiter was more than helpful, and talked us through the menu, offering suggestions. First up, from the menu 'la cuisine de la joie' we opted to share the saute?ed baby calamari with black olives, parsley and confit cherry tomatoes, saute?ed prawns with homemade guacamole, citrus fruit mayonnaise and mesclum salad and burrata with cherry tomatoes, rocket salad topped with pesto sauce – quite the selection – the burrata has to be one of the best I've tasted in Dubai for quite some time!
For mains, we indulged in grilled jumbo prawns with lobster saffron butter, and Dover sole 'meunie?re'. Being a seafood lover myself, I was impressed by the melt-in-your-mouth sole – with such a burst of Mediterranean flavours, accompanied by chilled-out sounds of the Balearic, I felt instantly transported to the European summer shores.
To top it off, we were treated to a homemade selection of ice cream and sorbet, all individually flavoursome and unique – a perfect way to round up a light yet wonderfully satisfying meal. Enticed by beachfront views of the Burj Al Arab under the moonlit sky, we enjoyed a nightcap at the 'rosé bar' outside, where the majority of guests had just arrived for drinks and shisha.
Overall, an extremely enjoyable evening, however, I don't think this place has hit its peak yet. Come cooler weather time, I think Cove Beach will really come into its own – watch this space.
If you want to go: For three courses, around Dhs600 for two, without drinks. Call 800 2683.
Best for: A fun, relaxed get-together with friends, or date night.