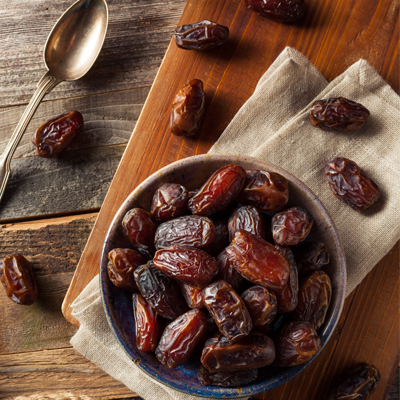 Dates are one of the oldest cultivated fruits – it's thought that they were a staple part of the Babylonian diet 8,000 years ago. Grown in North Africa and some parts of the Middle East – Saudi Arabia in particular, there are quite a few varieties. Colours range from honey yellow, red to brown, the last of which is the most common. Available fresh or dried, they're very sweet, with a rich, deep flavour and a lush, slightly chewy texture. The mahogany brown Medjool variety is the sweetest, and tastes a little like toffee.
Choosing your dates Fresh dates should be plump and moist with glossy skins. Dried dates, though a little wrinkly, shouldn't look emaciated, and should still be plump and glossy, with an even colour. They are sold whole, packaged in long narrow boxes, or pressed into blocks.
Preparing dates Dried dates are ready to use straight away – just slice off from the block or pick as many of you need from the box, but you can also soak them in a liquid like tea, to boost flavour and moisture. To remove the stone from a fresh date, just push it out with your fingers, or slit open lengthways, remove, and push the flesh closed again. To remove the skin, pull off the stem, then pinch at one end to push the flesh out.
Storing dates Fresh dates will keep in an airtight container in the fridge for around a week. Dried dates stored in an airtight container in a cool, dark place will keep for up to a year.
Health benefitsIt comes as a surprise to many, but dates are full with vitamins and minerals. Here are some health benefits that dates have:
• They contain natural sugars like sucrose, glucose and fructose, which are a great source of energy.
• Dates have lots of natural fibre, which does wonders for your digestive system. They are also low in simple carbohydrates, which can lead to obesity and diabetes.
• High in antioxidants, which means they are great for detoxing and neutralising your body.
• They help fight illness and disease. They are rich in vitamin A, which supports good vision; vitamin C, which strengthens your immune system; and B-complexes that help fight infections.
• Fresh and dried dates have the same health benefits, but the dried ones have more calories, so be aware when you're munching away.
• Packed with minerals such as potassium, which promotes a healthy nervous system, dates also have lots of iron, which is essential for blood formation. And just when you think they couldn't contain any more – they also have calcium for healthy bones and teeth, plus magnesium, which is good for your nerves, muscles and brainpower.
WHERE TO BUY DATES:
Carrefour supermarkets
Geant supermarkets
RIPE market The date stall next to Deira's fish market
Bateel outlets