Sponsored: Treat yourself and your loved ones to Yamanote's Ramadan menu brimming with a wide range of sweet and savoury treats as well as oriental beverages.
Looking for a special gift to surprise your loved ones with or planning to host an Iftar gathering in the comfort of your home? Look no further than Yamanote's latest culinary offerings featuring four delectable sharing boxes and oriental beverages, suitable for every palate. The renowned Dubai-based Japanese bakery's curated Ramadan boxes include the Labneh with black garlic bites, Falafel balls, Yamanote rose croissant minis, Kunafa croissant minis, and plenty more.
Read more about Yamanote's extensive Ramadan range here:
Pastry Box – AED125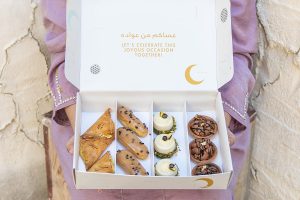 For the ones with a sweet tooth, Yamanote's new Pastry Box features a 12-piece selection of Arabian mini pastries including the Mini saffron baklava, Mini chocolate caramel tart, Mini pistachio basbousa, and the Mini Arabic coffee éclair (a soft éclair dough stuffed with Arabic coffee, cardamom cream and chocolate).
Savory Box – AED295
If you prefer savoury treats, meet the Ramadan Savory Box showcasing a range of mini savouries, from Arancini and Caprese bites to more Arabic-infused bites such as the Labneh with black garlic bites and Falafel balls. Explore an extensive assortment of both local and international bites with your choice of Creamy chicken bites, Braised beef empanadas, Caponata bites, and more.
Sweet Box – AED280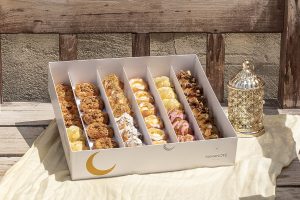 The Sweet Box offers 40 delectable mini sweets including favourite and iconic Yamanote croissants such as Rose, Kunafa, Rahash, Halwa, Pistachio raspberry, Saffron chocolate, Mix nuts, and Raspberry cheese croissants.
VIP Box – AED595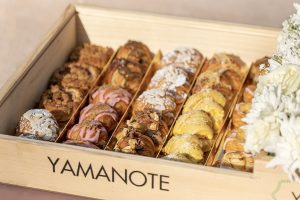 Ideal for Iftar gatherings, the VIP box presents a gorgeous selection of Yamanote's mini sweets and savouries adorned with a bed of flowers. This one's guaranteed to impress your loved ones!
Ramadan Drinks
Sweet Dates Melon (1L Bottle) – AED75
Yamanote artfully blends the refreshing taste of melon fruit, the natural sweetness of dates and dry apricots, and the richness of melon syrup and milk to create a unique and unforgettable beverage that perfectly embodies the essence of Ramadan: The Sweet Dates Melon. With a delightful flavour profile and numerous health benefits, transport to a place of serene tranquillity.
Passion Fruit Iced Tea (1L Bottle) – AED90
Passion fruit lover? Yamanote's Passion Fruit Iced Tea offers a refreshing blend of passion fruit puree, passion fruit crush, lime syrup, agave syrup, and green tea, making for a perfectly balanced and light flavour that will pair well with any Iftar meal.
Dragon Berry Iced Tea (1L Bottle) – AED75
Combine strawberry puree, agave syrup and lemon ginger for a refreshing and zesty taste that perfectly balances sweet and sour in Yamanote's Dragon Berry Iced Tea. This Ramadan drink is an excellent choice to add to your Iftar spread.
Hibiscus Tea (1L Bottle) – AED125
No Ramadan menu is complete without a refreshing Hibiscus drink and Yamanote's Hibiscus Tea stands out for its blend of Hibiscus leaves, pure water, peach syrup, freshly squeezed lemon juice, granulated syrup, and natural coconut sugar. Whether you're looking for a refreshing beverage to quench your thirst or want to add a touch of elegance to your Iftar spread, Yamanote's Hibiscus Tea is just what you're looking for.
Until April 23, 2023. Available to order from any of Yamanote's locations across Dubai. Visit website or Instagram.