From ultimate spots to celebrate special occasions to exciting new offerings to indulge in, here are the things to do in the UAE in October
Social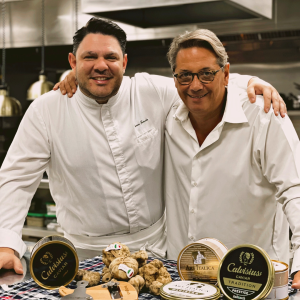 Experience an exceptional culinary journey at Waldorf Astoria Dubai Palm Jumeirah's Social, where the truffle menu is brought to life through an exclusive collaboration with Italtouch. Led by CEO Massimo Vidoni, Italtouch boasts over 20 years of expertise since its UAE inception in 2012. Specializing in sourcing the finest truffles, gourmet delicacies, caviar, truffle-infused products, Halal meats, and specialty European offerings, Italtouch's team of seasoned professionals excels in tailoring each order to meet the unique needs of their clients. Social presents a meticulously curated menu featuring exquisite dishes, including Il carciofo – a tantalizing blend of lobster, potato, calvisius caviar; Battuta di Manzo featuring hand-cut prime beef seasoned with herbs, crowned with a poached quail egg, Osceitra caviar, and truffle; Gnocchi – a symphony of red Sicilian prawns, lemon sauce, and oscietra caviar; Wagyu beef ribs complemented by cauliflower, burnt leeks, truffle thyme jus, and a grand finale of Truffle tiramisu. This exquisite event promises to be a truffle-infused extravaganza that will tantalise your taste buds and leave you craving for more.
October 27 and 28. Visit website.
Asil
Asil at Rixos Premium Dubai in Jumeirah Beach Residence is set to redefine the culinary landscape by seamlessly merging tradition and innovation, offering a tantalizing glimpse into an innovative new menu. This reopening introduces a burst of vibrant flavours with highlights such as Truffle Hummus, Tuna Marine, Short Ribs Manti, Mushrooms and Cheese Briouat, and Tunisian Brik, inviting diners to experience an unforgettable gastronomic journey in the heart of Arabesque dining.
Call +9714 520 005 or email dine@asilrestaurant.com.
LuLu
LuLu's collaboration with the renowned Disney and Warner Bros. introduces an exquisite collection that captures the essence of storytelling while upholding a commitment to top-tier product quality. By merging beloved cultural icons like Mickey Mouse, Spiderman, Bugs Bunny, and Superman with LuLu's dedication to quality and affordability, this partnership has extended across a wide range of products, from groceries and bakery items to non-food goods and health and beauty products.
Visit website.
Dave's Hot Chicken
Dave's Hot Chicken has expanded to three locations in the UAE, including its new Dubai Mall restaurant. This 48-seat restaurant on the second floor offers a view of the ice rink and a menu catered to fried chicken lovers. The menu includes classics like Dave's #1 and #2 (tenders and sliders with fries and secret sauce) and a new addition called the Hot Box, offering a choice of 10 jumbo-size sliders or tenders with varying spice levels, including the extremely hot Reaper®, made with the Carolina Reaper Pepper and requiring a waiver due to its extreme heat.
Visit website.
Khyber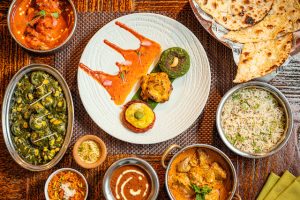 Located on the 15th floor of Dukes the Palm, A Royal Hideaway Hotel, Khyber invites guests to embark on a culinary journey through North India with their new Seasonal Set Menu. The menu showcases the diverse flavors of India, from the streets of Mumbai to the royal kitchens of Lucknow, featuring starters like Achari Murgh Tikkas and Galouti Kebabs, and main courses such as Rampuri Gosht Korma and Dal Makhani. For a sweet conclusion, guests can enjoy Gajar Ka Halwa or Matka Kulfi. With the backdrop of stunning Palm Jumeirah views, Khyber provides a unique blend of modern elegance and Mughal-era charm, boasting warm tones, terracotta archways, and intricate tapestries.
Saturday- Thursday. 5-11 pm. AED160 per person for food set menu only. AED225 per person for food set menu with soft beverages. AED335 per person for food set menu with house beverages. Call +9714 455 1101.
Indego by Vineet & Indya by Vineet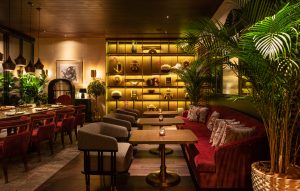 The world-renowned Indian culinary maestro, Vineet Bhatia, is scheduled to conduct exclusive masterclasses at Indya by Vineet in Le Royal Meridien Beach Resort & Spa and Indego by Vineet at Grosvenor House Dubai on October 13th and 14th. Chef Bhatia, celebrated globally as one of the most accomplished Indian culinary artists, has earned international recognition for his innovative approach to Indian cuisine.
October 13 and 14. AED175 per person (vegetarian) and AED195 per person (non-vegetarian) at Indya by Vineet. AED400 per person at Indego by Vineet. Visit website.
Tong Thai
Tong Thai extends a warm welcome to Alex Stumpf, who will be teaming up with their own Chef Ritiyos on October 13th for an exciting collaborative event. Alex Stumpf is renowned for his exceptional cooking prowess and artistic finesse, while Chef Ritiyos brings a wealth of expertise honed through rigorous training in Thailand. Together, they are poised to create an unforgettable dining experience at Tong Thai, where the rich traditions of Thai flavours harmoniously merge with contemporary culinary craftsmanship. Diners will have the opportunity to savour an exclusive five-course menu thoughtfully curated by these culinary maestros on that special evening.
October 13. AED245 per person including food. Call +9714 414 3000.
Aloft Abu Dhabi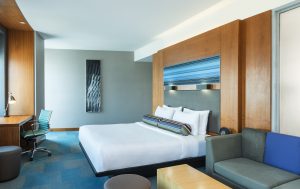 Stay at the urban-inspired four-star Aloft Abu Dhabi hotel in the heart of Abu Dhabi, offering tech-forward spaces and a vibrant social scene. This hotel is ideal for global travellers, serving as a hub for travel stays, business meetings, and events, with direct access to the Abu Dhabi National Exhibition Center (ADNEC). Conveniently located in the diplomatic district, close to the airport, and near top city attractions, Aloft Abu Dhabi offers cosy rooms with comfortable beds and connectivity options, including complimentary hotel-wide Internet access and a plug-and-play connectivity station. You can socialize with crafted drinks at the chic WXYZ Bar, grab a quick meal at the 24-hour Re:fuel by Aloft kitchen, and unwind by the outdoor splash pool near Glow, the sports bar where you can enjoy live sports and pub grub. For a unique culinary experience, visit Brick Rooftop Kitchen & Bar, Abu Dhabi's first rooftop woodfire oven restaurant, situated on the 12th rooftop level with stunning city and marina views.
Visit website.
Brick Rooftop Kitchen & Bar
Brick rooftop kitchen & bar is Abu Dhabi's first-of-its-kind, brick oven concept, it is a seasonal restaurant (open from September to May each year) offering a distinctive culinary experience at Aloft Abu Dhabi. Its rooftop garden provides a serene outdoor setting, ideal for enjoying a meal or drinks with breathtaking city and marina views. In this new season, The Brick introduces fresh twists on flavours while retaining beloved favourites, such as the Ginger chilli & lime spatchcock chicken, Cedar plank Norwegian salmon, Seafood mix grill platter, Eggplant rollatini, Roasted marinate rump of lamb, and Spicy cajun chicken wings. The menu continues to feature rustic sourdough bread, pizza, and s'mores, with the addition of a new Focaccia loaf. The vegan offerings have been expanded to include a Veggie burger and a Veggie tajine. In addition to delectable food, The Brick's mixologist has crafted a sustainable beverage program for this season.
Every Wednesday and Friday, from 7-10pm. Call +97154 994 2289 or +9712 654 5000. Visit Instagram.
Royal Spirit
Royal Spirit, a premium beverage retailer, is set to open its luxury store in Abu Dhabi on October 5, marking a unique venture in infusing affordable luxury into the beverage-buying experience. Spanning over 3,500 sq ft, the store boasts elegant interiors with a luxurious lounge-like ambience, featuring an impressive collection of over 1,000 grape labels and 700 beverage brands to cater to a diverse range of tastes and budgets.
Visit Instagram.
Torno Subito
Torno Subito is taking its culinary offerings to new heights this October. Nestled within W Dubai – The Palm and boasting a coveted Michelin Star, the restaurant is introducing fresh menus that promise to tantalize the senses. Patrons can anticipate an immersive Italian culinary experience with a meticulously crafted six-course set menu, showcasing delectable dishes such as Anguilla In Saor, Vitello Alla Pizzaiola, Modena-Dubai Ribs, and other offerings that authentically represent the vibrant flavours of Italian culture.
October 10-11. From 7-11pm. AED895 per person. Additional AED495 per person for beverage pairing. Visit website.
Lola Taberna
View this post on Instagram
To mark National Spanish Day, Lola will host a delightful evening Fiesta Brunch overflowing with tradition. For this special occasion, the iconic award-winning Paella prepared by Chef Daniel will be presented as part of the brunch package. With an ongoing flow of signature dishes and beverages, the brunch menu includes flavours from savoury to sweet, ensuring every palate is satisfied.
October 12. From 7-10pm. From AED199 per person. Call +9714 247 6688.
La Brasserie Sur Le Boulevard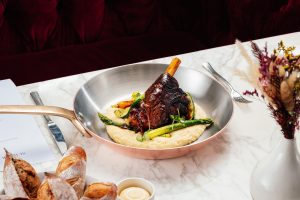 La Brasserie Sur Le Boulevard, a newly launched contemporary French concept in Dubai, offers a sophisticated dining experience that combines French cuisine with a friendly brasserie atmosphere. The restaurant serves à la carte dishes featuring fresh seasonal ingredients, with signature dishes like Le vol au vent de la mer and Le cordon bleu. The restaurant offers indoor and outdoor seating with Burj Khalifa views, French music, and weekend live entertainment. Open for breakfast, lunch, and dinner, it provides an elegant and welcoming atmosphere for both family gatherings and intimate dinners.
Call +9714 561 8888 or email dineatboulevard@addresshotels.com.
Bateel Bakery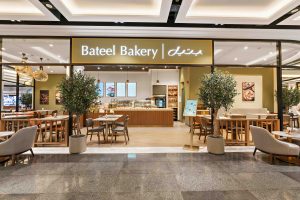 Bateel International has unveiled its second Bateel Bakery in the UAE, located at DIFC's Index Mall in Dubai, as part of its rapid expansion plan. The menu at Bateel Bakery is a testament to its commitment to elevating the 'grab-and-go' experience. Every item, from single-origin coffees to organic bread, delicate pastries, healthy salads, and satisfying sandwiches, is freshly prepared daily by the bakery's skilled team of artisan bakers, chefs, and baristas. Using the finest ingredients, breakfasts, salads, and sandwiches are customized to order, while a transparent glass countertop showcases a wide array of freshly baked savoury and sweet pastries, croissants, desserts, and whole loaves.
Visit website.
Ría Restaurant & Beach Bar
Ría, the celebrated Mediterranean dining destination nestled in the heart of Dubai's Palm Jumeirah, has reopened its doors following a brief summer hiatus. Ría provides an elegant and tranquil environment where guests can relish Mediterranean cuisine and the freshest seafood while gazing upon Dubai shores. The venue boasts a diverse menu expertly crafted by Executive Chef Carlos De Los Mozos, and a mesmerising terrace, ideal for intimate dinners or social gatherings with friends and family.
Contact +97154 398 9898.
Oche 
Dubai is set to welcome Oche, a pioneering tech-driven venue offering a fusion of gastronomy and state-of-the-art gaming. Named after the line behind which darts players stand, Oche introduces the world to "gastro-gaming," where patrons can enjoy interactive darts experiences while savouring modern European and Asian dishes alongside signature beverages.
Visit website.
Eugène Eugène
Located at the Kempinski Mall of the Emirates, this modern brasserie draws inspiration from greenhouses and market halls, offering a refreshing and inviting atmosphere. Whether it's sipping coffee, sharing a meal, enjoying afternoon tea, or finding a creative workspace, Eugène Eugène provides thoughtfully curated spaces for all occasions, including lifestyle and social events. With an expertly crafted menu, the brasserie offers a range of authentic dishes with a modern twist, using the freshest and finest ingredients, including Vanilla tomato tartare, Truffle artichoke spinach salad, and Seabream a la plancha.
Contact +971 4 379 8963.
Karma Kafé by Buddha-Bar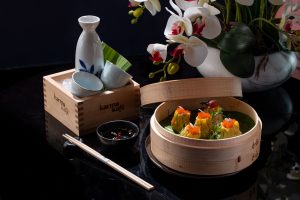 Renowned Ras Al Khaimah hotspot, Karma Kafé by Buddha-Bar, celebrated for its fusion of Pan-Asian flavors and unique dining experiences, introduces an enticing new Dim Sum menu. Drawing inspiration from Hong Kong's classic Dim Sum houses combined with the Buddha-Bar style, tuck into bite-sized Dim Sums featuring fresh ingredients and vibrant Asian flavours. Highlights include Chicken shumai with shiitake mushrooms and orange tobiko, Prawn haw gow, Beef dumplings, Crispy chicken bao, and Sweet potato dumplings.
Contact +9717 209 0099.
Bebek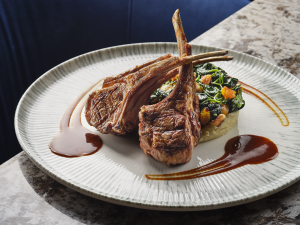 Nestled in the warm embrace of Jumeirah 3, Bebek emerges as a culinary masterpiece seamlessly blending traditional Turkish flavours with a global culinary twist. As a gateway to modern Turkish cuisine, Bebek fuses warm hospitality and immersive entertainment including live performances and rhythmic melodies, creating memorable experiences for every guest. Don't miss the business lunch featuring a monthly rotating menu curated by the chef. Menu highlights include Bebek's Signature burger, Lamb rack, Lamb skewers, 4 Fromages pizza, and Baklava.
AED150 for business lunch menu. Contact +9712 5845 984.
Soul Kitchen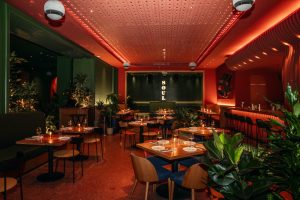 This new culinary gem Soul Kitchen pays homage to the Arab diaspora that spread to Latin America in the 19th century, where people brought their culture and culinary traditions to new lands. Relish Levantine and Latin American dishes including the locally inspired Sheri fish crudo, the Grilled calamari marinated with achiote, Lychee ceviche and mushroom kebab, the Tamarind glazed lamb chops, and the inventive Chicken shawarma empanadas.
Contact +9714 836 0900.
KashKan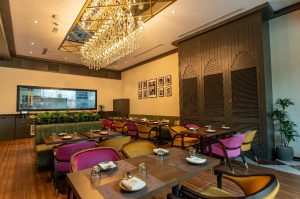 Celebrity chef Ranveer Brar has made his culinary mark in the Middle East with the opening of his first restaurant, 'KashKan,' situated on the first floor of Dubai Festival City Mall, Dubai. The name 'KashKan' is a fusion of 'Kashmir' and 'Kanyakumari,' symbolizing the vast culinary diversity of India, stretching from north to south. The restaurant promises a unique and unparalleled dining adventure, presenting a wide array of dishes from across India's regions and states. The vibrant décor showcases the richness of Indian culture, featuring five distinct private dining rooms representing different Indian states, a live kitchen in the bistro section, and a knick-knack corner offering a variety of pan-Indian snacks.
Visit Instagram.
Monno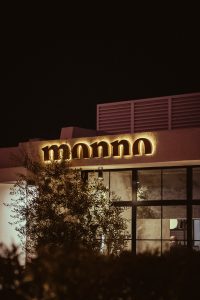 Jumeirah's Italian restaurant, Monno, introduces a new Chef's tasting menu, featuring a meticulously crafted five-course dinner, offering a selection of cherished land and sea dishes rooted in Italian culinary tradition. Diners can choose between a seafood-focused or meat-centric journey featuring Dibba Bay Oysters, slow-cooked octopus with potato cream and seaweed tapioca cracker, Spaghetti alla chitarra dressed in aromatic beurre blanc sauce and topped with Oscietra caviar, Slow-cooked Angus beef ribs with Italian coleslaw, and Ravioli al tartufo, to name a few.
AED300 per person. Contact +9714 332 2255.