From ultimate spots to celebrate special occasions to exciting new offerings to indulge in, here are the things to do in the UAE in November
Ristorante Loren
As Ristorante Loren commemorates its one-year anniversary in West Palm Beach, the Italian dining icon invites guests to celebrate with a night filled with Italian tradition and live entertainment, featuring welcome drinks, a showstopping cake, and an exquisite dining experience for special guests. Since its launch, Ristorante Loren has redefined Italian dining, offering a contemporary yet nostalgic ambience inspired by the Italian Riviera in the 1960s and 70s.
November 30. Call +9714 557 8293.
Tong Thai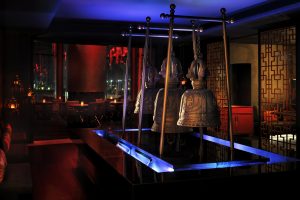 Experience the Loy Krathong Festival at JW Marriott Marquis Dubai Hotel's Tong Thai, where a special four-course set menu awaits with authentic Thai delicacies including Giew Krob Kung, Yom Som O, and Kao Lao Nua soup. Indulge in main course options such as Gaeng Keow Wan Gai and Talay Phad Ka-Prao, concluding the feast with the sweet delight of Lod Chong Ruam Mit.
November 27 and 28, from 6pm. AED225 per person including soft beverages. AED345 per person including house beverages. Call +9714 414 3000. 
CÉ LA VI
Experience the epitome of a sensational musical spectacle at CÉ LA VI during the 2023 Abu Dhabi Grand Prix Finale with the world-renowned, CLAPTONE, as he brings his enigmatic persona and fusion of deep house and melodic beats to create a thrilling clubbing experience you won't want to miss.
November 26, from 9pm. AED 300 per person, fully redeemable on beverages. Visit website.
Burj Al Arab Jumeirah
In an exciting collaborative culinary venture, Ristorante L'Olivo at Al Mahara presents a series of exclusive four-hand dinners, offering a remarkable gastronomic journey designed to captivate the senses. Led by Executive Chef Andrea Migliaccio, renowned for his two Michelin stars at L'Olivo Anacapri, and the esteemed Italian Michelin-starred Chef Nino di Costanzo from Dani Maison on the enchanting island of Ischia, the voyage stars a meticulously crafted five-course degustation menu featuring Grilled scallops with seasonal mushrooms and Ferrari spumante sauce, Blue lobster with rocket and green beans extract, Lemon tagliolini with red prawns, Seabass with chanterelle mushrooms, and a delectable traditional Babà dessert.
November 15 and 16 from 18:30 to 22:00. AED990 per person with full prepayment required, and an optional grape pairing at an additional cost of AED900 per person. The a la carte menu will not be available during dinner. Call 800 323232.
YOY
Embark on a captivating exploration of Ukrainian cuisine with an enticing pop-up dinner showcasing Galician culinary masterpieces. Guest Chef Dmytro Babak, from the esteemed Warsaw restaurant Baczewskich, will collaborate with Mykhailo Berehovyi to curate six distinctive dishes rooted in the rich history of Ukraine's western regions for this special occasion. To elevate the YOY experience, look forward to a thoughtfully curated selection of grapes and live instrumental music to complement the culinary affair.
November 26, from 6pm. AED400 per person. Call +97150 947 2626.
Akira Back
Chef's
Chef's, a new dining spot situated behind Sheikh Zayed Road, offers a delectable selection of gourmet homemade smoked meats, featuring briskets, ribs, and juicy burgers. The menu offers a variety of smoked plates, delicious burgers, smoked BBQ sandwiches, and ribs, all served with Chef's special sauces. Burger enthusiasts can opt for the Chef's Smoked Burgers made with fine Wagyu beef, brisket, or ribs, served on freshly smoked buns. Don't miss the signature brisket plate and succulent ribs plate, complete with Chef's fries, brioche toast, pickles, coleslaw, and Chef's special sauce.
Call +9714 298 8994.
Hurricane's Grill & Bar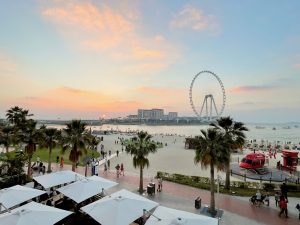 As the sun sets, Hurricane's Grill & Bar's beachfront terrace undergoes a magical transformation, embracing the enchanting essence of Dubai's winter charm. Guests are treated to breathtaking sunsets of the beach and Ain Dubai, setting the stage for a perfect evening for an intimate dinner, a family celebration, or a friendly gathering. The renowned steakhouse offers a remarkable selection of over 200 variations of its renowned steaks, ribs, burgers, seafood, lamb dishes, as well as pastas, salads, and delectable desserts. A variety of beverages including grapes, bubbly, and hops, are also available to complement your meal. For young diners, an extensive kids' menu ensures little appetites are satisfied.
Visit Instagram.
Impossible Foods
Impossible Foods is celebrating its second anniversary in the UAE with an exclusive offer in partnership with Deliveroo. From November 1st to November 7th, customers can enjoy a 20% discount on a variety of Impossible™ menu items from local franchises such as SALT, Taqado, Man'oushe Street, and more. Featured dishes include the Impossible™ Burger, Impossible™ Burrito, and Impossible™ Lahm Bil Ajine, among others.
Visit Instagram.
Jones the Grocer
Jones the Grocer's new menu offers a diverse array of dishes inspired by global flavours, encompassing classic Italian pastas, Asian-inspired creations, and a range of breakfast options, including Shakshuka, savory tartines, and fluffy pancakes. For lunch and dinner, the menu features appetizers like Crispy Calamari and Coconut Shrimps, pasta dishes like Prawn Rosé Rigatoni, and Italian-inspired Chicken Parmigiana. Salads such as Goat Cheese and fresh Fig Salad and Cauliflower and Chickpea salad provide lighter options. The dessert selection includes Chocolate Profiterole, Passion Fruit Cheesecake, and Honey Lavender Crème.
Visit Instagram.
Ladurée
The renowned French luxury Patisserie has introduced a new confection known as Eugénie, inspired by the historical figure Empress Eugénie. Eugénie delights the senses with eight iconic Ladurée flavours, such as Eugénie Chocolate, Eugénie Vanilla, Eugénie Pistachio, Eugénie Caramel, Eugénie Rose, Eugénie Orange Blossom, Eugénie Blackcurrant Violet, and Eugénie Tea Marie-Antoinette. This delectable creation is available in boxes of 6, 12, or 18, providing a delightful symphony of flavours and textures, including the crispness of gluten-free shortbread, the tenderness of a caramel centre, and the decadent crunch of a chocolate shell.
Visit Instagram.
Yuraku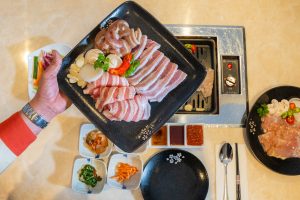 This expansive and lively eatery presents a welcoming dining experience, making it an ideal choice for both families and friends. Yuraku's concept offers a wide array of delectable Korean and Japanese dishes, live cooking stations, and fantastic deals. Don't miss Yuraku's renowned all-you-can-eat non-halal BBQ!
Call +9714 238 7777. Visit website.
BODRUM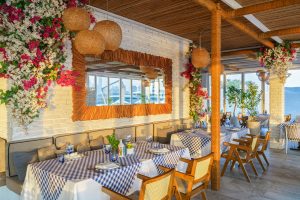 Rixos The Palm Dubai Hotel & Suites has introduced its new restaurant, BODRUM, exclusively available to in-house guests as part of its ultra-all-inclusive offerings. The menu features Mediterranean-inspired dishes such as the signature Grilled salmon with sweet potatoes and asparagus and Kingfish steak with sautéed spinach, asparagus, and baby potatoes. The restaurant transitions from casual daytime dining to an elegant nighttime fine dining experience with entertainment, including live music and cultural showcases.
Visit Instagram.
La Mar by Gastón Acurio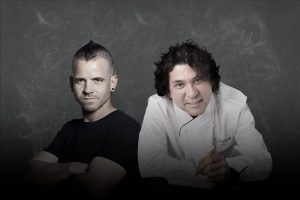 Atlantis Dubai is hosting a series of highly anticipated four-hands dinners featuring renowned chefs Gastón Acurio and Dabiz Muñoz, where guests can witness the exciting collaboration as they create a unique and innovative menu. Acurio will explore the history of cebiche and Peruvian gastronomy, while Muñoz, known for his three-Michelin-star restaurant DiverXO, will offer his unique take on Latin American flavours. The dinners will showcase dishes like black grouper, sea urchin, leche de tigre, tako octopus, wagyu striploin Nikkei, and more, promising an unforgettable gastronomic experience.
November 3 and 4. 7pm-11pm. AED990 per person. Visit website.
Aqua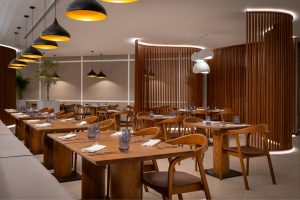 Aqua Restaurant and Bar, located in JA Ocean View Hotel at JBR, offers a diverse and innovative culinary experience. The restaurant takes guests on a journey through various culinary themes inspired by water's ability to connect cultures. Each day of the week features a different theme, with options ranging from international favourites to Mediterranean, Silk Road fusion, Arabian dishes, and a Great Royal Roast. Aqua also hosts special brunches with creative beverages, fresh seafood, Latin-American cuisine, and family-friendly options.
Email aqua_dxb@jaresorts.com.
Maiden Shanghai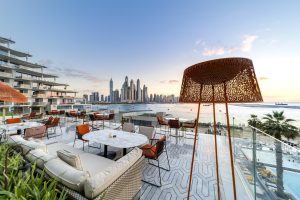 Elevate your evenings during the cooler season within Maiden Terrace at the renowned Maiden Shanghai. The vibrant and chic rooftop terrace offers breathtaking vistas of Dubai Marina and the Arabian Gulf, where guests can enjoy exquisite Chinese cuisine crafted by Chef Luo Bing. Whether you're planning an intimate dinner, a gathering with friends, or a special celebration, Maiden Terrace provides an idyllic setting for any occasion.
Contact +9714 455 9989 or email fpjd.dining@fivehotelsandresorts.com. 
Garrett Popcorn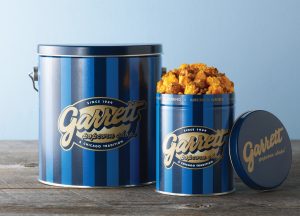 Garrett Popcorn Shops, the renowned gourmet popcorn brand from Chicago, has opened its fifth location in the UAE, situated within the Mall of the Emirates. This location on level 1, just above Ski Dubai, features the irresistible aroma of freshly popped corn kernels available in classic favourites such as the world-famous Chicago Mix, CaramelCrisp, and CheeseCorn. Take your pick!
Visit Instagram.
Crème
London-based bakery, Crème, has made its highly-anticipated debut in Dubai with a diverse selection of delectable treats and soft-serves. Located within Dar Wasl mall, the bakery offers a welcoming ambience both indoors and outdoors. The menu boasts an impressive array of flavours, including Miso & white chocolate, Classic milk chocolate, Dulce milk chocolate, and Double chocolate cookies, catering to a wide spectrum of tastes and preferences. Crème further offers a diverse array of beverages, spanning classic espresso choices such as flat whites to their well-known S'mores hot chocolate and Banana toast latte.
Call +9714 352 9708.
Coffee & Roses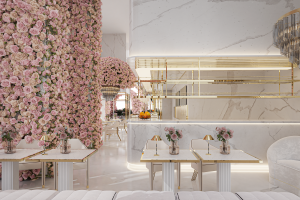 Coffee & Roses, an innovative blend of café and florist, marks the city's first-ever floral and culinary concept store. Located in Al Barsha's B1 Mall, this unique venue promises an enchanting experience where gourmet coffee, delightful cuisine, and artistic floral arrangements converge. The café offers indoor and outdoor seating on its elegant white marble interior adorned with opulent gold accents and captivating floral displays. Patrons can indulge in a diverse all-day menu featuring global-inspired breakfast and lunch options, catering to varying tastes and budgets, including pizzas, sandwiches, fresh salads, and an array of delectable desserts.
Visit Instagram.
Social House
After a rejuvenating break, Social House is reopening with a renewed commitment to offer an enhanced and enriching social dining experience. Social House now provides a holistic dining experience with a pizza bar, café & mocktail bar, and the Chef's Sushi Table, where guests can witness culinary mastery and international specials. Social House offers a 360-degree holistic social dining experience, bringing together Indonesian, Japanese, Italian, and international comfort foods. It features cult-favourite dishes such as Tonnarelli carbonara, Nasi goreng, Baked truffle chicken, and Social Stand Outs including Crispy salmon rice, Porcini and crispy potato chicken, Bone marrow pie, Slow-cooked beef cheeks, and Miso wagyu donburi made with A5+ wagyu beef.
Visit Instagram.