From ultimate spots to celebrate special occasions to exciting new offerings to indulge in, here are the things to do in the UAE in December
Waldorf Astoria Dubai International Financial Centre
AED250. Visit website.
Lola Taberna Española
Lola Taberna at TRYP by Wyndham Hotel elevates its authentic Spanish dining experience with a new menu curated by Head Chef Daniel Delgado. The vibrant concept infuses the best flavours of Spain, featuring a variety of additions expertly prepared with the finest ingredients. Highlights include freshly baked flatbread options, Flambé Bread with various toppings, and standout dishes like Glazed Oxtail, Brazed Oxtail with seasoned baked potatoes, and grilled Iberian fresh-cut dishes. The dessert menu introduces the Millefoglie cake, a delightful conclusion with nougat, and homemade coffee ice cream.
Call +9714 247 6688.
MARINI
MARINI, located in Dubai Media City, is an Italian-Mediterranean restaurant curated under the culinary expertise of globally acclaimed Chef Monserrato Marini. MARINI's menu boasts authentic Neapolitan Pizza, homemade fresh pasta, an array of seafood, and premium meat cuts. The restaurant's ambience, featuring lush greenery and a live Neapolitan pizza oven, transports diners on a captivating Mediterranean journey.
Call +97155 226 2960.
Waldorf Astoria Dubai Palm Jumeirah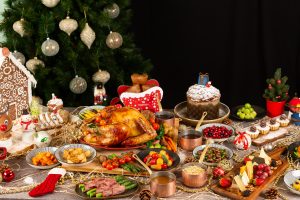 Celebrate the spirit of December at Waldorf Astoria Dubai Palm Jumeirah with a dynamic array of festive events. Embrace the season with a traditional Christmas Tree Lighting ceremony and indulge in the Festive Afternoon Tea, available at AED210 per person. Embrace the festive spirit with the Christmas Beach Picnic featuring a delightful basket starting from AED495, while Santa's reception and special dinners unfold on Christmas Eve across various restaurants. On Christmas Day, explore brunches and a refined 5-course Italian dinner starting at AED550. The spa beckons with holiday treatments commencing at AED600 per person. To ring in the New Year, join the grand New York Grand Gala Dinner featuring a buffet, live entertainment, and a spectacular fireworks display, starting from AED1,900.
Visit website.
Mina's Market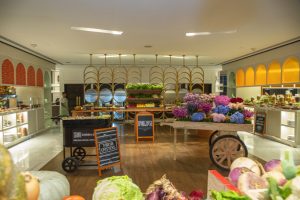 This vibrant British Brasserie emulates the atmosphere of London's Borough Market, featuring market-style stalls offering an array of British culinary delights. From traditional pies at the London Pie Shop to freshly baked goods at The Bakery, and a Modern Butcher's and Fresh Fish Market providing an extensive selection of meats and seafood, the experience is a true homage to the Borough Market inspiration. Mina's British Balti House offers aromatic spice-infused dishes, while the London Levant Kebab Shop serves up grilled lamb doner kebabs. The venue's classic British-style shop fronts, fresh flower stalls, and vibrant displays of fruits and veggies create a sensory journey through the diverse and delicious offerings, making Mina's Market a culinary haven reminiscent of British springtime.
Every Wednesday, from 6:30pm-10:30pm. From AED250 per person. Call +9714 511 7373.
Torno Subito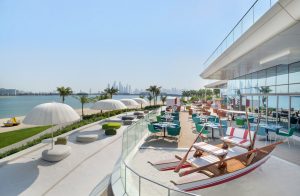 Torno Subito, the Michelin-star Italian restaurant at W Dubai – The Palm, has unveiled two new menus: The Classic Set Menu and The Evolution Set Menu. The Classic Set Menu offers a traditional Italian culinary experience with seven courses that pay homage to time-honoured Italian recipes, featuring dishes like Tagliatelle Al Ragù and Agnello, concluding with their signature Tiramisubito! The Evolution Set Menu, on the other hand, presents a modern twist on Italian cuisine with nine courses, including innovative dishes like Fusillo Al Finocchietto and Astice lobster 'scapece' style sauce. These menus, overseen by renowned chef Massimo Bottura, offer a unique and extraordinary dining experience, whether you prefer traditional or contemporary Italian flavours.
Visit website.
The Cove Rotana Resort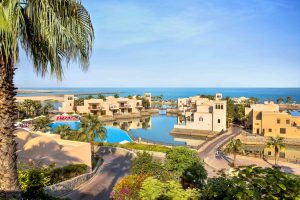 Embrace the winter season with a luxurious staycation at The Cove Rotana Resort, set against a backdrop of lush greenery and stunning views of the Arabian Gulf. The resort offers spacious and contemporary rooms equipped with modern amenities, catering to family getaways, staycations with friends, or romantic retreats. Enjoy a diverse culinary experience at our award-winning restaurants, take a refreshing dip in the infinity pools, and immerse yourself in a lively atmosphere filled with entertainment. Seize the opportunity to create lasting memories by booking your winter getaway and embarking on a journey of luxury, relaxation, and adventure.
Call + 9717 206 6000 or email res1.cove@thecoverak.com. Visit website.
Ferns N Petals
FNP.ae introduces its 'Finest Belgian Chocolate' collection, a globally renowned addition to the gifting landscape. The assortment encompasses a rich variety of milk, dark, ivory, truffle, and sugar-free chocolates, each adorned with luxurious fillings like coffee, salted caramel, Nutella hazelnut, pistachio, lotus, and more.
Visit website.