Sponsored: Gather the family and make your way to The Ritz-Carlton Ras Al Khaimah, Al Wadi Desert, for a awe-inspiring ecotourism adventure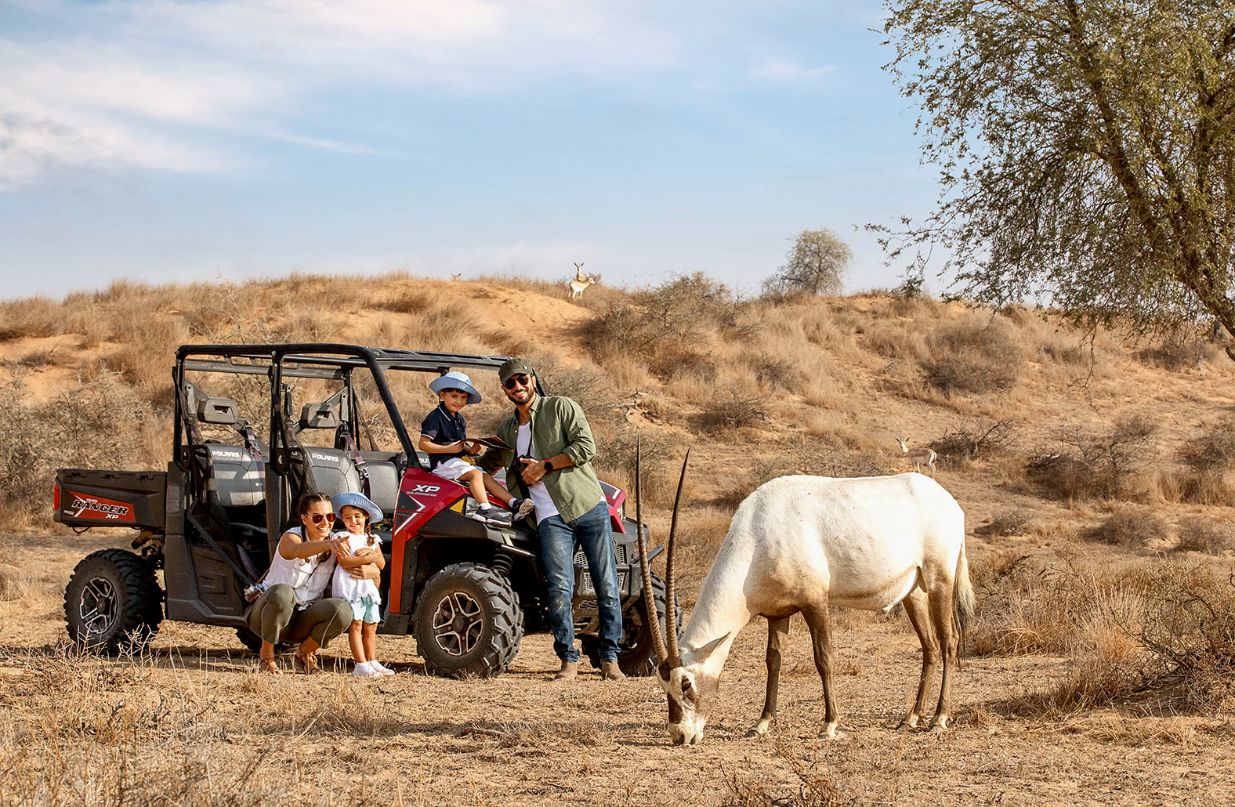 Offering a stark contrast from a bustling cityscape, The Ritz-Carlton Ras Al Khaimah, Al Wadi Desert is nestled within a 1,235-acre protected nature reserve, boasting sightings of falcons, Arabian sand gazelles, blackbucks and the majestic Arabian Oryx.
The impressive property is located less than an hour away from Dubai, which is perfect for a family holiday, a weekend sojourn, or an out-of-doors escapade with the kids.
Plan ahead, reserve in advance and partake in ecotourism-driven activities such as Ghaf tree-planting, Chef's garden experiences, educational programs and intuitive nature interactions. For the little ones, the resort even offers the chance to learn outdoor survival skills such as shelter making and desert navigation as a Ritz Kids Ranger.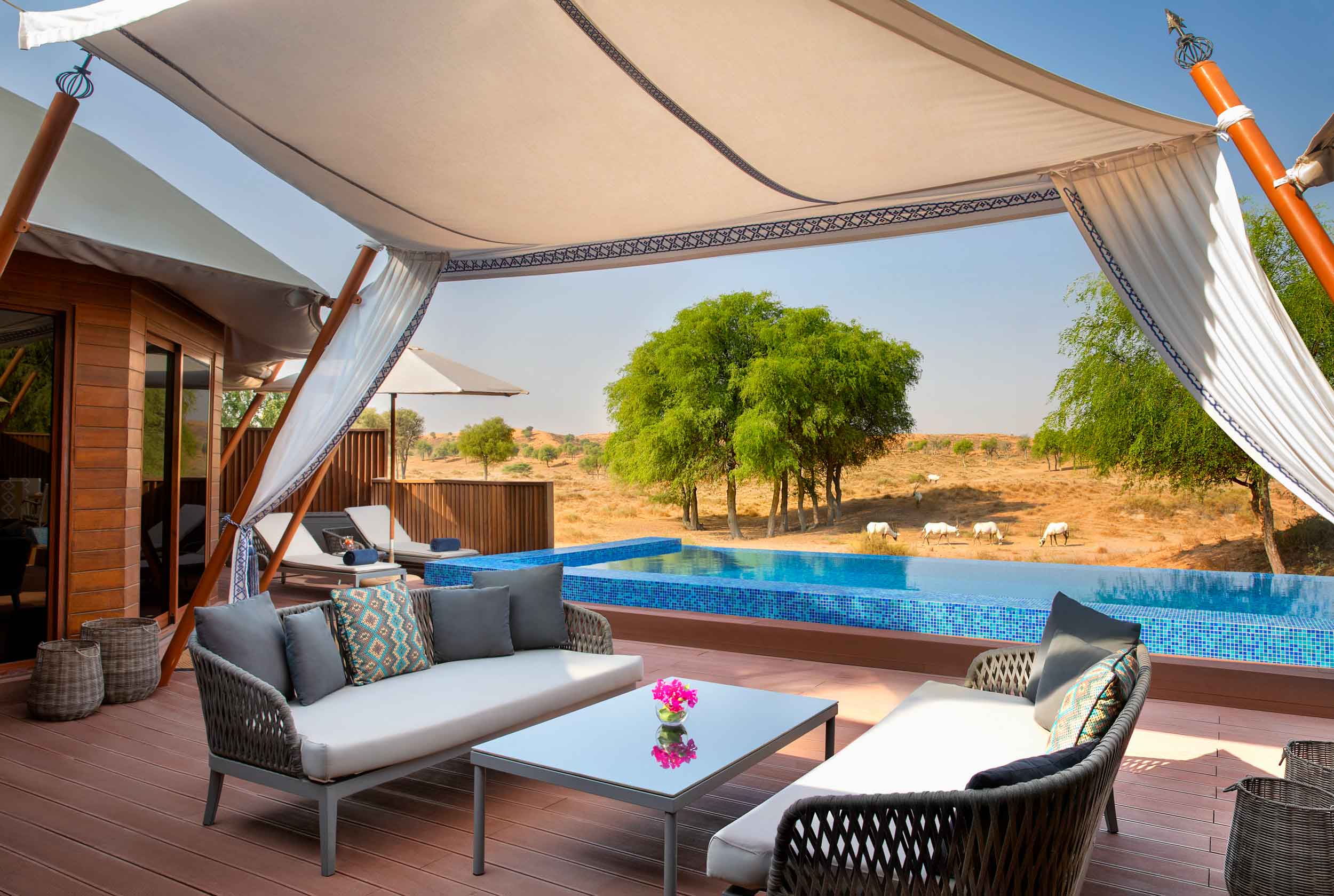 Should you choose to make a staycation out of it, look forward to a luxurious spacious villa equipped with a private pool and a comfortable setting, forming the ideal base to plan your nature-based adventure and al fresco dining experiences. What's better than a lavish, revitalising retreat right here in the UAE?
A few of the activities you can expect range from exhilarating equine adventures, wildlife feeding experiences, Ritz Kids programmes and heritage forest tree planting, to full moon camel rides, nature walks, private yoga sessions and farm-to-table dining.
Enjoy an exhilarating equine adventure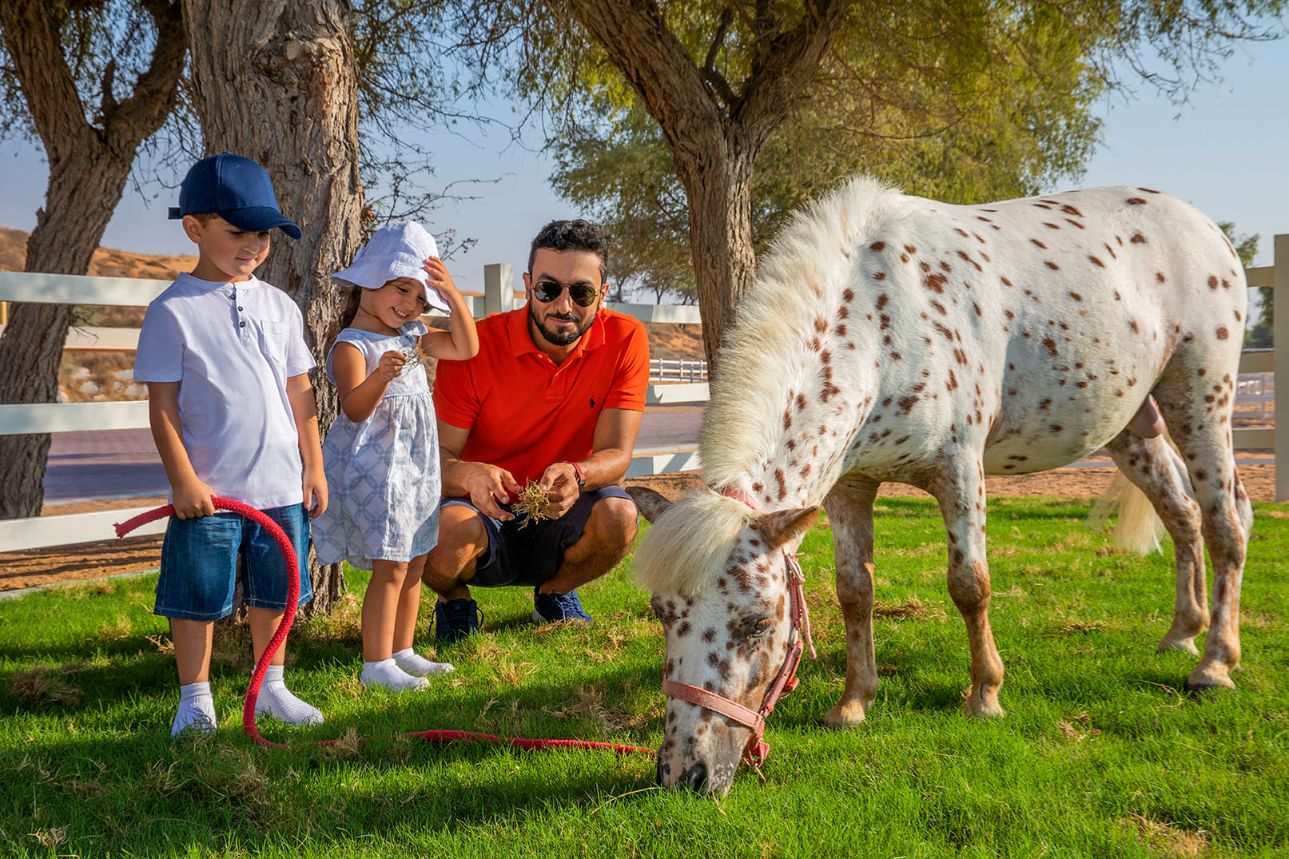 Take a majestic desert hack across the rolling red and golden sands of the Al Wadi Nature Reserve and experience the expansive conservation area on four hooves. Expect to encounter a plethora of native and migratory birds, animals and flora, whilst cantering across the dunes. You may even spot elusive species such as the Black buck antelope or Gordon's wild cat.
Become a Ritz Kids Ranger for the day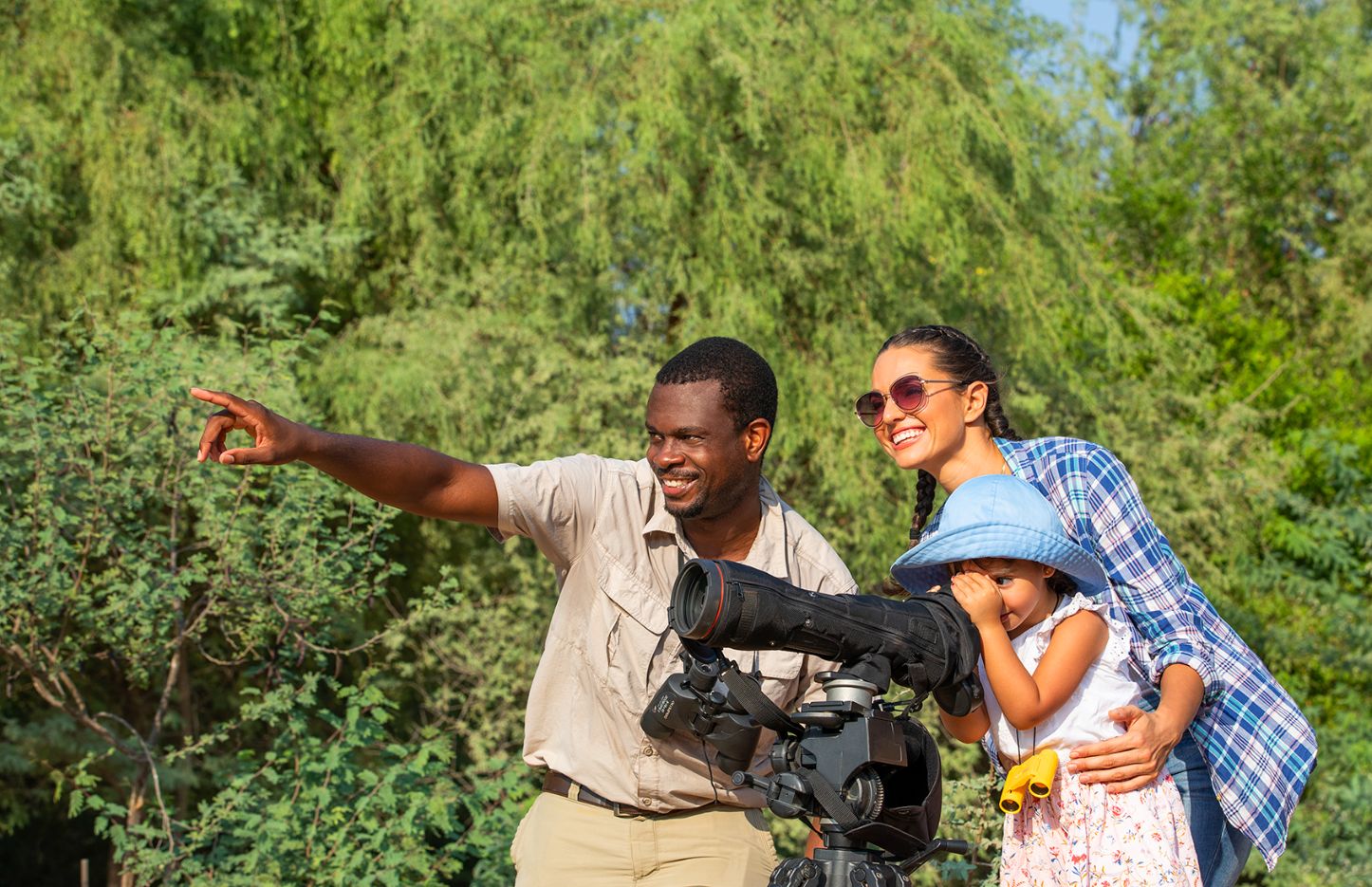 Ritz Kids, aged seven to 15, are invited to discover nature in all its glory and journey across the desert, learning essential outdoor survival skills through a special Rangers programme. The two-hour agenda features activities such as, natural soap making from the Sidr tree leaves; learning desert navigation skills using the shadow stick method; identifying native flora and fauna; animal care; and bird identification.
Participate in a wildlife feeding experience
Animal lovers will have the chance to feed the majestic resident Arabian Oryx and Gazelles in the Al Wadi Desert Nature Reserve, while learning about the local wildlife.
Leave your mark with Heritage Forest tree planting
The Ritz-Carlton Ras Al Khaimah Al Wadi Desert believes in the importance of preserving the environment and has pledged to plant 1,000 native Ghaf trees by the end of 2022 in its Heritage Forest. The inspiring initiative begins with you planting a tree that is taken care of by the property and you can visit it every time you return to the resort. The Ghaf tree is the national tree of the UAE and has the ability to stay evergreen. It is important to nature and the Al Wadi Nature Reserve as it provides both food and shade for the Arabian Oryx, Arabian camels and Sand gazelles.
Take a splendid full moon camel ride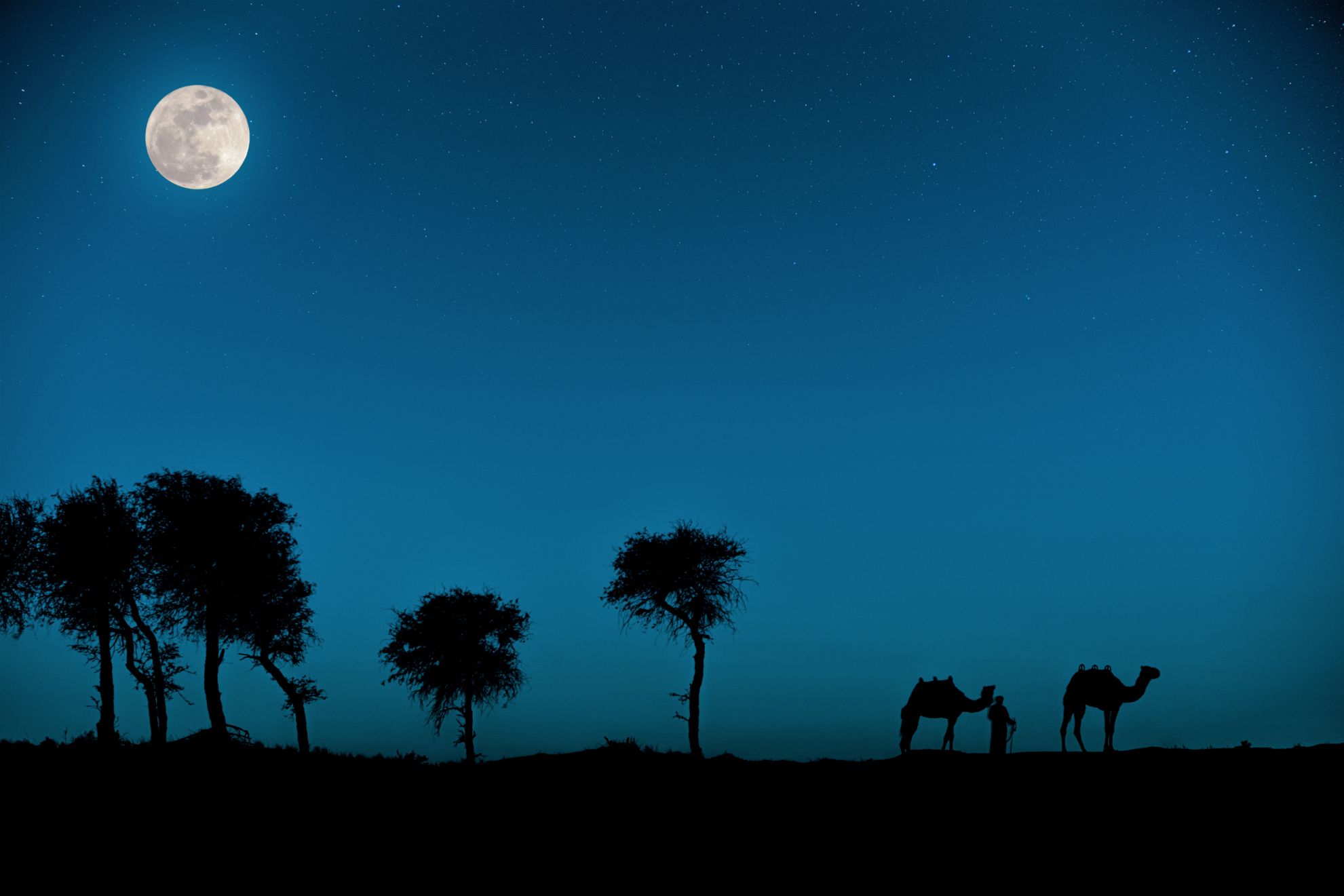 Experience an authentic evening in the desert with an exclusive full moon camel ride, that allows you to truly be one with nature. Look for the navigational stars that were used by the Bedouins at night; and if you're lucky, you may even spot the reserve's nocturnal inhabitants including reptiles, rodents and other animals, such as the Desert hedgehog, Baluch Rock Gecko or the Middle Eastern camel spider.
Chef's Garden, farm-to-table dining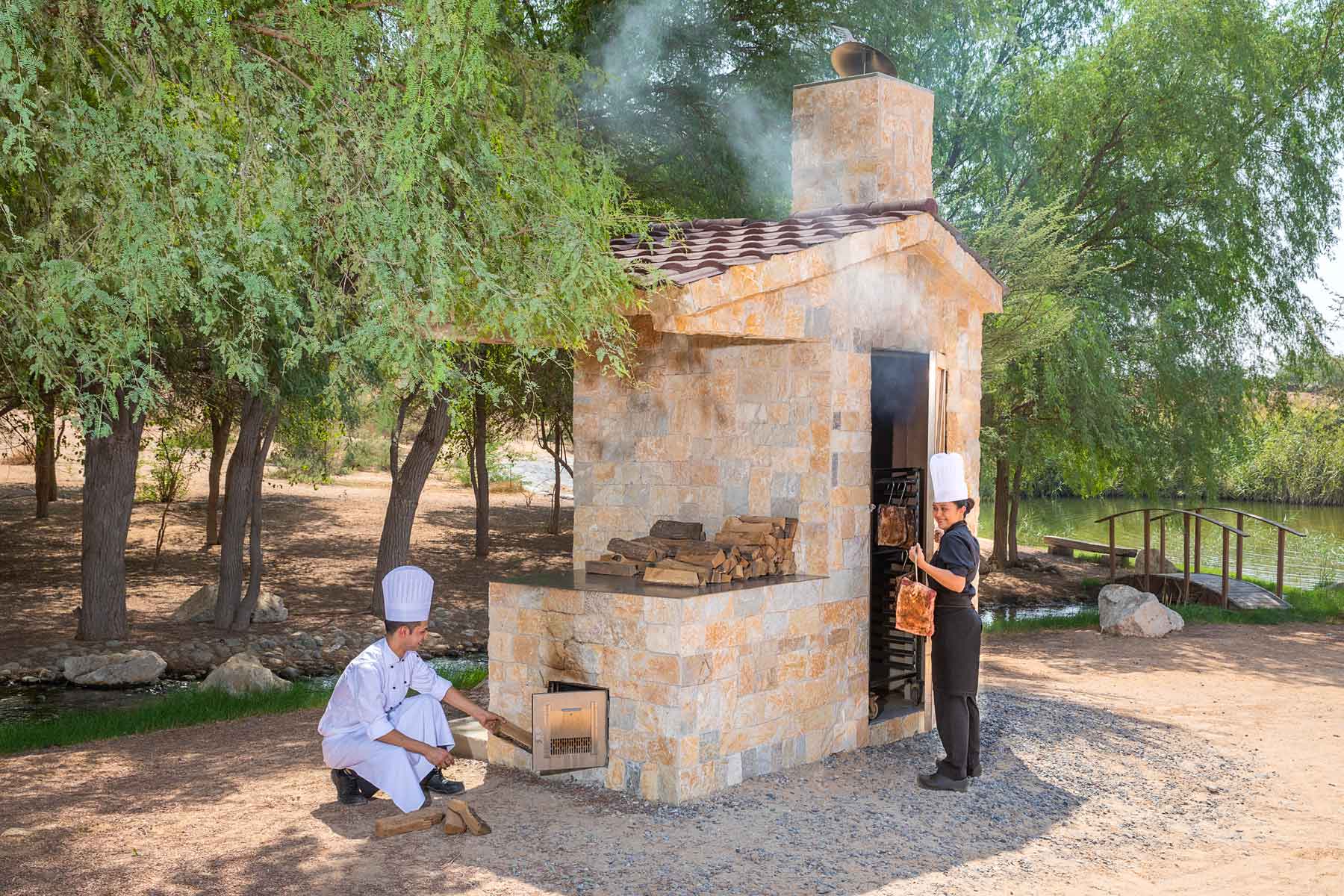 Green-fingered guests and food enthusiasts can visit the resort's 450sqm Chef's Garden and learn more about the local vegetables and herbs grown there. The resort's culinary teams will talk you through seasonal produce, how it grows and survives in the desert climate and how it is used in the resort's restaurants. You will also be able to sample fresh-from-the soil produce and even select your own vegetables and herbs, before sitting down to indulge in a bespoke farm-to-table dining experience.
Connect with nature
The nature walk offers a way to preserve local culture and knowledge about the environment, to learn more about the traditional uses of the surrounding flora and fauna; and to understand how every living organism is connected to each other and depends on one other for survival. This activity promotes an appreciation for the Bedouin values and way of life.
Revitalize with a private yoga session
Rejuvenate your body, mind and soul with a private Hatha Yoga, Vinyasa Yoga or Yin Yoga session, from Ritz-Carlton Spa instructors outdoors at the Falconry Deck.
AED205 for 30 minutes per exhilarating equine adventure. AED275 per child per Ritz Kids Rangers programme (inclusive of two hours of activity). AED160 for adults and AED125 for children, for a wildlife feeding experience. AED160 per tree at the Heritage Forest tree planting. AED495 per couple for 30 minutes of a full moon camel ride. AED190 for adults, AED310 for couples and AED125 for children for the nature walk. AED150 onwards per person, per class for private yoga. Advance reservations are required for all packages and they are all subject to availability. Email rc.rktrz.experience@ritzcarlton.com. Visit the website or Instagram.