Sponsored: We sit down with Chef Pierre Gagnaire at InterContinental Dubai Festival City, to discuss life, passions and new seasonal menus at Pierre's Bistro and Choix Patisserie and Restaurant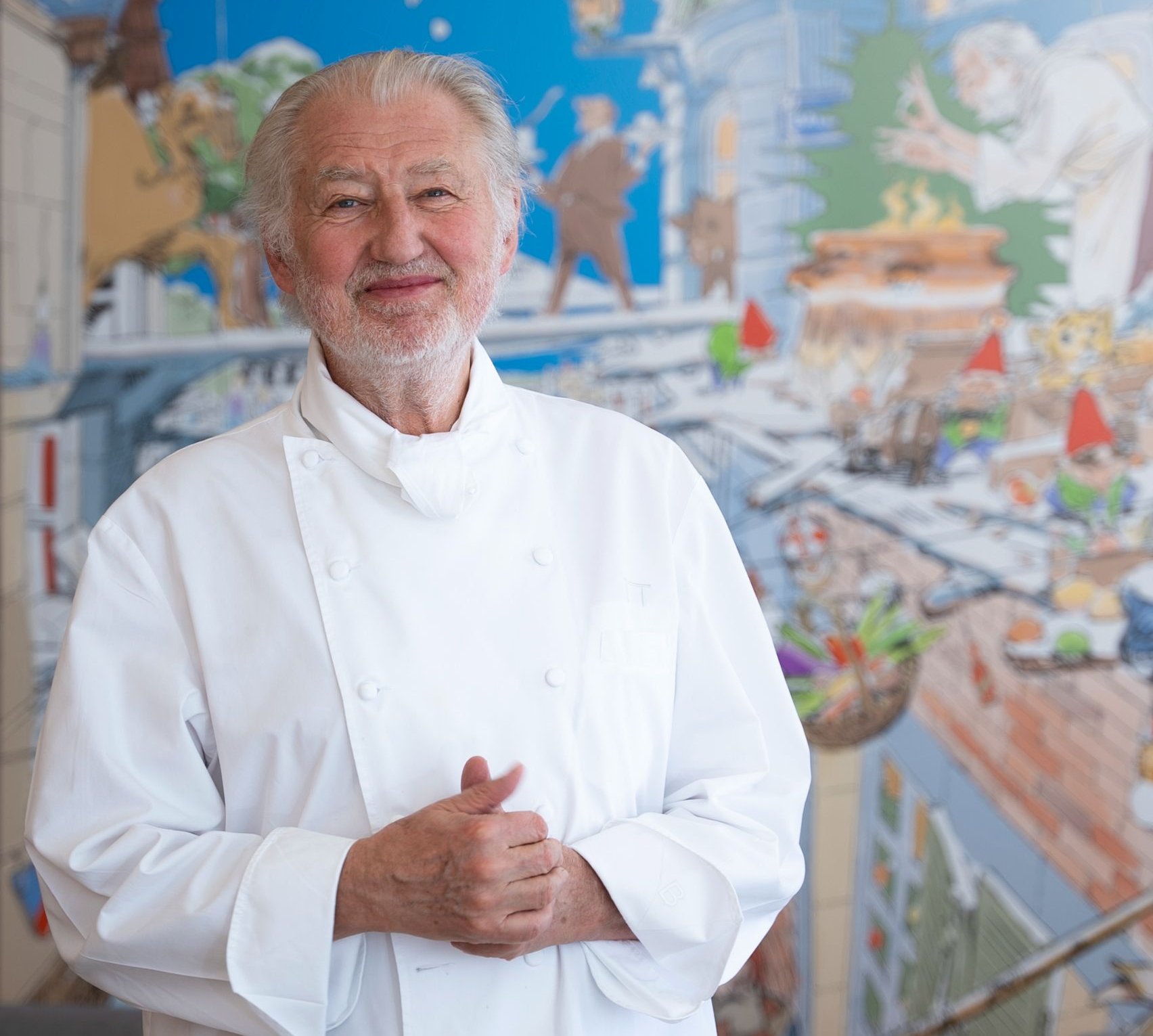 Born in Apinac, France in 1950, the renowned French Chef Pierre Gagnaire abides by a profound philosophy: "Cooking is not measured in terms of tradition or modernity, but by the tenderness of the chef."
The accomplished cuisinier boasts a career that spans over 50 years and is specked with multiple Michelin stars. Recently in Dubai, at his InterContinental Dubai Festival City outposts, Pierre's Bistro and Choix Patisserie and Restaurant, the inimitable culinary mastermind shares with his approach to bringing dishes to reality, while taking us through what's new on the menus at both dining destinations and future ambitions for 2022.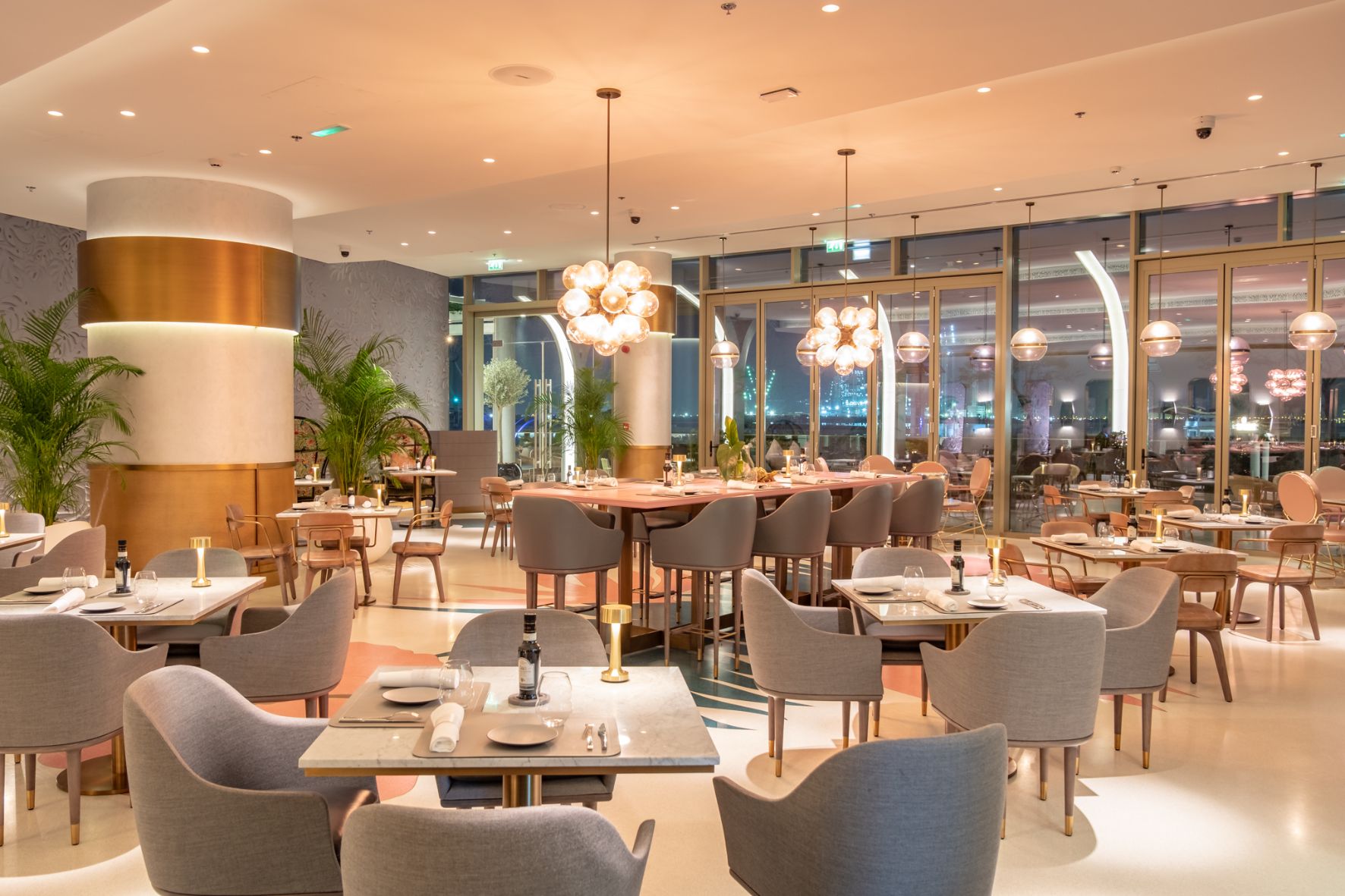 Pierre's Bistro opened its doors in 2018, offering authentic French fare with an impressive innovative twist. Headed by Executive Chef Mathieu Balbino, the French Speciality Chef Award winner at The Pro Chef Middle East Awards 2021, the dining destination features evolving menus brimming with seasonal ingredients.
Choix Patisserie and Restaurant on the other hand, is an exquisite setting that offers diners a glimpse into the Parisian culinary lifestyle. Fine French delicacies are offered across breakfast, lunch and dinner, with the star of the show being a breath-taking Afternoon Tea carefully curated by Chef Pierre Gagnaire and his team.
"I was 17 or 19 when I prepared dinner for my friends on New Year's Eve; and the first time I saw the smiles and pleasure on their faces, it clicked."
This was one of the moments Chef Pierre Gagnaire knew he was in love with food.
Tell us what Pierre Gagnaire is like outside the kitchen.
(Laughs). I'm the same inside and out.
To be honest, my day is concentrated on my work. I do not have a lot of time to do other things. I'm focused on my mission. I was in London for five days; I was totally concentrated on Sketch because the last time I visited was six months ago. With the Covid pandemic, it was complicated. Today, I have begun to travel and I know in a few months I must go to Asia, I have not been there for three years. I also spend a lot of time on my phone, to chat with the team. I am here in Dubai for five days and it's insane to see the team, to work on the menu, to receive guests in the restaurant. But after that, I try to be alone, quiet. I read, I love music, I call a few friends, but that's all. I do sports, I try to go to the gym every morning to stay strong and energised. Also, I'm looking forward to a good family holiday in May.
Can you recall for us what it was like when you received your first Michelin star at your first restaurant?
I took over the family restaurant and it already had one star, my father's star. Afterwards, when I opened my own restaurant, I immediately obtained one star. But I must say the real emotion was the three stars in 93'. That is real emotion because you feel that it's very important, very decisive in your career.
And now, how does it feel like to be a multi-Michelin star holder?
Lots of responsibility, because you feel that your business is big and that is dangerous – these kind of Michelin stars. The notoriety of the star and to have all these stars is also a pressure, because it's combined with the business, if the business is working because of these stars. But if you lose these stars, then your business may fall, so that is the combination to keep those stars, which is very intense – a feeling I didn't have before. If you lose them, we are nothing. Mentally, it's kind of tiring. But that's actually the key to opening other businesses in other places, like in Dubai.
Your Executive Chef Mathieu Balbino recently received the French Speciality Chef Award at The Pro Chef Middle East Awards 2021. How did he break the news to you and how did you feel?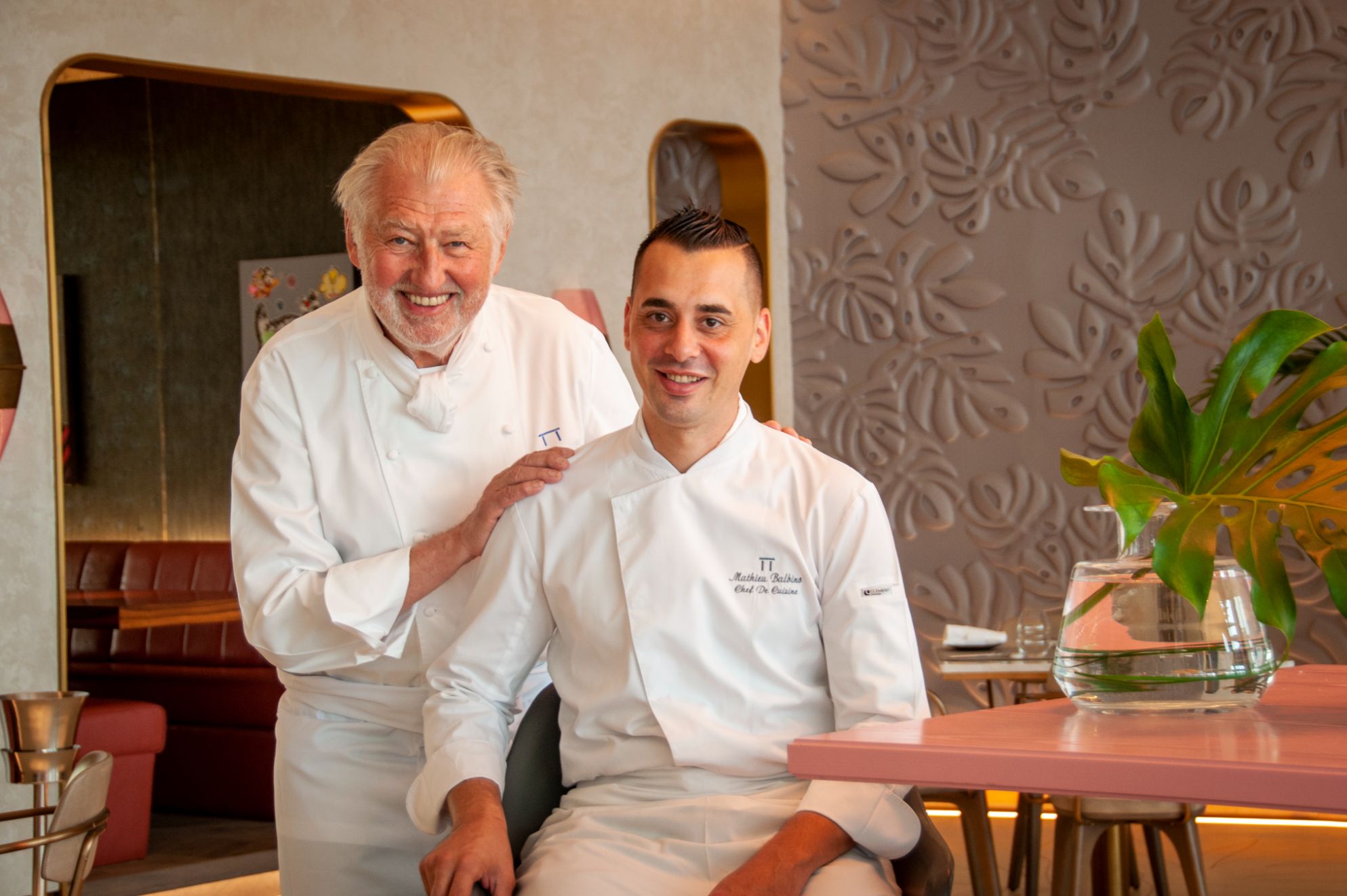 Honestly, very very happy for him because it's not easy to be a chef in a place like this. Because it is a business, not only pleasure. You must make money. For him, he is a very good chef and he had, like chefs in the city, difficulty with the Covid pandemic. It was complicated for everybody. And to obtain that, for him, I can say is very important. I'm very very happy for him. He waited four years for that, which is good for his career growth. It's a good choice, because he's a good chef. And he is honest, he loves his work. Mathieu is not a machine; he has the talent and that is important.
"Here you have nothing, but you have all. Dubai is a new world, it's out of the world above other countries. You can get everything here. That is fascinating in Dubai."
I've been told by your team that Pierre's Bistro is releasing a new menu soon. What is new for this season and how do you keep it fresh season after season?
The season is complicated here because what is a season here? It's Europe, it's Asia, it's India, it's Australia. For example, now you can see peach or cherries in this place today, it's possible here. In France it's impossible. Here you have nothing, but you have all. Dubai is a new world, it's out of the world above other countries. You can get everything here. That is fascinating in Dubai.
What is inspiration behind this new menu? And what ingredients and dishes can we expect to see?
Well, the new menu has signature French dishes, the very traditional I would say. We had the Sweetbread for example on the previous menu, which now has switched to Veal liver, which is very French-traditional-bistro, which people really like. And we work with the season, using quality French items, but it has always a twist, a fusion. So, we'll have the Tuna tataki, which will come with the crispy rice and the glazed tuna saku. That is different parts of the world that is combined in one dish. Then you have the classic Sole with different toppings and garnish; the foie gras is also changing, we don't put mushroom anymore because it's not in season. We want to focus on European seasonality. So, we're not going to use ingredients that we would have in winter in France, in Europe. It will not make sense. The better-quality ingredients we import, will be because of the right season. Asparagus for example, it's asparagus season now in France, it's fantastic.
Where do you import majority of your ingredients from?
Well, we work with brands who import from Italia, France, Australia for beef for example, Ireland for the lamb. Only quality, this is the main and important thing for Chef Mathieu.
Describe your approach to creating a dish, from an idea in your mind to reality.
I try to be surprised myself. I try to find the good line to offer something which is tasty, beautiful in the plate, which has a real link with the spirit of the place. For example, here, it's not a gastronomic restaurant. Before we have that here – we have four plates, a story around the asparagus – now that is finished. Now it's comfortable, but tasty food. In the plate, I must try to find a small idea to create surprise and emotion. Afterwards, how I do, it's impossible to explain. What I know, I must concentrate, I must focus on my work. And for that, it was difficult to answer your first question, because, if you have all the preoccupations, it's not possible to find this small story to try to tell season after season.
"The most important thing is to stay honest with yourself. You must be attentive to your emotion, to be open and to be closed. Open to the world, but closed with your work."
How has your culinary style evolved since you started? Do you take on modern influences in any way?
No. The most important thing is to stay honest with yourself. You must be attentive to your emotion, to be open and to be closed. Open to the world, but closed with your work. I don't go outside to pick up ideas, it's not my problem. I have no time to do that. I am very focused on my own sensation.
On a slightly different note, could you talk us through the Afternoon Tea treat at Choix lobby lounge. Do you find Afternoon teas do well in this region?
When we launched the afternoon tea in London, it was a huge success. We decided to bring it here and since we did, it's working even better. Every month, numbers are increasing for our afternoon tea, which is very good. We play with the classic British afternoon tea with scones, lemon cake, candied dried fruit cake; and then you have the savoury with the sandwiches, which has the twist of French and English versions, we have the Croque Monsieur and there's a play between this; and on top we usually have our fine desserts, which has the macaroons, the little French delicacies. So, it's a nice combination between England and France, with my twist in it. Even if it's an Egg sandwich, it must be done with quality, lots of flavours. It's not just eggs in a sandwich, it's the seasoning and all the work that you put into the sandwich to make it special and different
What are your thoughts on the Middle Eastern pastry scene?
I love the pastry but its sugary. We have less sugar in our afternoon tea, so we try to please the locals with our pastry. So, we don't put as much sugar in, but we don't put less. We try to find the right balance in the pastry. We do afternoon tea specials, for example on the counter in Choix we have twists during Ramadan, like a special date pudding and we just play with the time and what can be suitable. But we try to remain classic with British-French twist.
What does the rest of 2022 hold in store for you?
The plan is to rebuild connections with my team first, because with the Covid pandemic, people are asking questions and they're not sure what's going to be the next move. As I can travel again, I can see how the team is doing and motivate them, bring energy to them and also to the people coming into the restaurant, to get the connection and social life back to as it was before, even if it's not easy.
Rapid-fire round:
Favourite thing to do in Dubai
To go to the desert, I love that. It's like, if you go to the top of the mountain, it's the same sensation. To hear the wind, to hear the silence, this sensation is incredible.
Favourite ingredient
Cornes de gazelle in French (Kaab el Ghazal in Moroccan Arabic or crescent-shaped cookies in English), is a pastry which has ingredients that I love – with honey, pistachios, almonds, I love that.
Favourite hobby to relax
To close the eyes and breathe, to hear your body. Your body is your friend, but sometimes it's your enemy. When we have the chance to do nothing, we are living. It's incredible. It's better than a Ferrari car (laughs).
Most memorable meal
A good meal is always with friendship, it's a connection. The chemistry of the moments' happening in the restaurant, the atmosphere, the sharing with the people that we really care about, that all makes some moments really unique and special.
Favourite dish to cook
I'm a chef, I like to cook. It can be any dish from a Veal blanket to a mashed potato for a kid. It's just how you want to please the person that you have at your table. As long as the person you cook for is very pleased, where you cook with passion for someone.
Visit the Lounge from 4pm-2am and the Restaurant from 6:30-11pm. Call +9714 701 1199, WhatsApp +97152 898 8491 or email pierres.dubai@ihg.com. Visit the website and Instagram.