As part of the homegrown dining destination's season two menu collection, Teible reveals a Nabati poetry-inspired ten-course degustation menu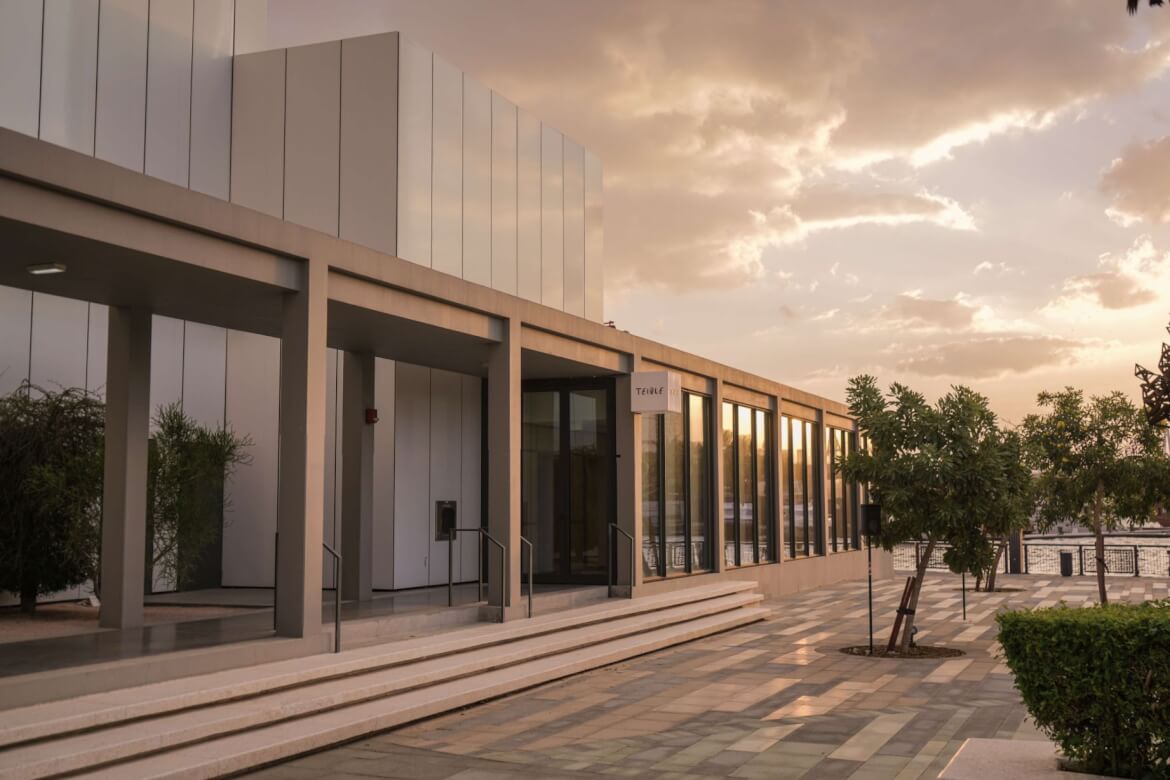 Teible, which opened its doors in 2022, is a homegrown food for thought concept that comprises an artisan bakery and upscale local seasonal dining setting at Jameel Arts Centre, Jaddaf Waterfront.
Diners who visit Teible can expect to find wholesome, seasonal harvests foraged and fermented locally, across a limited degustation menu designed with Scandinavian sensibility in mind and brimming with local produce and sustainability. At Teible, you can be assured of simplicity being combined with innovation to maximise the potential of each and every ingredient.
Now, the farm-to-table restaurant has revealed its new fine-dining tasting menu, starring ten carefully-curated dishes inspired by a Nabati poem, in honour of the country's bounty, art, culture and nature.
Available during dinner service only, the experience offers locally-sourced ingredients prepared in a manner that honours the authentic Bedouin lifestyle. Each dish draws inspiration from the Nabati poem titled 'Each night of the week, fine lines did I speak' from Bedouin Speech, which captures the Bedouin way of life and the long nights spent away from land and loved ones, pearl-diving, around May to September.
Crafted by Executive Chef Carlos Frunze, the fish dish is called 'By-product' and features caramelised cream, mushroom garum powder, whey caramel and a seared croissant loaf. Next up is the 'Tongue twister', with in-house corn miso cracker, smoked eggplant caviar, corn honey, local meat carpaccio and buttermilk popcorn fluid gel; and 'Brainstorm', where Iranian black caviar takes centre stage, completed with smoked milk offal cut pudding with seaweed fluid gel, local dark honey and citrus chive oil.
Following this, reach for portions of 'Stuffed wings' (saffron rice stuffed chicken wing with a roasted wing shoyu glaze and celery vinegar perfume) and 'Miso & roots' (pumpkin seed miso grilled squash with sesame koji, fermented tomato powder, fig leave oil and nasturtium).
Mains call for a portion of 'Duck & dates', pleasing palates with spiced duck breast, fermented date crème fraiche, seared pickled heirloom carrots and roasted duck jus; and the '2-Way camel', which showcases camel tenderloin tartare and slow-cooked camel hump with koji on umami toast, egg garum sauce and cinnamon moringa glaze. Sautéed ghaf squab is served next in a dish named 'Desert squab' and is accompanied by braised red cabbage, herbed kombucha fluid gel and hibiscus glaze.
Course nine is when Teible's Executive Pastry Chef Sheerin Ghaffar takes the lead, serving up 'Figs & milk', a dish that marries torched figs with sweet goat's cheese; ensued by the second dessert and final course, 'Ugliness of corn'. This treat showcases a medley of corn, including corn meringue, sweet corn cream, frozen corn rocks, topped with grilled corn, corn honey and popped corn kernels.
Those following a vegan or vegetarian lifestyle, will be glad to know that Teible offers a tasting menu for you too and this is available upon request.
Wednesday to Monday from 6-10pm daily. AED450 per person (inclusive of 10 courses). Book in advance. Call +9714 243 6683 or e-mail info@teible.com. Visit the website or Instagram.