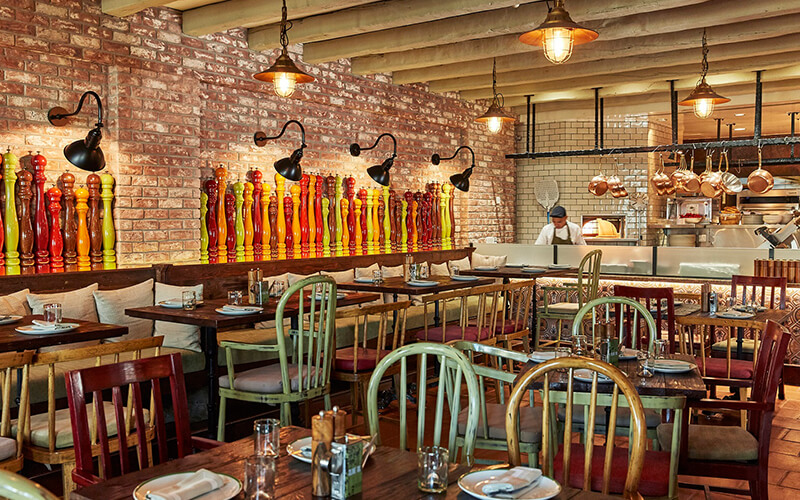 Segreto and Trattoria Toscana – two of Souk Madinat Jumeirah's most popular, authentic Italian restaurants – will host a one-night culinary journey in aid of the annual International Day of Italian Cuisine.
Set to take place on Friday 17 January, Dubai foodies can start their evening wandering through the meandering walkways and summer houses of Souk Madinat Jumeirah, to arrive at Segreto. Here, guests will be handed a "passport" providing them with their itinerary for the evening.
Kicking off at Segreto's intimate bar area, guests can then enjoy a selection of canapes, including including La Parmigiana Croccante (eggplant fried parmigiana, tomato sauce, mozzarella cheese, panco bread), Caprese Experience (heirloom tomatoes tartar, buffalo mozzarella spuma, basil oil caviar), Risi and Bisi (fresh green peas, risotto rice foam, crispy rice waffle) and Il Finto Pomodoro (salmon tartar, fresh cream cheese, tomato sauce).
After collecting their passport stamp for the first part of their journey, guests will then board an abra to the next destination, floating through the stunning waterways before arriving at the all-new Souk Boardwalk.
Here, the second eatery of the evening – Trattoria Toscana – will welcome guests for their pasta course. Choices include Casoncelli all Milanese (Saffron Casoncelli stuffed with ossobuco and gremolada), Tagliatelle Pomodoro e Burrata (Tomato Tagliatelle, burrata e basil) or Risotto Pere e Gorgonzola (Risotto gorgonzola cheese, pears and walnuts).
An Italian meal isn't complete without a dolce, and choices for the evening will include Tiramisu Moderno (tiramisu in a modern style), Torta Della Nonna (lemon custard cake and pine seed) or Frutti del Bosco (wild berry coulis, sorbet and sponge cake).
Head home with a full tummy and a souvenir bag including cookies and basil seeds (which are a staple in Italian kitchens) to remember your evening. Enjoy all of this for AED 250, including drinks pairings throughout.
Details: January 17th from 7pm – 10pm. For bookings or further information, contact 800 666 353 or restaurants@saroodhospitality.com.