Looking for a special gift? Here are a few options
Parlour Boutique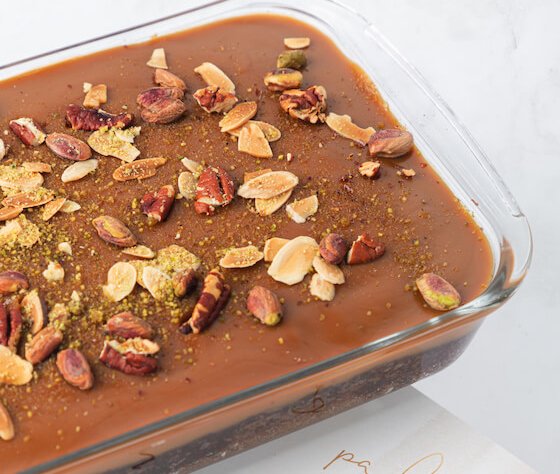 This homegrown hidden gem has launched Ramadan cakes with the best of Parisian and Middle Eastern flavours. Enjoy date pudding, with a salted caramel glaze and nuts; a light tiramisu; a chocolate break-me cake encased in a chocolate dome; a saffron mango cake with cream cheese mousse, cardamom sponge, saffron tres leches, mango compote, pistachio and dried rose petals; a pistachio cake; Umm Ali, with a twist; and bougatsa pudding.
Dubai World Trade Centre , from 9am-3pm. AED190 onwards. Call +971 4 386 5333.
Spill The Bean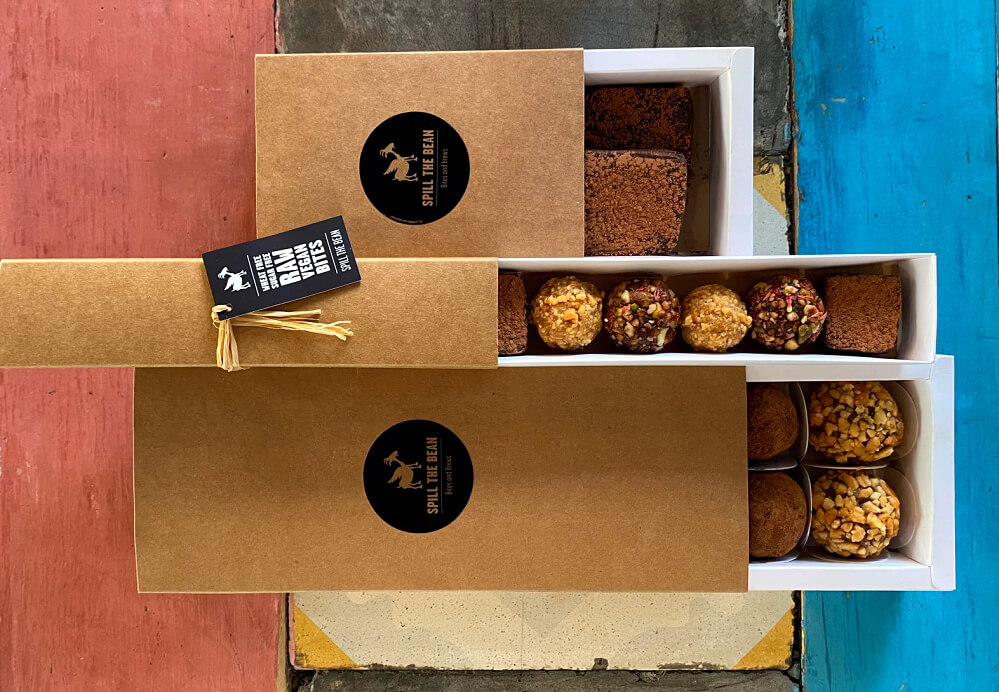 The specialty coffee concept has launched post-iftar treats for the Holy Month of Ramadan. The boxes feature raw vegan brownies and energy bites filled with nutritious ingredients such as nuts, dates, super seeds, homemade protein powder, raw cocoa powder, coffee, goji berries, barberries and more. Available for takeaway and delivery, do place your orders two hours in advance.
From 8am-9pm. AED35 onwards. Call +9714 242 8671.
Les Gastronomes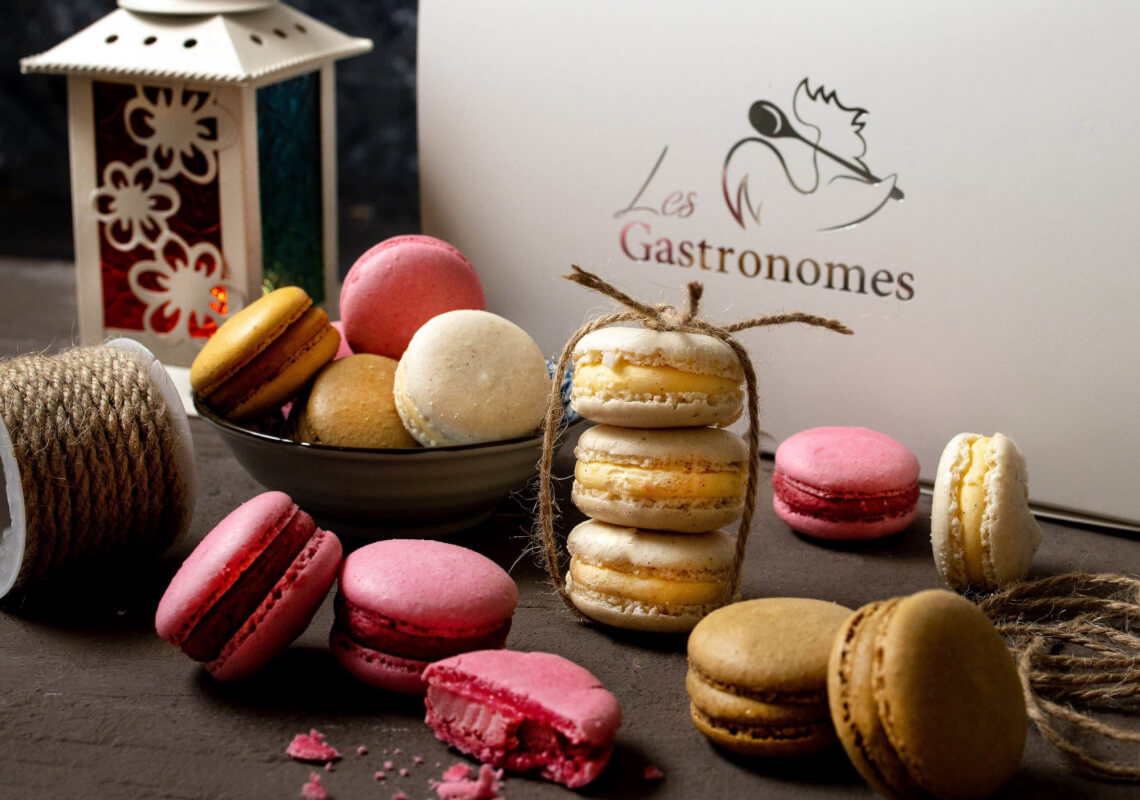 Add these limited-edition dessert platters to your Iftar spread this Ramadan. Choose from three different options featuring delightful sweet treats to suit every taste. The macaron platter by Gerard Dubois, La Rose includes handmade almond shells filled with pâte de fruit and creamy mousseline in flavours or orange, vanilla and raspberry. The mochi platter comprises an array of four flavours; and the premium-collection dessert platter includes an assortment of les eclairons, lemon macarons, banana cheesecake, caramel almond tart and double raspberry choux.
AED169 onwards per platter (serves four-six). Pre-order online.
La Fabbrica Italiana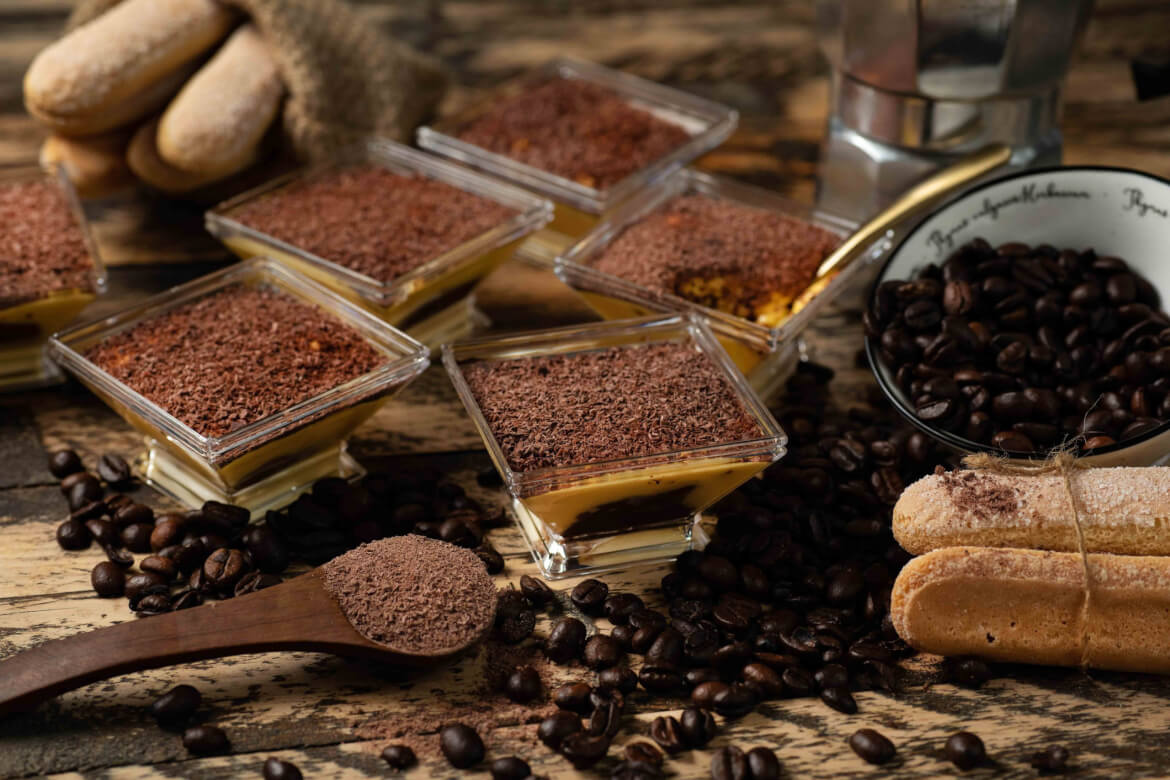 Surprise loved ones with this delightful dessert at your next Iftar together. La Fabbrica's 'tray of tiramisu' contains several mini portions of tiramisu served in their individual containers. Available for pick up only, make sure you place your orders 24 hours in advance.
From 1pm-1am. AED140 (20 mini tiramisu portions) and AED200 (20 tiramisu portions). Call +9714 5470719 or visit the website. 
FreshToHome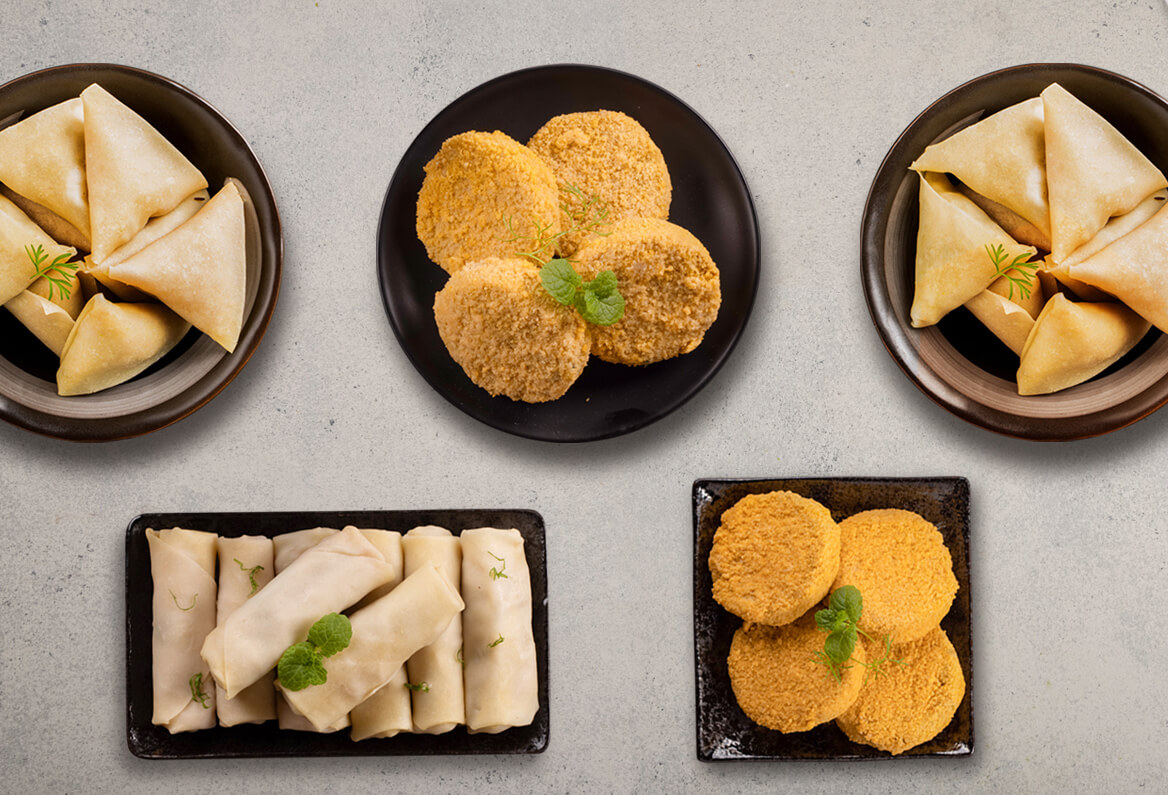 Delivering fresh groceries and essentials across the UAE at affordable prices, the online store has launched special Iftar add-on kits for Ramadan. These ready-to-cook and ready-to-eat items are also free of preservatives, chemicals and additives. The range includes Iftar bites such as veggie spring rolls, tandoori-style chicken cutlets, chicken cocktail samosas; sides for your Iftar spread including spicy hummus, garlic sauce and falafel batter; a vibrant fruit basket with sweet melon, bananas, sweet-sour tamarind, grapes, mangoes and pomegranates; and special dates of different varieties such as Medjool and Mabroom.
AED17.50 onwards. Order online or download the FreshToHome app.
Yummy Bakes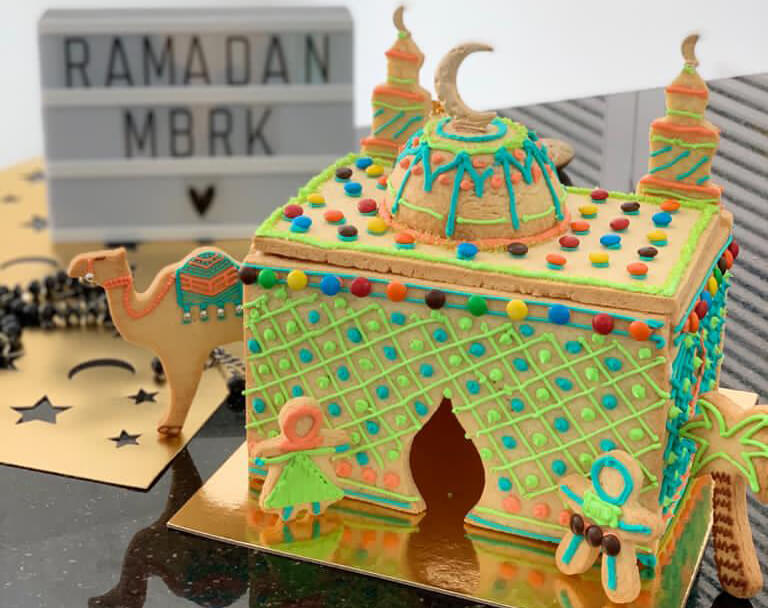 Surprise kids at home with an interactive and entertaining activity this Ramadan. The family-owned bakery has released a limited-edition children's mosque decorating kit. The package contains everything required to assemble a mosque, along with all the trimmings to decorate it.
WhatsApp +97150 492 2240.
EARTH Water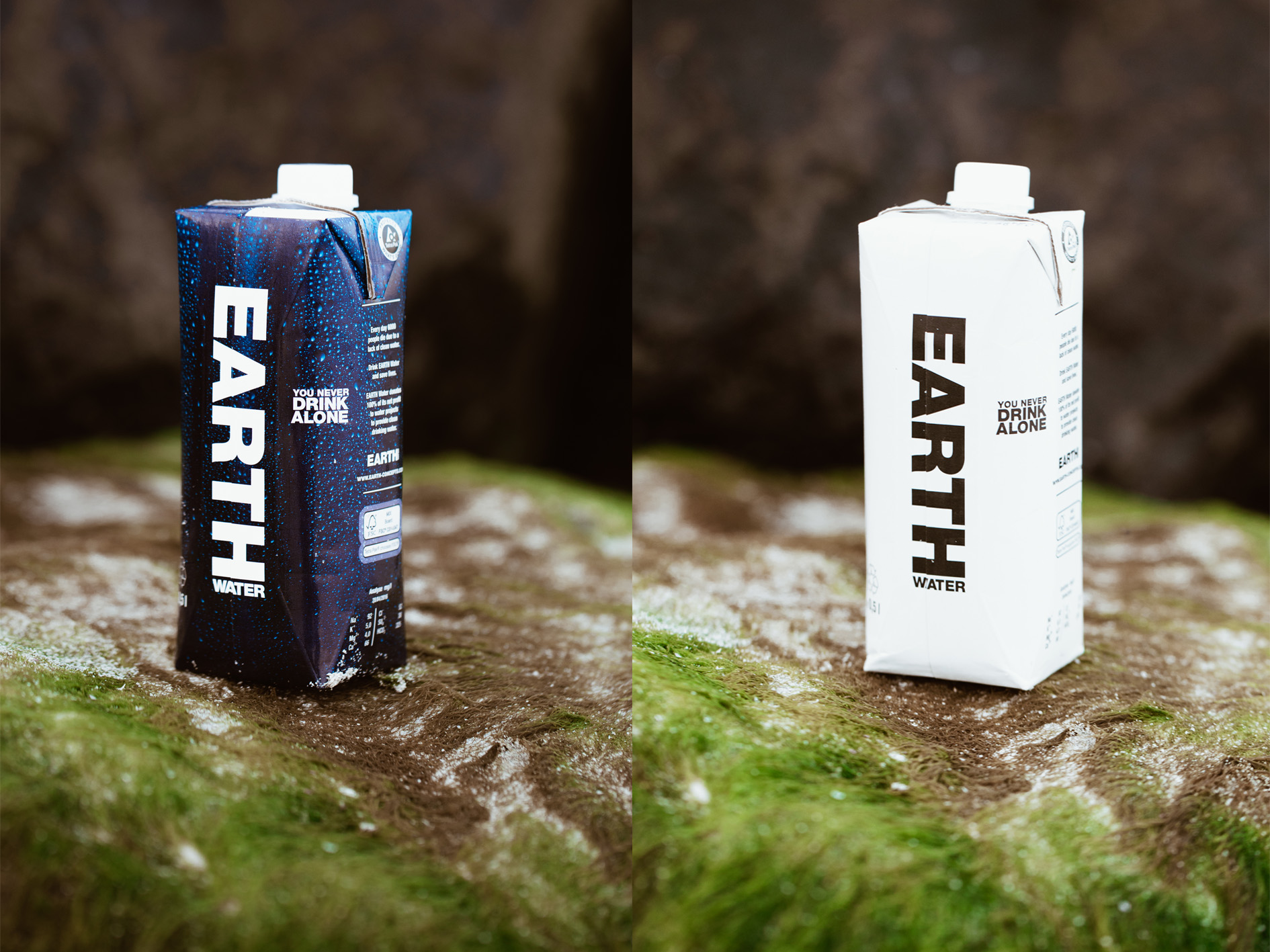 Give the gift of EARTH Water this Ramadan. The brand aims to change people's outlook on what a simple bottle of water can do. For every bottle sold, EARTH Water donates 100 per cent of their net profits to support sustainable water projects around the globe, wherever they are needed the most. Choose from a premium glass bottle that is made from 100 per cent recycled glass, with both still and sparkling options available, or a tetra pack. All used bottles can be collected on your next order and will be upcycled and recycled
Order online or visit Instagram.
Tania's Teahouse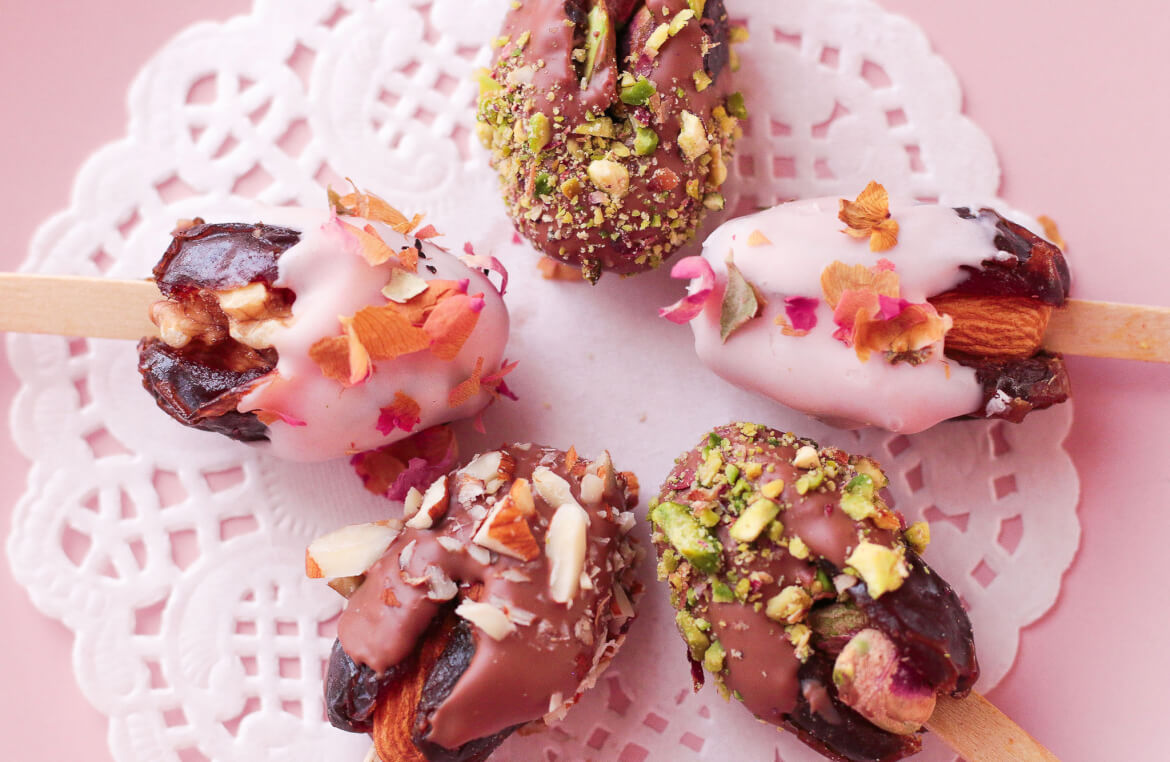 Tania's Teahouse has special treats for you to mark the Holy Month ahead. Begin by counting down each day with Tania's Ramadan Advent calendar filled with 30 healing teas. Another highlight is the gift boxes, Ramadan Smash Hearts and Cookie Boxes.
Tuck into scrummy vegan date cookies, kunafa bites, stuffed dates, cookies and more. Better yet, build your own Ramadan box with sugar cookies, vintage bone china tea sets, dipped date sticks, white mountain honey, mint tea infuser and more.
April 7 onwards from 9am-8pm. AED15 onwards. Available in-house or online. Call +9714 324 0021.
Ferns N Petals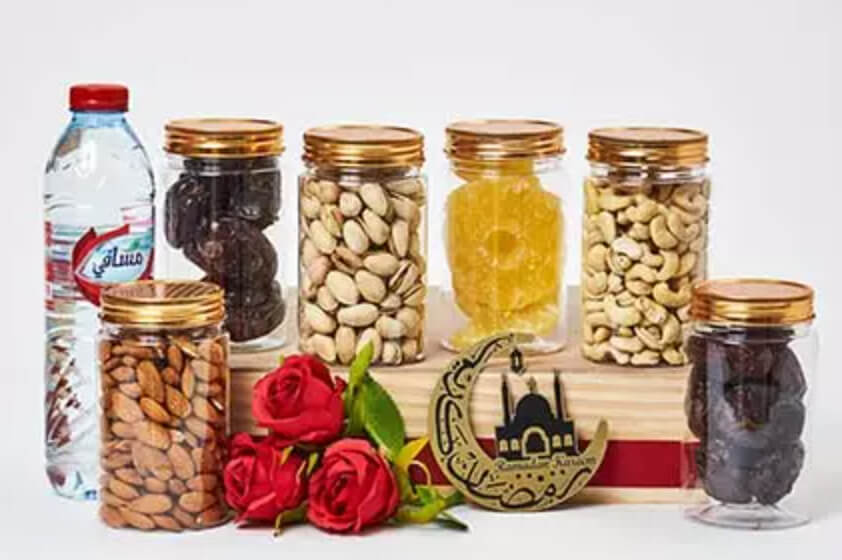 The one-stop solution store is here to take care of your Ramadan gifting needs. Gift your loved ones hampers containing a range of items for every palate, such as traditional baklava desserts, dried fruits and nuts, fresh fruits and juices, Ramadan-themed cupcakes and more.
AED 60 onwards. Order online.
LAKRIDS BY BÜLOW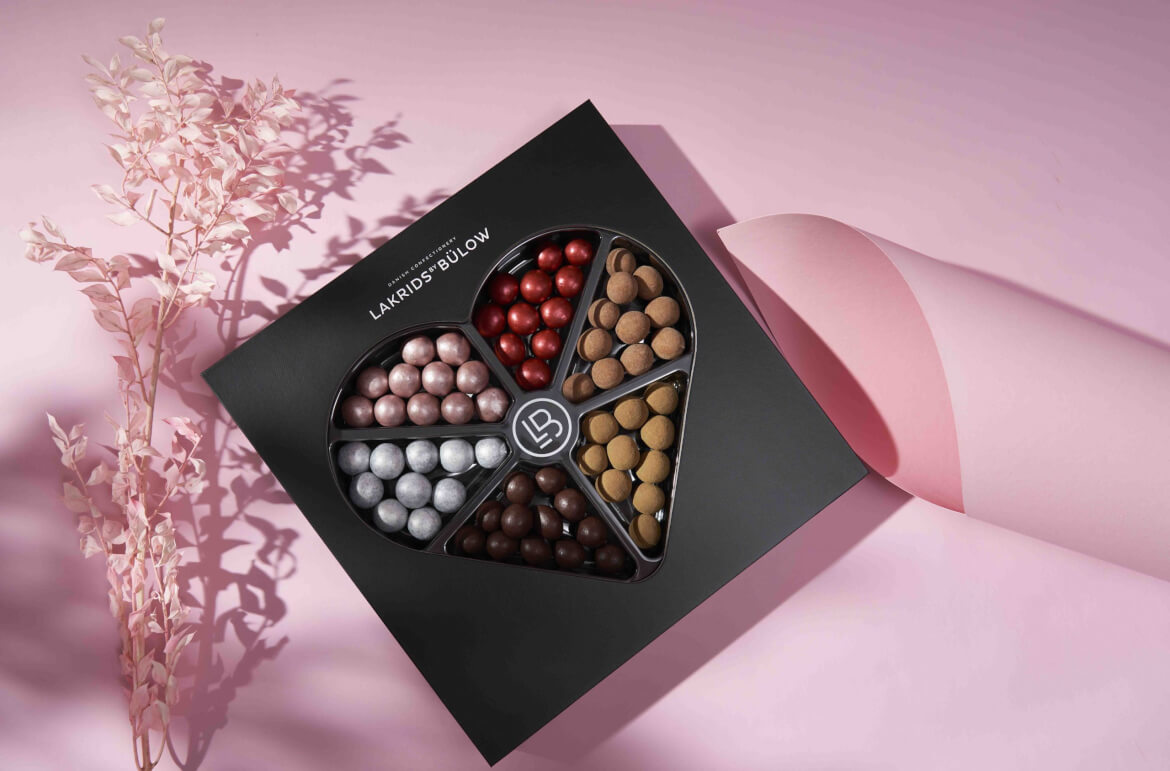 Celebrate Ramadan in style with the gourmet Danish liquorice brand. Indulge in the Love Selection Box or the Selection Box, perfect to end your Iftar and Suhoor on a sweet note.
The Love Selection Box contains chocolate-coated editions and exclusive strawberry & cream and fruity caramel flavours. While the Selection Box includes chocolate-coated gourmet liquorice and two exciting flavours launched specifically in the region. We'll keep them a surprise for now, but let's just say they contain silky smooth dulce chocolate, crispy sea salt and white chocolate and raspberries dusted in gold.
Dubai Mall or on Deliveroo. AED180 (Love Selection box) and AED150 (Selection box).
Marks & Spencer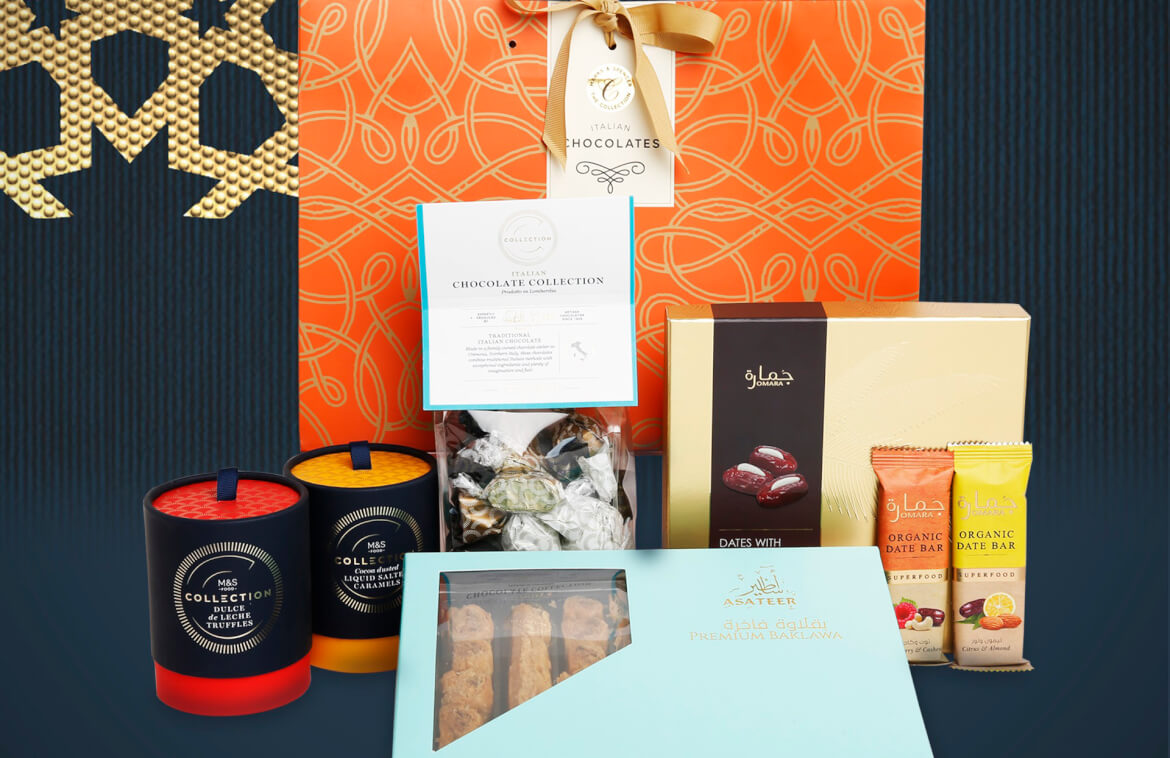 The brand has launched a selection of premium hampers just in time for Ramadan. Surprise loved ones with Marks & Spencer's range of tempting treats including, for the first time ever, Arabic sweets such as dates along with Swiss and Belgian chocolates.
Marks & Spencer also invites customers to spread some good by purchasing a food essentials box alongside a personalised note that social enterprises Companies for Good and SmartLife Foundation will distribute to support the less fortunate in the community. Additionally, for every purchase of the food essentials box, AED1 of the proceeds will go towards Red Crescent.
Available in-stores, order online or on the M&S Food app. M&S initiative in-store from April to May 12.
LOTSA! LAZY CAKE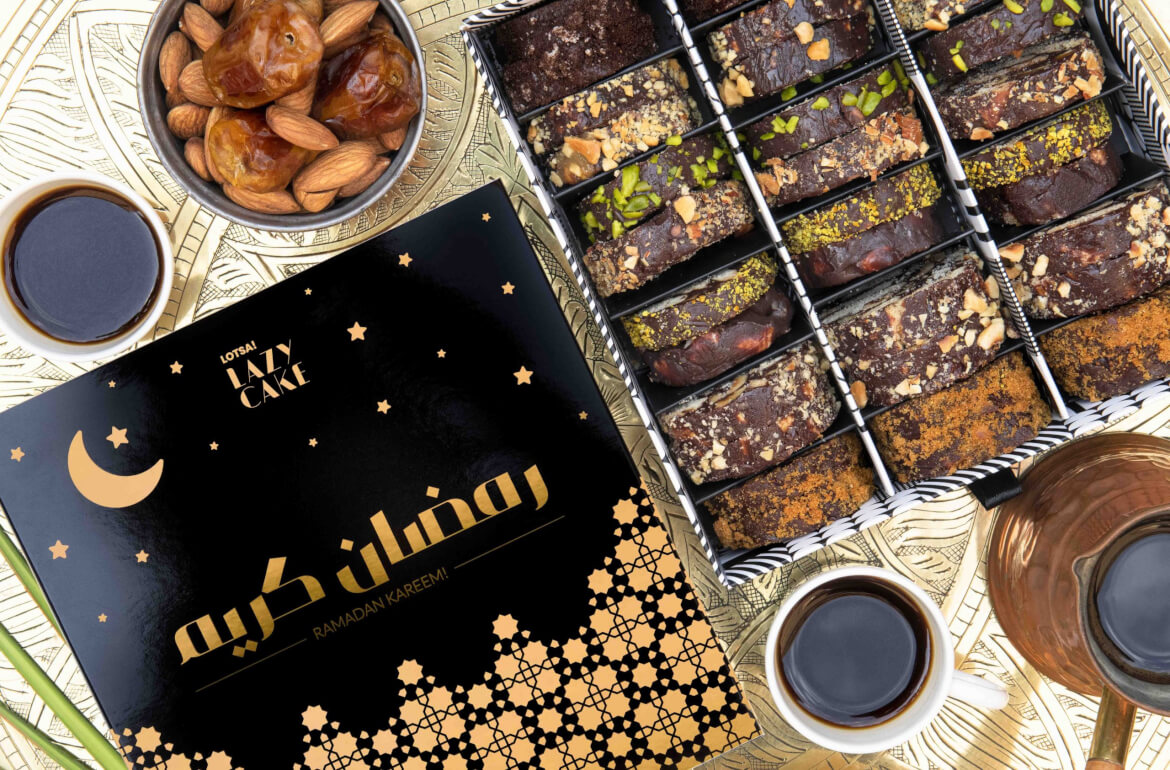 In the spirit of Ramadan, the brand is introducing four limited edition Ramadan inspired flavours together with specially designed Ramadan sleeves decorated with traditional Arabic patterns in gold.
Enjoy flavours such as halawa fudge, Nutella hazelnut crunch, Oreos cookies & cream and date & almond duo. Each cake box includes 36 slices of the sweet treat and makes for a delightful dessert.
Order on Deliveroo from 11am-11pm. AED150.
Sugargram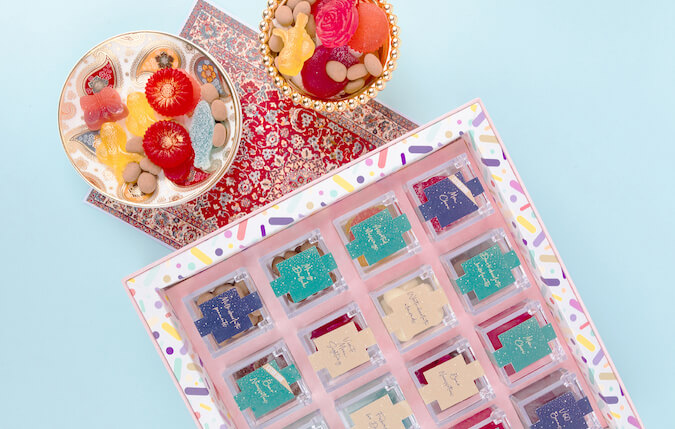 Savour the bite-sized cupcakes in seasonal saffron, date, coffee, Vimto and karak chai flavours, made exclusively with Ramadan in mind.
Moreover, Sugargram has another limited-edition drop for the month. It includes Ramadan handmade jellies or candy in vimto, saffron and mango in a dallah shape or a constellation of stars.
 AED125 per box (inclusive of 25 bite-size cupcakes), AED 30 per box (inclusive of five bite-size cupcakes) and AED150 per box (inclusive of 16 assorted candy). Order online on ChatFood or Deliveroo.
The Yellow Chilli by Sanjeev Kapoor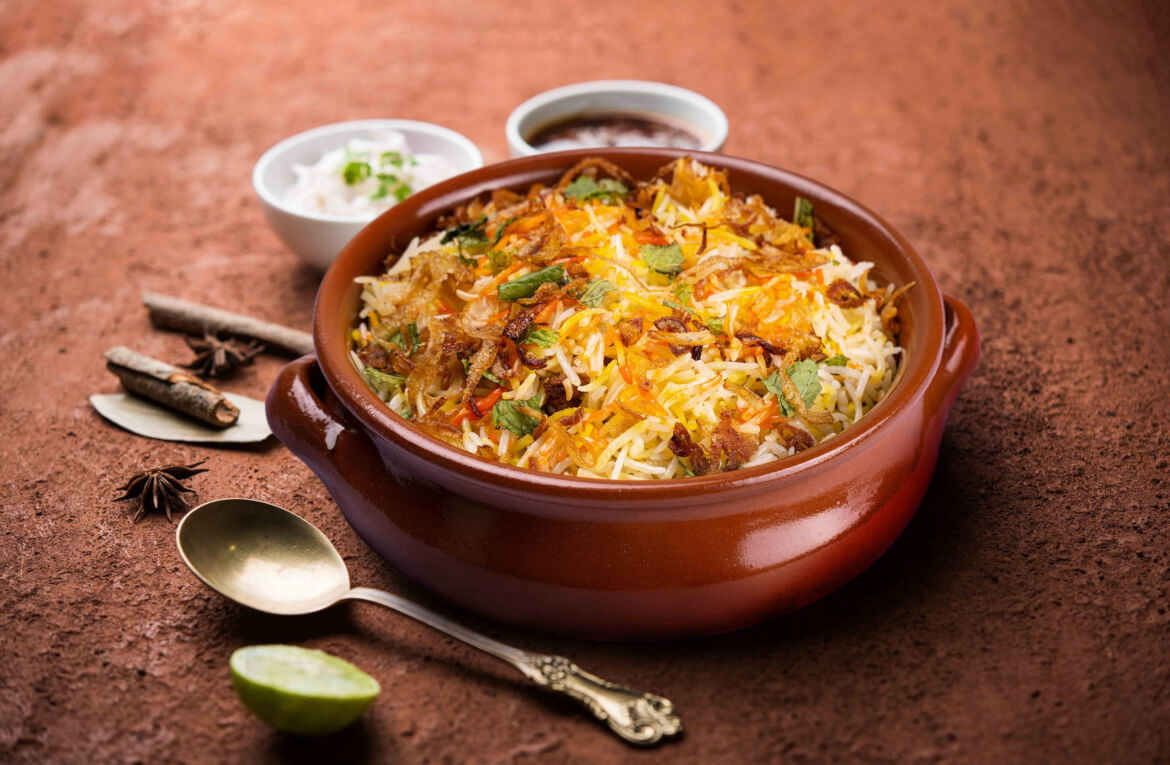 Celebrate the season of giving with a memorable iftar box from this North Indian Restaurant that includes a selection of dates, mixed fruits, rose milk, chicken tikka biryani, gulab jamun and water. It also makes for a great charity gifting box for the less fortunate in the community.
You can also opt to add on crunchy kanda bhajis (onion fritters) or kebabs to the boxes for a slightly more filling meal.
JLT and Burjuman in Dubai, Dalma Mall in Abu Dhabi and Al Qasba in Sharjah. AED24 or AED29 per box. Call 800 75892.