Embark on an exquisite Ramadan culinary journey across a plethora of Dubai Iftars
The Crossing
Padma Shri Grand Master Chef Imtiaz Qureshi presents a 12-day celebration of Indian gastronomy at The Crossing with an exquisite à la carte menu, 'Renaissance of Royal Repast'. Available for Iftar and Suhoor, diners can tuck into signature highlights including Murgh balai imtiazi (tikka of chicken dipped in an aromatic royal cumin marinade, grilled in the tandoor before being finished on Dum), Haleem (lamb stew cooked overnight, made with lentils & garnished with cilantro, egg, fried onions, & lime), Lamb paya nihari (slow cooked lamb trotters in a spiced stock) and Guchhi pulao (saffron-seasoned basmati rice, cooked with morels, stuffed with herbed cheese, finished in a sealed handi with cardamom & served with spiced yoghurt).
April 5-16. Call +9714 491 9695. Visit website.
COYA
Expect an immersive 360-degree Peruvian experience with the award-winning restaurant's five-course set menu showcasing Peru's authentic specialties, all prepared with premium quality ingredients. The Iftar begins with sweet Sukkari dates to break your fast before tucking into a creamy guacamole dip. Take your pick from nourishing bowls of creamy Sweet potato or tasty barley Miso soup, followed by an array of light bites such as Artichoke ceviche, Fresh corn salad, Chilean sea bass croquettes, Chicken anticuchos, and Wagyu bao buns. For mains, COYA offers a choice from Corn-fed baby chicken, Salmon fillet with stir-fried quinoa, Soy and green vegetables, Beef ribs, Chilean sea bass rice hot pot, and plenty more.
Sunset to 7:30pm. AED260 per person. Call +9714 316 9600 or email reservations@coyarestaurant.ae.
Allo Beirut
Throughout the Holy Month of Ramadan, Allo Beirut brings an authentic culinary journey with a curated special dine-in menu featuring Middle East's regional favourites. Tuck into the classic Lentil soup, signature Shish tawouk, Awameh, Maakaroun, Maamoul, and Sfouf, to name a few. For the ones looking for an at-home Ramadan experience, Allo Beirut presents a limited-edition Iftar Box offering a variety of dishes including their Fattouch, Hummus, and Chicken liver alongside desserts and a choice of beverage between Jallab and Qamareddine.
AED190 for two. AED80 for Iftar box (serves one). Call 800 86234788.
Carna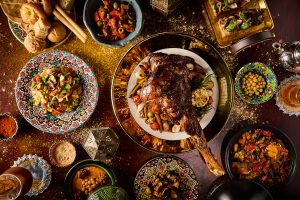 Nestled within SLS Dubai Hotel & Residences, Carna by Dario Cecchini invites you to a delightful Iftar spread, prepared using locally sourced ingredients. Tuck into a sharing-style menu featuring an array of Italian and Middle Eastern-inspired starters such as the Minestrone soup, Red Pepper Hummus, Italian Spicy Shakshuka and Grilled Focaccia. Guests can choose from a variety of dishes including the Lamb ragu risotto, succulent Roasted lamb, or the Local seabass paccheri for mains. End the meal on a sweet note with a lip-smacking Mango Chili Kunafa and a delectable Date Fondant.
Sunset to 8pm. AED225 per person. Call +97150 738 2280.
Rixos The Palm Hotel & Suites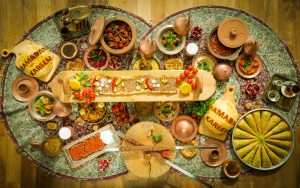 Look forward to a traditional Turkish Iftar buffet at the all-day dining restaurants A La Turca and Turquoise for an array of Turkish platters, hot and cold mezze, Ramadan favourites such as Lentil soup, and an assortment of desserts. Don't miss the breathtaking views under the stars at the Nargile Lounge while the little ones participate in exciting activities at the Rixy Kids Club.
Starting from AED275 per person for unlimited Turkish buffet, water and Ramadan juices. Call +9714 457 5454.
Armani/Pavilion, Armani Hotel Dubai
Discover a contemporary dining experience under the stars with Iftar at Armani/Pavilion. Enjoy your meal al fresco and embark on a cross-cultural culinary voyage featuring a buffet of seasonal and signature dishes from award-winning restaurants. Resident oud and tabla musicians will also be providing soothing tunes during the fine dining experience. Click here to catch a glimpse of the vibrant Iftar gathering.
Until April 22. AED365 per person. AED185 for children aged 6 to 11 years old. Children 5 and under dine for free. Contact +9714 888 3601.
Jehangirs Restaurant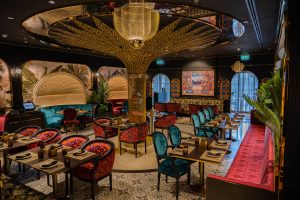 A royal Indian buffet awaits at the modern Mughlai restaurant serving a selection of salads, vegetarian and meat kebabs, seafood specials, Murgh nizami, Vegetable kadai, aromatic Biryani, and Indian breads. For desserts, conclude your meal with Ras Malai, Gulab Jamun, and plenty more. The menu will be changing every day to offer guests diverse options to choose from.
Sunset to 8.30pm. AED89 per person. AED59 for kids below the age of 14. Call +97150 580 8191.
Maui, Sofitel Dubai The Palm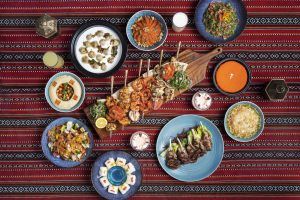 Throughout the Holy Month of Ramadan, Maui is hosting an exquisite Iftar featuring the best of Arabic cuisine and a selection of continental dishes. Dine at the remarkable terrace overlooking the ocean and the moonlit skyline of Palm Jumeirah while tucking into its widespread buffet featuring cold and hot mezzeh stations, live cooking stations for Lamb Ouzi, Arabic mixed grill and plenty more. For desserts, the beachside restaurant offers Basboosa, Qatayef, Baklava, Umm Ali, and an assortment of cakes and fruits.From sunset to 9pm. AED 210 for adults | AED 80 for children aged 6 – 12 and complimentary for those under 6 years. This price includes free-flowing Ramadan-inspired juices. Buy a prepaid voucher online to get 20% discount from the regular price. Call +9714 455 6677.
RIVA Beach Club
Break your fast at RIVA Beach Club with a serene beachside setting offering stunning vistas of the Arabian Gulf and Dubai skyline, and a three-course Iftar set menu brimming with traditional Arabic favourites such as Lentil soup, Kibbeh meat, Spinach fatayer, Fattoush salad, Lamb kofta, Chicken shish taouk, and Prawn curry. For desserts, look forward to Mohalabia and Umm Ali served with fruits, assorted Baklava, dates and refreshing beverages.
Sunset to 10:30pm. AED125 per person. Call +9714 430 9466.
Waldorf Astoria Dubai International Financial Centre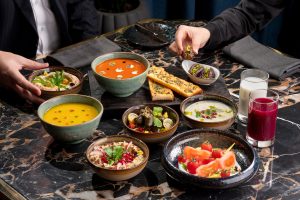 Cherish special moments with friends and family at Waldorf Astoria Dubai International Financial Centre for a sumptuous sharing-style Iftar spread at Bull & Bear. Get a taste of the splendid assortment of culinary offerings featuring classics and lip-smacking dishes such as the Lamb melanzane, Spinach tortellini, and the Bull & Bear's take on an Iftar mixed grill (braised lamb shank, oregano marinated tenderloin, and grilled chicken skewers). With an Arabic-inspired twist to the award-winning restaurant's everyday menu, begin with dates, laban, and the Josper grilled flatbread to break your fast. The experience continues with Roasted red pepper or Red lentil soup, Compressed tomato salad with feta curd and balsamic pearls, Slow braised celery, a selection of Hot mezze, and mains including Shrimp harra, Roasted potatoes, and homemade Mediterranean oriental rice. Finally, Cheese kunafa with Madagascar vanilla sugar syrup and pistachio ice cream, Arabian dates sticky toffee pudding, and Carrot – sliced baklava ensure a sweet end to your meal.
Sunset to 8:30pm. AED245 per person. Call +9714 515 9888.
Nosh Restaurant, Mövenpick Jumeirah Lakes Towers
Savour a traditional Iftar buffet with family, friends and colleagues at Nosh Restaurant for a delightful spread of Arabic and international delicacies including live cooking stations and refreshing Ramadan juices including fresh juices, leban airan and jellaba. Begin with a selection of starters such as Vine leaves, Pistachio hummus, Fattoush, Tabouleh, Mutabel and Shish barak, followed by an array of main course options such as Lamb ouzi, juicy Shish taouk, Chicken shawarma, Cheese sambousek, Meat kibbeh, Spinach fatayer, and many more. For the ones with a sweet tooth, look forward to a traditional Luqaimat, Baklava, Basbousa and Halawat al jibn.
Sunset to 10:30pm. AED250 per person (Buy one get one free). AED75 for children aged 6 to 12 years. Children below 6 dine for free. 2-for-1 offer for reservations made three days in advance. Call +9714 438 0000.
Great British Restaurant, Dukes the Palm, A Royal Hideaway Hotel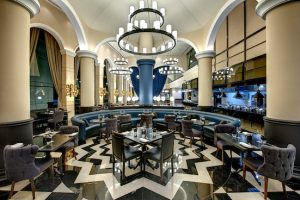 Embrace the spirit of Ramadan at Great British Restaurant and enjoy an impressive Iftar buffet experience with signature delicacies, seasonal favourites, and contemporary palate pleasers. Break your fast with dates and fresh Ramadan beverages such as Jalab, Tamr Hindi, Laban, and Qamar Al-Din. Grab a plate and head to the extensive buffet to commence your meal with traditional favourites such as hot and cold mezze, nourishing soups, salads station and a variety of mains. Great British Restaurant's lineup of buffet offerings includes Ouzi, Bone-fire lamb and salmon, Maskoof, Tandoor bread, and a wide assortment of hot and cold desserts.
Sunset to 11pm. AED179 per person including soft beverages and Ramadan juices. AED89 per child for ages 6-11 years old. Children 5 and under dine for free. Call +9714 455 1101.
Chef's House, Radisson Blu Hotel Dubai Media City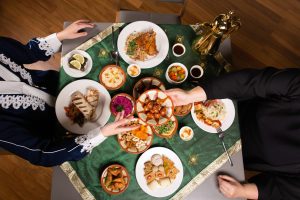 Nestled within Radisson Blu Hotel Dubai Media City, Chef's House invites diners to break their fast and savour a selection of local and international dishes, created by the dining venue's multi-national team. The Iftar buffet, ideal for gatherings with friends or family, features an array of Ramadan favourites to explore at the destination. Expect an extensive spread of authentic dishes featuring Cold Arabic mezzeh, Hot mezzeh, Shawarma, Soup, Ouzi or Mandi, Arabic delicacies, traditional assorted sweets, Ramadan drinks, and dried fruits and nuts. A live station is also available for a scrumptious display of freshly-prepared dishes.
Sunset to 10pm. AED129 per person. AED99 per person for groups of 20 or more. Call +9714 366 9137.
Anise, InterContinental Dubai Festival City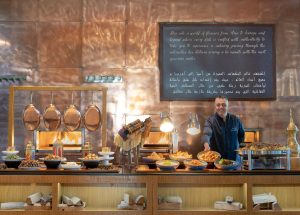 Embark on a sumptuous culinary journey across the globe with a range of flavorful delicacies, from Levantine and North African favourites to eight interactive live cooking stations offering Thai, Indian, Japanese, Levantine, and Arabic cuisine. Highlights include Ouzi, a braised whole lamb, and authentic Saj bread by 'Mama Jamal' – which dates back to 48 years of experience in bread making based on inherited traditional methods. The Iftar ends on a sweet note with homemade Arabic pastries by Chef Chadi Abou Fakher and Arabic-flavoured ice cream. Dine at the venue's expansive outdoor terrace for breathtaking vistas of Dubai Creek and view the renowned IMAGINE show on Festival Bay at Dubai Festival City.
InterContinental Dubai Festival City. Sunset onwards. AED289 per person, AED125 for kids aged 6-12 and kids under 6 years dine for free. Call +9714 701 11 27/28 or e-mail reservation.dfc@ihg.com. Visit website. 
Al Hallab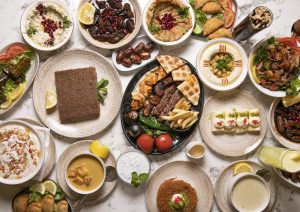 Sited across Al Garhoud, Mall of the Emirates, Dubai Mall, and Downtown Dubai, Al Hallab's array of culinary offerings are guaranteed to suit every discerning diner's palate with refreshing drinks, sumptuous main courses, grilled meats, and exquisite desserts. Al Hallab at Garhoud, Dubai Mall, and Mall of the Emirates offers a nourishing Iftar for families to savour an array of delectable dishes. As the sun sets, break your fast with dates and Ramadan beverages such as Jallab and Qamardeen before tucking into wholesome soups and mezze, a variety of grilled barbecue bites, hearty mains, pastries, specialty desserts, and aromatic coffee and tea to conclude the dining experience.  Al Hallab Bab El Bahr invites you to a scrumptious Ramadan spread in a vibrant, laid-back setting. Quench your thirst with a selection of Ramadan beverages, followed by a delightful Iftar buffet featuring energizing dates, wholesome soups, a variety of mezze, succulent barbecue, mains including seafood specialities, desserts, sweetened pastries, coffee, and tea.
12pm to 2am. The Iftar set menu at Al Hallab Dubai Mall and Mall of the Emirates is priced at AED145 per adult and AED95 per child. Al Hallab Garhoud Iftar buffet is priced at AED145 per adult. Al Hallab Bab El Bahr Iftar buffet is priced at AED195 per adult and AED95 per child. Takeaway is also available. Call Al Hallab – Garhoud at +9714 282 3388. Call Al Hallab – The Dubai Mall at +9714 330 8828. Call Al Hallab – Mall of The Emirates at +9714 341 1880. Call Al Hallab – Bab El Bahr at +9714 456 2881.
Habtoor Grand Resort, Autograph Collection
As the sun sets, gather your loved ones under a canopy of stars and indulge in traditional Arabic favourites with authentic signature flavours. Dine alfresco at the expansive starlit garden adorned with dazzling lights and tuck into a widespread buffet including a selection of hot and cold mezze, Lamb Ouzi, live cooking stations, delectable desserts and refreshing beverages. In addition, the culinary experience features a variety of international delights, suitable to all palates. Extend the night with a Suhoor at Salamar Shisha Lounge and order from an extensive à la carte menu.
Sunset to 9pm. AED 190 per person. Suhoor from 9:30pm to 1am. Call +9714 399 5000 or email hgrs.fbreservation@habtoorhospitality.com.
Taj Exotica Resort & Spa, The Palm, Dubai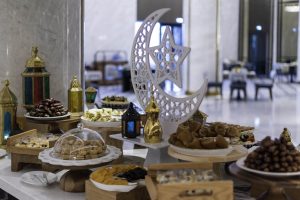 Throughout the Holy Month of Ramadan, diners are invited to an intimate Iftar experience with friends and family at the Palm Kitchen. Nestled within Taj Exotica Resort & Spa, The Palm, Dubai, the casual dining venue features a widespread Levantine buffet accompanied by mesmerising sunset views of the Dubai skyline. The specially curated menu for Iftar features a range of Ramadan favourites including Arabic beverages such as Laban, Jallab, Kamaruddin, and Tamrhendi. Break your fast with an array of traditional Middle Eastern and Indian specialties with live cooking stations offering dishes such as Lamb ouzi, Shawarma, Chaat, and more for a memorable Iftar gathering.
Sunset till 9pm. AED195 per adult including buffet and buffet drinks. AED100 for kids aged between 6-12 years old. AED165 per adult for group of 10 people or more.
Bombay Brasserie
This Ramadan, experience the flavours of India at Bombay Brasserie with a specially curated menu inspired by the Silk Route and royal kitchens of the Mughal empire during their rule between the 16th and 19th centuries. The award-winning restaurant starts with a selection of dates, karkade tea, and laban to break your fast followed by dishes such as Murgh Malai Kebab, Ajwani Fish Tikka, Hyderabadi Haleem (lamb stew with pounded wheat), Kulfi falooda, and plenty more.
Sunset–9pm. AED195 per person. Contact +9714 438 3134.
Sofitel Dubai Downtown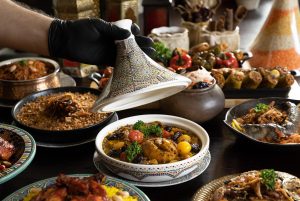 Savour the special moments with a poolside Iftar concept, serving authentic street food amidst a calming ambience, resembling the region's renowned old and new souks. Inspired by the spirit in the heart of Istanbul, Marrakesh and Tehran, the dining venue is the ultimate destination to visit with friends and family, for an enchanting cultural and historical journey filled with delectable, authentic dishes from the MENA region.
Sunset till Suhoor. AED145 per person, AED70 for children aged 7 to 12 years old, and those under 7 dine for free. Call +97156 996 0582. Visit website.
Anantara The Palm Dubai Resort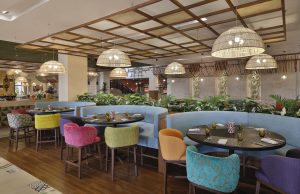 Make your way to the all-day dining restaurant Crescendo which boasts a plethora of multi-cuisine delicacies such as Arabic grills, fresh seafood, and Asian-infused dishes, accompanied by breathtaking views of the Arabian Gulf. From mezze platters and traditional lamb Ouzis to the finest fruits of the sea and an assortment of international classics, expect a series of live cooking stations at the restaurant and choose from a variety of culinary delights. Children are treated to a special Kid's Corner menu too, making it the perfect Dubai Iftar spot for families to have a memorable experience at the beachfront destination.
Starting from AED215 per person including selected Ramadan beverages. Children aged 6 to 11 dine for AED108. Call +9714 567 8304.