Occurring over a span of 10 days, Onam is marked by jubilant gatherings and indulgent meals shared among loved ones
The Crossing
Celebrate this August with a special Onam Sadhya set menu at The Crossing in Dubai, curated by Chefs Jitin Joshi and Simy Mathew. The limited-time menu offers a blend of traditional and innovative dishes served on banana leaves, reflecting Kerala's culinary heritage. Guest Chef Simy Mathew, a global citizen with roots in Kerala, Dubai, and New Zealand, has gained recognition for her self-taught cooking style and enthusiasm for food through appearances on international cooking shows since 2014.
Until August 29. AED 175 per person for Vegetarian or Vegan Onam Sadhya. AED 195 per person for Non-vegetarian Onam Sadhya. Call +9714 491 9695. Visit website.
Shamiana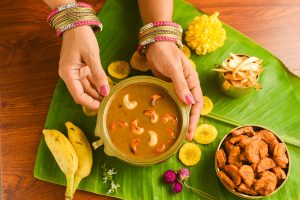 Taj Jumeirah Lakes Towers is gearing up for an elaborate celebration of the traditional South Indian festival, Onam. The event will feature an exquisite "Onam Sadhya" feast at Shamiana, offering guests a chance to immerse themselves in the cultural richness of Onam through vibrant flavours, captivating decorations, and warm hospitality. In honor of the Onam harvest festival, guests will experience the essence of Kerala through the Sadhya Thali service, complete with a variety of delicious dishes served on banana leaf-adorned plates. The feast includes favorites like Avail, Kootu Curry, and Olan, among 23 different dishes that showcase the culinary heritage of the region.
Until August 29. AED150 per person. Call +97152 680 5419.
Salkara Restaurant
View this post on Instagram
Witness the enchantment that unites communities during this treasured period, from the fabled resurgence of King Mahabali to the lively floral tapestries.
Visit website.