While we welcome another year, here's a quick rundown of all the new Abu Dhabi restaurants that will be unveiled in 2023.
Looking to try a new culinary destination this year? You've come to the right place. From outdoor restaurants to magnificent lounge spots, here's everything you need to know about what's upcoming in the capital and where to dine.
Love Vibe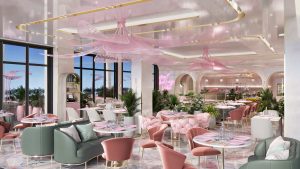 The team behind Dubai's iconic pink cafe, VIBE, is bringing a new concept to the capital. Love Vibe offers an elevated dining experience and pastel interiors of blush pink, sage green and cool grey, alongside its luxurious gold and marble finishes.
Opens: Q1 2023
Khalifa City, Abu Dhabi.
Keep checking this space for all the new Abu Dhabi restaurants opening in 2023.