Sponsored: Savour an array of irresistible culinary delights at JW Marriott Marquis Hotel Dubai, with a month-long opportunity to indulge in diverse dining experiences across the hotel's renowned award-winning restaurants
JW Marriott Marquis Hotel Dubai invites you to embark on a culinary journey fit for royalty across the hotel's remarkable dining venues including Rang Mahal, Tong Thai, Prime68, Izakaya, Positano, La Farine, and Kitchen6. Whether you're seeking a laid-back culinary affair or a premium dining experience, Restaurant Month is here to cater to all your preferences.
DINING EXPERIENCES FOR AED245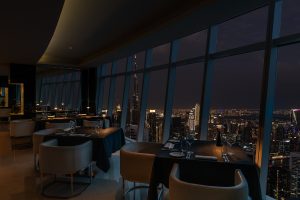 Experience an array of delightful dining options at the renowned Prime68 steakhouse, where you can relish prime cuts while gazing upon Dubai's breathtaking skyline. Prime68 presents a three-course set menu, allowing diners to explore enticing choices such as French onion soup, Truffle gnocchi, Roasted loch duarte salmon, Pan seared corn-fed chicken, and USDA prime black Angus striploin. Finally, indulge in Vanilla crème brulee, a selection of artisanal cheeses, or the optional addition of Baked alaska.
Delight in Rang Mahal's opulent ambience as you explore a five-course menu spotlighting the finest Indian delicacies. Revel in Tandoori smoked fish, Peppered lamb chops, Chicken tikka masala, and end with a decadent Chocolate chaklet for dessert. A vegetarian version of the set menu is also available for diners.
Tong Thai entices with its delectable Thai cuisine in an elegant setting. Experience the specially curated four-course set menu, featuring favourites including Grilled chicken satay and Papaya & steamed prawn. For the main course, enjoy Green chicken curry, Wok fried beef tenderloin, and Stir-fried cashew nuts chicken, followed by Tub tim krob or Thai-style coconut ice cream for dessert.
In addition, Izakaya presents a contemporary Japanese experience with an extravagant sushi and sashimi combo, featuring Edamame to start and a deluxe platter showcasing freshly prepared Sake, Hamachi sashimi, and Tokusen nigiri. Ebi tempura and Salmon avocado rolls complete the offering, and a delectable Yuzu cheesecake awaits for dessert.
DINING EXPERIENCES FOR AED125
Love European cuisine? The contemporary café and bakery, La Farine, features a delightful three-course meal with an array of choices, such as Oven-roasted tomato soup and Roasted beets & goat cheese salad as starters. For the main course, select from Roasted corn-fed chicken breast, Roasted salmon fillet, or Slow-cooked Australian beef brisket. To conclude, the dessert counter stars a delectable assortment for guests to choose from.
For those seeking a more relaxed and casual dining affair, make your way to Bridgewater Tavern for an enticing offer featuring the Big Boy Burger paired with two bottles of hops. Alternatively, Lush Burger, a local burger destination, offers the Double Meal Combo, encompassing two burgers, a side of fries, a refreshing froyo, and two bottles of hops.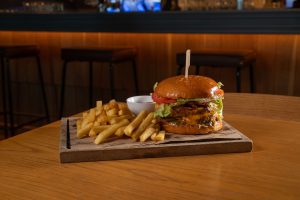 At the Italian eatery, Positano, diners can order unlimited servings of Spaghetti bolognese and oven-baked pizzas, complemented by a scoop of gelato or Tiramisu. Meanwhile, the esteemed Kitchen6 invites you to a splendid international buffet experience, encompassing an extensive array of starters, salads, and desserts, all set within a vibrant atmosphere.
In addition to the hotel's participating venues, More Cravings by Marriott Bonvoy ™, brings together an array of fine dining and casual restaurants across the UAE to delight food enthusiasts with unmissable Restaurant Month offers. For more information, download the app or visit morecravings.com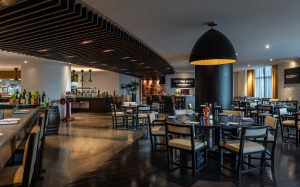 September 1- September 30. Offers are valid from Sunday to Thursday. Visit website or Instagram.