Jumeirah Group has revealed expansion plans with the imminent launch of 13 new and enhanced bars and restaurants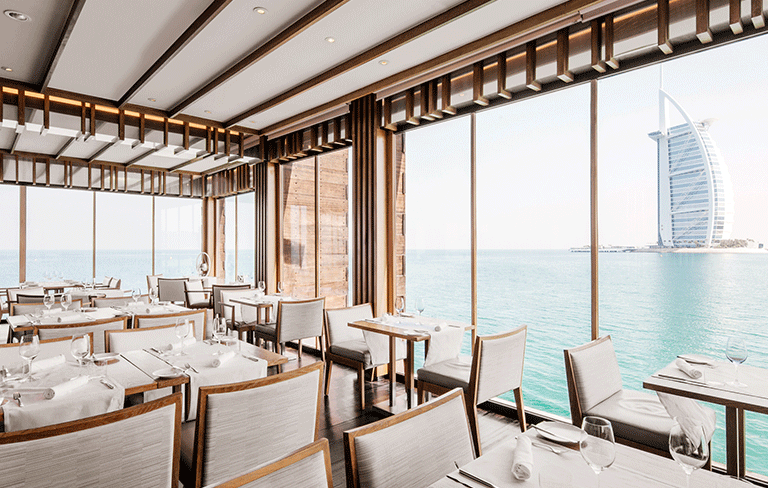 In a move that will see the transformation of Jumeirah's beachfront hospitality destination into a vibrant culinary hotspot, Jumeirah Group, the global luxury hospitality company and member of Dubai Holding, has revealed growth plans for its culinary portfolio set to take place over the next few months.
Jumeirah Al Qasr will see the biggest transformation of all. The Hide will reopen with a fresh new vintage look; while new Parisian concept Bar Buci will make its debut with a jazz vibe and re-envisioned classic concoctions. The Mediterranean concept French Riviera will extend to include La Plage, an elegant deck on the beach; while a new iteration of Dubai institution Al Nafoorah will also open at the property. Pierchic, the hotel's existing Italian waterside venue has undergone a refurbishment and Pai Thai, an Asian destination within the hotel's waterways has also been reimagined.
The first new concept to open at Jumeirah Beach Hotel is Bastion, a modern brasserie and grill that will serve simple yet refined fare accompanied by picturesque views of the Arabian Gulf and the stunning Burj Al Arab Jumeirah. There will also be a new casual rooftop luxe bar, Floor 24, offering nautical interiors that pay homage to the hotel's ocean-inspired architecture and panoramic views of the city below.
Located in the heart of Madinat Jumeirah, Jumeirah Mina A'Salam will reopen two of its award-winning restaurants with a fresh new look and feel. Zheng He's will celebrate the best of traditional Oriental flavours; while the iconic alfresco venue Shimmers will return with an extended deck. Diners can also discover Bahri, an exotic lounge inspired by the silk route with stunning interiors and spice-laden menus.
Premium pan-Asian restaurant Junsui at the iconic Burj Al Arab Jumeirah will make a comeback with revamped interiors; while the glittering nightspot Gold on 27 will be renamed and transform into a beverage apothecary headed by acclaimed mixologists. Al Mahara, set against the backdrop of a floor-to-ceiling tropical reef aquarium, will also be reinvented as a 'fish club' featuring best-in-class seafood and sips.
Lasty, sited in the heart of Souk Madinat Jumeirah will be a pop-up collaboration with the world's first Arab pit master, Hattem Mattar.
Visit the website.