Experience OKKU 2.0, where discerning diners are invited to rediscover fine dining excellence while savouring exquisite Japanese delicacies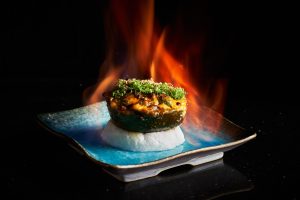 OKKU, the renowned Japanese restaurant, bar, and lounge, reopens its doors at Marriott Resort Palm Jumeirah, promising a remarkable culinary journey serving contemporary Japanese cuisine with an international twist. The restaurant showcases a magnificent 20-meter Sushi Bar & Robata Grill, showcasing impressive culinary skills, while the OKKU Lounge offers a relaxed setting with luxurious seating, a glamorous bar, and a vibrant ambience.
OKKU boasts a meticulously crafted menu, curated by expert chefs hailing from various corners of the globe. The menu features an array of exquisite 'O' style dishes, including renowned favourites such as Wagyu beef and Foie-gras kushiyaki, Tuna on crispy rice, and high-grade Wagyu beef imported from Japan. For an indulgent and unparalleled delight, OKKU presents a unique delicacy exclusive to Dubai – a remarkable 1.7kg Japanese bone-in Wagyu rib of beef.
Embark on an enchanting journey of the senses from the moment you step foot into the restaurant with opulent interiors and a bespoke OKKU scent infused with notes of mandarin, bergamot, and orange blossom. The interior design pays homage to the rich culture and aesthetics of Japan featuring traditional Yakisugi decorative wooden panels and distinctive stone walls as well as the ArtBeat Gallery featuring bespoke artworks inspired by Japanese art. Don't miss the eight striking 3D-printed Samurai soldiers, towering at an impressive height of 2.20 meters.
Contact +9714 666 1566 or email reservations@okkudxb.com. Visit website.