Sponsored: In the heart of Palm Jumeirah, a captivating modern British gastropub Roaring Rabbit comes to life, drawing inspiration from the enchanting character of the White Rabbit in Lewis Carroll's Alice in Wonderland.
Step into Roaring Rabbit any time between midday and late night, and you'll find yourself immersed in a world where live sports matches play out, billiards cues are struck, and inventive concoctions flow freely. Whether you're in the mood for meticulously selected draught brews or the comfort of classic British pub fare, Roaring Rabbit has got you covered.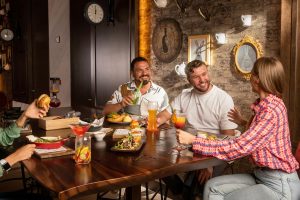 Renowned as a beloved traditional gastro pub for its exceptional culinary offerings, Roaring Rabbit has unveiled an entire week of irresistible offers that promise to elevate your weekdays.
Bottoms Up Monday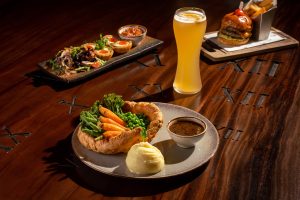 Begin your week with a delightful treat! Immerse yourself in endless servings of house-draught hops for two hours only, all while relishing a 25% discount on their mouthwatering food menu.
Every Monday, from 3pm-10pm. AED169.
Chido's Tuesday:
Introduce a festive ambience with a classic concoction taking the spotlight. Delight in bottomless concoctions with 25% discount on food selections. As an added bonus, treat yourself to a trio of taco sliders of your preference for a complete Tuesday fiesta.
Every Tuesday, from 5pm-10pm. AED149.
Burgers and Bru's Wednesday: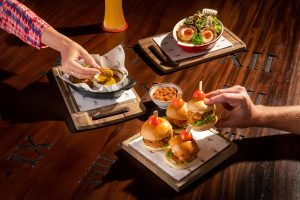 Bid farewell to midweek blues with Roaring Rabbit's alluring offering. Embark on a journey of delectable flavours with a two-hour delight to select from an assortment of Monster burger sliders accompanied by limitless hops.
Every Wednesday, from 5pm-10pm. AED159.
Longest Happy Hour Friday:
Revel in an exceptional 30% discount valid for both exquisite cuisine and rejuvenating beverages, elevating the excitement of the weekend's beginning.
Every Friday, from 12pm-10pm.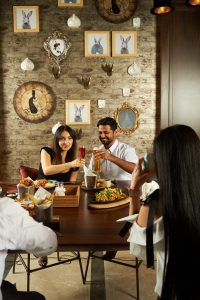 Sundowner Saturday:
As the week winds down, enjoy unlimited concoctions along with a 25% discount on food.
Every Saturday, from 5pm-10pm.
Taj Exotica Resort & Spa, The Palm, Dubai. East Crescent of Palm Jumeirah. Call +974 275 4444. Visit website or Instagram.