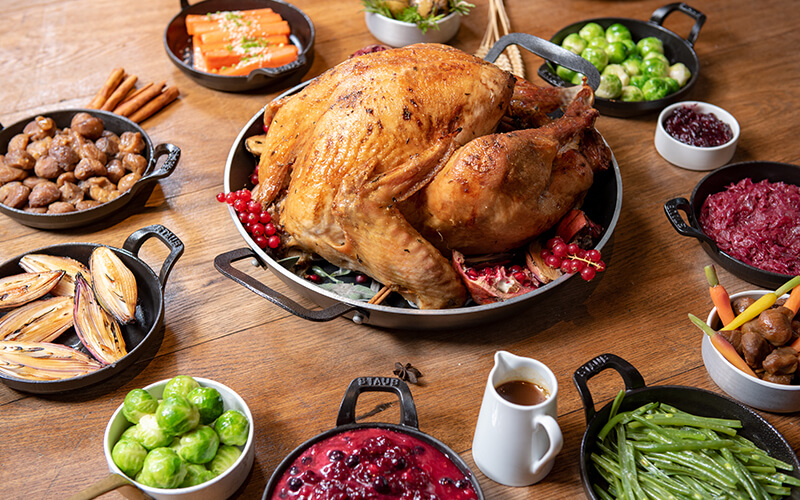 Sponsored: As the festive season is on the horizon, with it comes the same thoughts looming through our minds… Weeks of eagerness, days of preparation, hours of cooking but just a few minutes to scoff down. And with it comes the pressure, as for most people, the traditional turkey feast is one of the best parts of Christmas.
So why put yourself through all the stress and trauma of trying to get this bird done right, when you can let the culinary team at Grand Hyatt Dubai lend you a helping hand in preparing a wonderful festive feast for your friends and family. Sounds amazing right? Well, just sit back, relax, and worry about tomorrows dish washing!
From 20 November 2019 until 7 January 2020, you will be spoilt for choice with a whole host of great options.
Traditional Festive Turkey
AED 650 – Small size (8 to 10 KG) – Serves five persons
AED 800 – Large size (11 to 12KG) – Serves ten persons
And if you're not a fan of the traditional turkey, don't panic. Grand Hyatt Dubai also have alternative options on offer…
Black Angus Oven Roasted Rib Eye
AED 999 – Small size (2.5KG) – Serves five persons
AED 1100 – Large size (3.5KG) – Serves ten persons
Traditional Roasted Goose
AED 850 – 5KG – Serves eight persons
It's also worth mentioning that all orders include six different side dishes to choose from, as well as four complementing sauces. Side dishes include herb roasted potatoes, mashed potato, cinnamon baked sweet potato and apples, maple glazed roasted carrots, pan-fried bread-chestnut-sage roll (with Grand stuffing on the side), roasted parsnips, roasted Brussel sprouts with pomegranate, honey caramelized chestnuts with chives, baked broccoli with parmesan, and last but not least – braised red cabbage.
Top it all off with a sumptuous sauce, and choose from black pepper, wild mushroom cream sauce, turkey gravy, cranberry sauce or red wine sauce.
To avail the above offers, place your turkey takeaway order 48 hours in advance between 20 November 2019 and 7 January 2020.
Details: Orders can be placed by dialing +971 4 317 2290. For more information, click here.