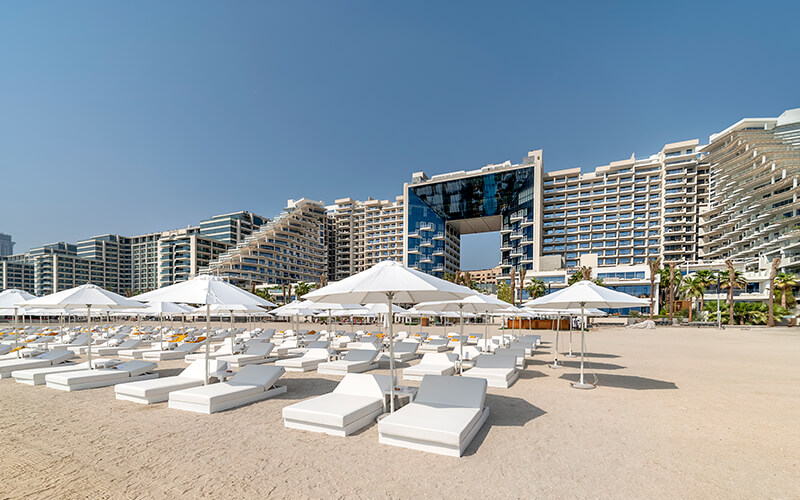 Sponsored: Already home to a host of fantastic F&B outlets, FIVE Palm Jumierah has just announced the opening of 'Beach By FIVE'.
Spanning 150 metres of pristine white sand on the West Palm, this new beach destination is set to become the hottest spot in town with over 350 luxe sun loungers, airy cabanas and five sun-soaked Jacuzzis, as well as a delicious Mediterranean tapas style menu. Oh, and did we mention the stunning blue chandelier that hangs above the raise glass-lined pool?
Sip and dine from the pool, deck or one of the enviably comfortable sun loungers, in the knowledge you can enjoy the sun setting across the Dubai Marina skyline with the renowned architecture of FIVE Palm Jumeirah in the background.
Foodies will be delighted with the new Mediterranean menu, available on the beach or on the beautifully designed deck. Inspired by the sun-drenched beaches of the Med with pops of bright yellow and deep red, the deck will be open throughout the day, allowing guests to pop in for a quick bite to eat during the day or enjoy a casual evening dining experience.
Beach by FIVE's menu has been carefully curated and crafted to be shared and enjoyed with friends and family. Inspired by a journey from Spain to Greece, Turkey and the Levant, this tapas-style menu features shrimp tacos (we've heard the veggie version is delicious too!), prawn pitas or Greek street food classic, chicken souvlaki.
Those looking for something lighter can tuck into a range of freshly prepared salads and mezze include Grandmas Greek salad, burattina and traditional humous. A Mediterranean menu wouldn't be complete without a 'From the Sea' selection, so be sure to indulge in grilled king prawns, swordfish steak and whole seabream.
And because everyone loves sushi, there is an added special section of sashimi and roll platters. For all your sweet tooth cravings, look no further with hot sticky churros, lemon tacos or crème gourmand for dessert.
Details: Beach by FIVE is open now. For more information, visit the website.