Sponsored: AURA Skypool, home to the world's highest 360 infinity pool, introduces an enticing new evening experience for guests seeking unparalleled luxury.
Perched 210 meters above sea level, AURA Skypool offers its guests an exceptional experience, boasting awe-inspiring views of Palm Jumeirah and the Arabian Gulf. With the winter season drawing near, the destination brings a range of special offerings designed to elevate your experience to new heights.
Bubbly Nights in the Lounge
Introducing 'Bubbly Nights in the Lounge,' a delightful evening escapade featuring two hours of free-flowing bubbles, all set against the enchanting backdrop of Dubai's nighttime skyline. AURA invites you to create unforgettable memories in the sparkling indoor lounge, tailored for an extraordinary experience. Whether you're celebrating a special occasion with friends, sharing an intimate dinner, or simply treating yourself, make your way to AURA.
Furthermore, you have the option to complement your evening with delectable offerings from the à la carte menu, ensuring an unforgettable night.
Every Tuesday, from 8-11pm. AED 180 per person.
Night Brunch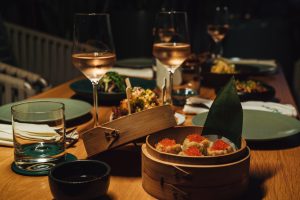 Guests can explore an array of free-flowing beverages while relishing an eclectic sharing Pan-Asian menu, curated by Executive Chef Craig Best. Tuck into signature dishes including California maki, Barbeque beef short rib roll, Gochujang cauliflower popcorn, Crispy vegetable spring rolls with sweet chilli dip, Thai green papaya salad featuring grilled shrimp and roasted peanut som tom dressing, Thai coconut chicken curry, Malaysian strawberry mess, and Matcha tiramisu.
As diners indulge and socialise, the resident DJ and live entertainers set the tone for an unforgettable weekend kick-off. For those seeking a more elevated experience, AURA Skypool offers the option of free-flowing bubbly, adding an extra touch of sophistication to the night.
Every Friday and Saturday, from 8-11pm. AED480 per person including house beverages & bubbles. Additional AED240 per person for premium bubbly.
Call +9714 566 2121. Visit website.