Wondering about gift ideas for family and friends? Here's a quick rundown of Ramadan gifts to surprise your loved ones with
Bachir
The premium ice cream brand Bachir, renowned for its Ashta ice cream, has introduced brand-new additions to its exquisite menu. Available in two delectable varieties – the Ashta flavour coated in Pistachios and the Chocolate and Strawberry flavour, this delightful ice cream cake is sure to impress your loved ones.
AED 195. Available via delivery and in-store across City Walk, Galleria Mall, and Al Jada Sharjah. Visit Instagram.
Ben's Cookies
As Eid al-Fitr approaches, Ben's Cookies offers a wide range of flavours including Vegan Milk Chocolate, White Chocolate & Cranberry, and Milk Chocolate & Dates, which cater to different tastes and preferences. Get these lip-smacking cookies for family gatherings during Eid!
Ben's Cookies Limited Edition Ramadan Tins. AED78 for small and AED135 for big tins. Order via Deliveroo, Talabat, Chatfood, Careem, and Noon Food. Visit website.
Sugargram
Inspired by the unique flavours of the Middle East, Sugargram's Ramadan collection features a scrumptious line-up of mini cupcakes in Saffron, Rose, Vimto, Pistachio, and Dates. From the sweet and savoury Charlize saffron to the rich and nutty Jimmy pista-choo, these miniature cupcakes are guaranteed to impress loved ones. A new range of bonbon flavours including Vanilla kunafa, Halva Omani, Kholas date, Pista mahalabiya, Sunflower & honey, and Umm Ali are also available to order.
From AED35 for five mini cupcakes and AED165 for 25 bonbons. Visit website.
Nicecream
Nicecream offers five flavours of low-calorie ice cream for Ramadan, including Sea Salt Caramel, Hazelnut Chocolate Fudge, Mint Chocolate Chip, Birthday Cake, and Chocolate Chip Cookie Dough. Each flavour is made with fresh ingredients and natural sugars, with less than 100 calories per scoop.
AED100 for three tubs. Available for delivery on Deliveroo, Talabat, and Chatfood. Visit Instagram.
Amazónico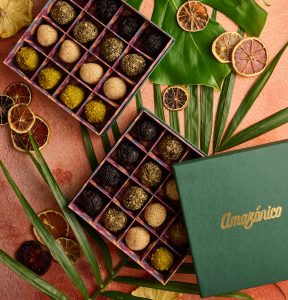 Amazónico in Dubai has introduced a limited-edition box of Brigadeiros, a traditional Brazilian truffle blended with bespoke Ramadan flavours of Orange and Saffron, Pistachio, and Halawa. The truffles are designed to inspire sharing and celebration during the Holy Month, combining artisanal Middle Eastern flavours with Latin American flair.
AED160 for the 16-piece gift box. Call +9714 571 3999.
Flowwow
To make gifting easier, Flowwow, Europe's leading online gifting marketplace, has launched in the UAE, providing quick and easy gift delivery services with a wide range of options to choose from.
Visit website.