Sponsored: The Conrad Culinary Month features irresistible three-course set menus for AED250 at its signature restaurants including Li Beirut, Nahaam, Ray's Grill, Sole, José by Pizarro, and VaKaVa.
Conrad Abu Dhabi Etihad Towers is delighted to unveil its enchanting Culinary Month, a month-long celebration taking place in October. From succulent Arabic-style grilled Snapper to delectable Spanish Tapas, flavorful South American delights, traditional Italian favourites, and more, Conrad Culinary Month offers an exciting opportunity to savour signature dishes from some of the capital's most exceptional restaurants and the region's top culinary talents.
Ray's Grill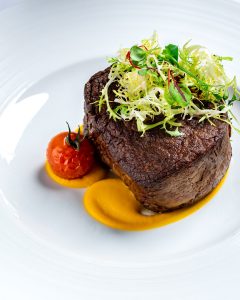 Situated on the 63rd floor with breathtaking views and exquisite premium cuts, presents a decadent curated set menu. It starts with Potted beef with roasted bone marrow and Candied maple veal bacon on toasted multi-grain bread, followed by a tantalizing main course of rich Wagyu rump. The fine dining experience concludes with a homemade Pecan tart served with burnt chocolate ice cream.
Li Beirut
Li Beirut offers authentic Lebanese cuisine with a three-course feast featuring the signature starter, the Eggplant experience, followed by Grilled red snapper with harra sauce and black mussels. The divine experience is completed with Li Beirut's famous Labneh cheesecake with saffron ice cream.
José by Pizarro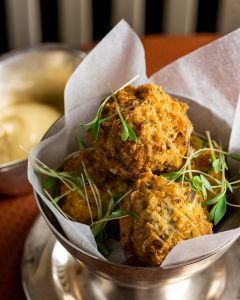 José by Pizarro presents fresh and imaginative Spanish cuisine with a picturesque and perfectly curated selection of authentic Spanish tapas. Chef Carlos Ortiz has crafted a vibrant and creative menu featuring Porcini mushroom croquettes, Catalan-style fish stew with mussels and clams, and Spanish French toast with cinnamon ice cream.
SOLE
SOLE transports diners to the bustling streets of Naples, offering a delightful array of regional specialties. Chef Simone De Vivo's Conrad Culinary Month menu includes Scallop carpaccio, King crab risotto, and traditional Italian brioche served with coffee gelato, satisfying even the heartiest appetites.
VaKaVa
VaKaVaintroduces food connoisseurs to the vibrant spice combinations of South America, with a delectable menu that takes guests on an immersive exploration of Peru's treasured culture. Chef Eber's menu includes popular favourites like Guacamole, Picanha steak, and a sweet Tres leches with mango sauce, passionfruit gel, berries, and coconut ice cream. Each palate-pleaser is carefully curated by Chef Eber Villalobos, celebrating the captivating flavours and adventurous culinary specialties of Latin America.
Nahaam
Nahaam invites curious and adventurous foodies to savour flavours from the Mediterranean and beyond at this bright and welcoming international restaurant. Chef Nicky Javier's enticing menu features a Cretan salad with ingredients sourced from the hotel's onsite hydroponic garden, followed by Sole meunière, and a delightful Paris-brest dessert topped with almond flakes, hazelnut & almond, and Mousseline praliné cream.
Call +9712 811 5666. Visit website.