Sponsored: Ciao Bella, located at Media One Hotel Dubai, will be hosting chefs Faulisi Gesualdo and Giuseppe Patti at the Italian restaurant
Sicilian ambassadors of Slow Food Sicily, Chefs Faulisi Gesualdo and Giuseppe Patti, are heading to Dubai to give diners an exclusive taste of authentic Sicilian cuisine – a fervent nod to the eras of colonisation in Italy. The two new limited-time only menus at Ciao Bella are titled Menu de Mori (referring to the Arabs of Sicily) and Menu de Monsu (a term derived from the corruption of "monsieur" indicated by the chefs employed during the early 18th century in the homes of Sicilian and Neapolitan Bourbonic families, referring to a symbol of status).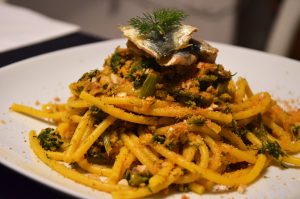 The three-course menu pays homage to Saraceni, the Arabic population in Sicily living in the region for the past 264 years, with flavourful dishes inspired by Arabic influences. The menus highlights are Arancine con erbe selvatiche sfincione (vegetarian stuffed rice balls with wild Mediterranean herbs and traditional Sicilian pizza), Sfinci con la ricotta (traditional Sicilian bigne, sweetened ricotta cheese, and cherries), Pasta con le sarde alla siciliana (fresh sardines, raisin, pine seeds, wild dill, and breadcrumb), and Polpo a strascina sale con patate e olive (octopus cooked in traditional Sicilian style, with potato, olives and cherry tomato).
Held on February 16 and 17, the chefs will also be hosting an informative masterclass on orthodox, original and varying types of flour used for pasta and pizza made by Chef Gesualdo. The masterclass will be followed by the collaborative dinner incorporating Gesualdo and Patti's two generations – modern and orthodox.
Slow Food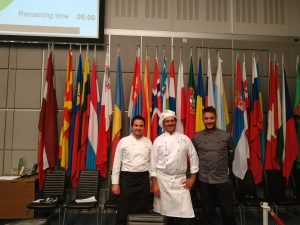 Established in 1986, Slow Food focuses on historic ingredients and recipes holding strong cultural ties and intertwined with the theme of sustainability and preservation. The Slow Food, since its inception, has expanded to Argentina, Japan, Mexico, and more, with the concept spotlighting produce from the land and sea. The movement consists of chefs, producers, farmers, fishermen, and activists. Restaurants supporting the movement collaborate with Slow Food and the producers to promote final products, termed as Presidia, and in turn help protect local farming in these cities or countries.
As ambassadors of Slow Food, Chefs Patti and Gesualdo have attended a multitude of events across Saint Petersburg, Italy, Vienna, and New York to raise awareness on the dying culinary practice. Chef de Cuisine of Ciao Bella, Anna Alaimo, hails from the same town called Licata in Sicily as Patti with Gesualdo being from Caltavuturo in Sicily. So without a doubt, prepare for a celebratory culinary trip across Sicily at Ciao Bella.
February 16 and February 17.  Starting from AED249 per person. Call +97156 784 7170 or email massimo@mediaonehotel.com. Visit the website or Instagram.