Sponsored: Make your way to the luxurious Sofitel Dubai The Palm for a plethora of Christmas and New Year 2022 experiences
Sofitel Dubai The Palm invites you to a December brimming with magical moments. Gather with friends and family and have yourself a season filled with joy, laughter and lots of delicious food.
Christmas Turkey Takeaway, The World Eatery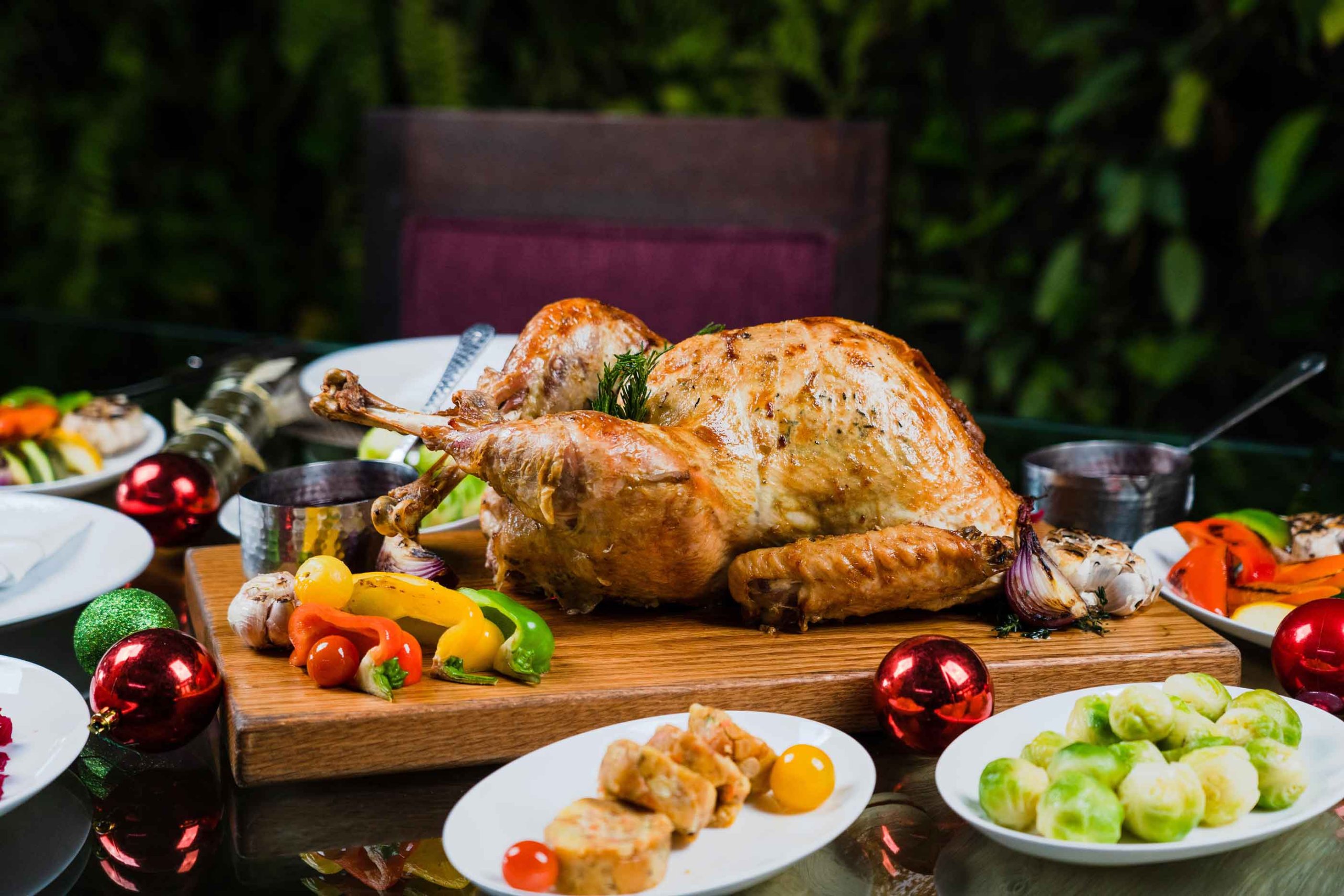 Put together an impressive meal for your loved ones in the comfort of your home. Picture your dinner table set with a magnificent bird, cooked to perfection by the talented team at The World Eatery and complemented by luscious trimmings.
The Christmas takeaway service offers three sumptuous options for self-pickup. For the traditionalists, a Turkey big enough for eight people is roasted in herb butter and served alongside roast potatoes, caramelised onions, roast pumpkin, honey-glazed chestnuts and braised Brussels sprouts with beef bacon. If you're looking for something different, select a Chermoula-marinated sea bass that serves two or Slow-cooked Wagyu short ribs that can feed four. All dishes are served with an array of mouth-watering sides; with more to choose from as optional extras, including truffle mashed potato and wild mushroom fricassee.
Similarly, takeaway sauces range from cranberry sauce and turkey gravy to chimichurri and Roquefort cream. If your family has a taste for the sweeter things in life, don't forget dessert. Think a rich Christmas pudding with cinnamon vanilla sauce and stollen with candied fruits and spices.
AED650 for turkey, with an early-bird rate of AED520 offered for orders placed and paid for before December 19; AED550 for Wagyu ribs and AED400 for Sea bass. AED65 each for Side dishes and AED45 each for Sauces. AED80 for Christmas pudding, AED80 for Stollen and AED110 for Yule log. Order by filling this form, here and then email dining.palmdubai@sofitel.com. Visit the website or Instagram.
Christmas Eve Dinner at Porterhouse Steaks & Grills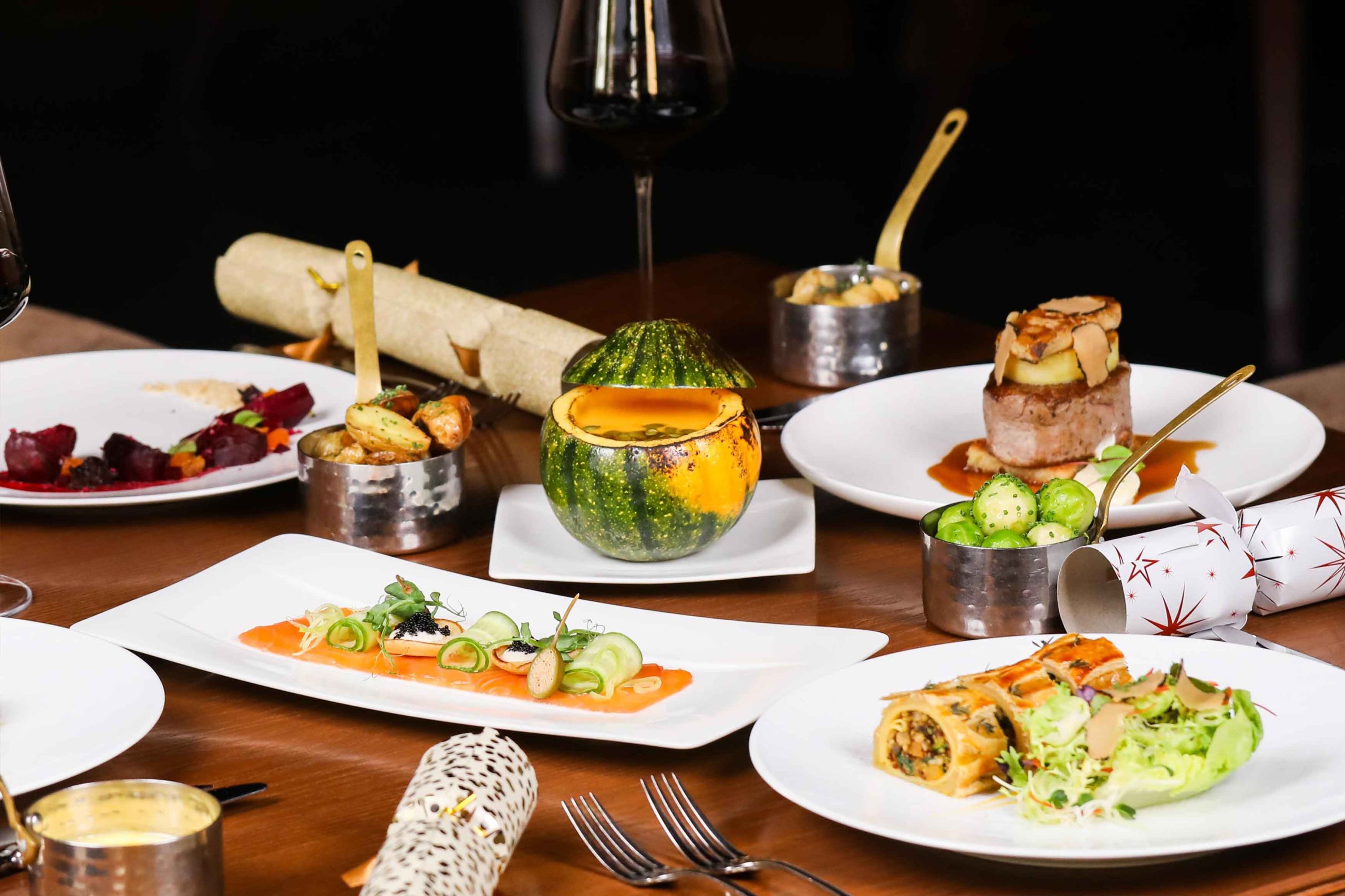 Christmas Eve calls for an exquisite epicurean experience and this twice recognised Dubai steakhouse invites you to indulge in special culinary creations from the property's acclaimed chefs. Sit down to a dinner boasting four courses of delectable dishes across distinct vegetarian and non-vegetarian menus, amidst an ambience of intimate sophistication.
Festivities begin with a Wood-smoked salmon and royal caviar on buckwheat blinis, or Salt-baked beetroot with hazelnut crumbs. Thereafter, a Butternut squash cappuccino soup makes its way to the table; followed by a choice of Tournedos Rossini, Chicken galantine or Pumpkin Wellington for mains. The grand finale is a confection of White chocolate mousse, raspberry crémeux and almond cake playfully known as Santa's Belt.
December 24 from 6:30-11pm at AED350 for adults and AED175 for children aged 6–11 years. Younger children are welcome free of charge. For an early-bird discount of 20 per cent, purchase a prepaid voucher online before December 20, 2021. Visit the website.
Christmas Eve Dinner at Moana Seafood Restaurant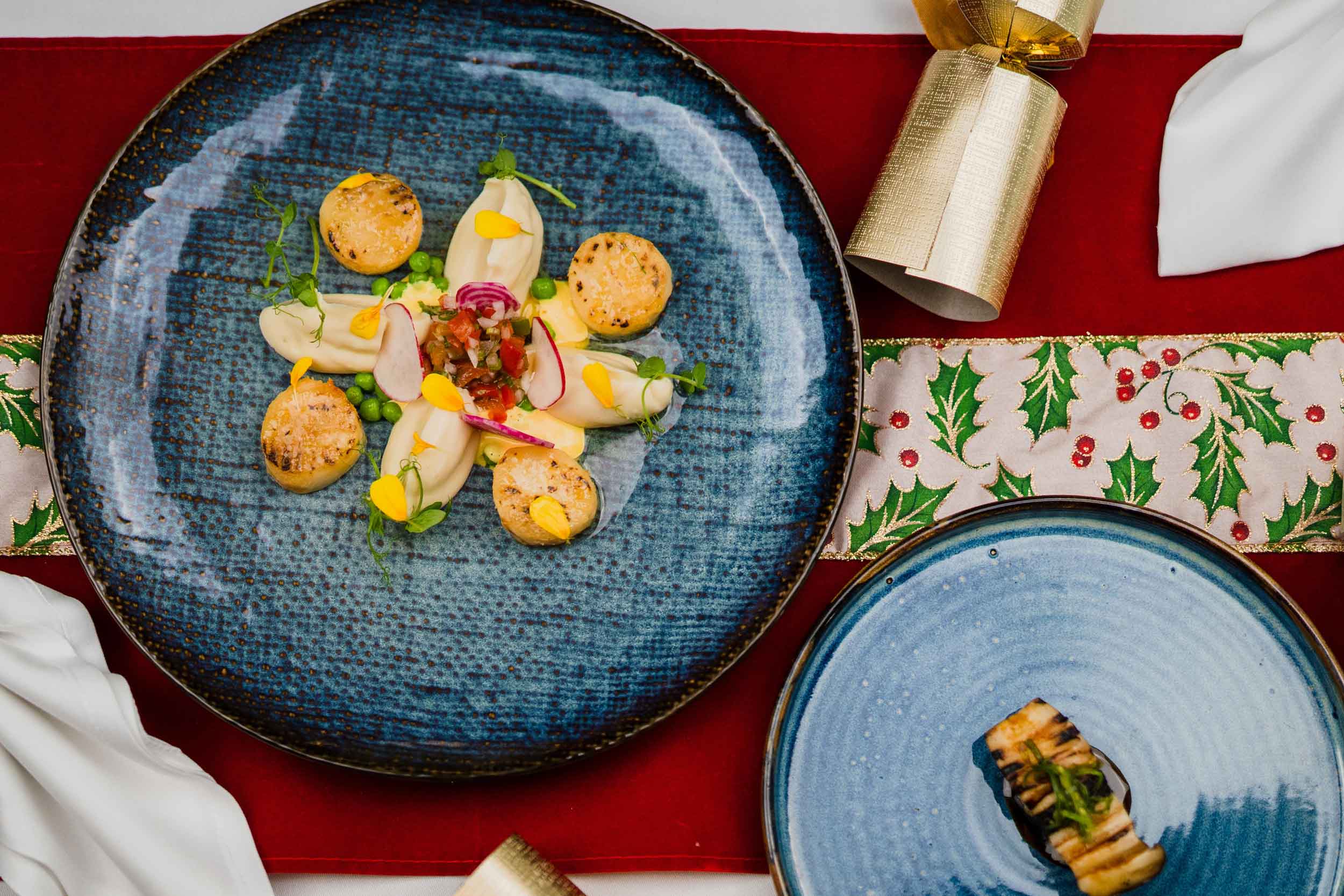 Moana Seafood Restaurant channels all the romance of the South Seas with a gleaming dark wood veranda, backed by dreamy pool and palm and ocean vistas. Inspired by the venue's ocean setting and the salt-laden breeze that caresses its al fresco diners, the menu at Moana is brimming with treasures from the sea and sublime specials.
Courses feature Salmon nigiri criollo or Mushroom nigiri; followed by Octopus and olives or Melon tiradito. For the main event, diners can choose between Roasted salmon in a lemon sauce, Turkey breast stuffed with green apple and blue cheese, or Vegan scallops served alongside celeriac purée, sweet peas and miso. Dessert in the form of Santa's Belt, a masterpiece of White chocolate mousse, raspberry crémeux and almond cake rounds off your meal.
December 24 from 6:30-11pm at AED350 for adults and AED175 for children aged 6–11 years. Younger children are welcome free of charge. For an early-bird discount of 20 per cent, purchase a prepaid voucher online before December 20, 2021. See the menu or visit the website.
NYE Platinum Experience
For the most VIP New Year's Eve celebration imaginable, upgrade to the Platinum Experience at Sofitel Dubai The Palm. There are two splendid options to choose from, both of which are designed with the city's most discerning connoisseurs in mind.
First, an adults-only party at Laguna Lounge, a magnifique beachfront bar with mesmerizing views of the shimmering Palm Jumeirah skyline. DJ Darryl Rees, renowned for playing at Dubai's top beach and nightclubs, will be spinning tunes late into the evening; while magician Aron White captivates audiences. On the culinary front, expect sinful delicacies such as Hadid Gold Edition caviar served directly to your table. With your appetite whetted, explore a bevy of live food stations serving everything from Oysters and Sushi to Gourmet salads and Foie gras. Mains range from Dry-aged Irish rump to Slow-cooked short ribs; and desserts include Rose mahalabiya, Raspberry choux buns and British mince pies.
If exclusivity is your top priority, reserve one of the 5 private plush beachfront cabanas, each capable of hosting up to 10 people. Situated directly in front of the main stage, you will have front row seats to the musical stylings of The Edge Show Band. You will also have access to Maui's buffet extravaganza, as well as the option to order directly from the cabanas' exclusive sharing menu. We're talking a box of the finest Caviar, a selection of French and Japanese Oysters, Charcuterie, Chilled seafood, or a selection of small plates ranging from Roasted guinea fowl to Truffle-infused squash. Desserts are unashamedly extravagant, with Gold-coated baklava taking centre stage.
New Year's Eve Platinum Experience at Laguna Lounge at AED3,500 for adults and AED1,750 for teens aged 16 to 21 years. Inclusive of free-flowing house grape, hops, spirits and bubbly. New Year's Eve Platinum Experience Cabanas are priced at AED30,000 each. All bookings must be prepaid. Visit the website or Instagram.