Sponsored: Embark on a culinary voyage across Italy with an exclusive Chef's Table by Chef de Cuisine, Carmine Faravolo
Sited at Waldorf Astoria Dubai Palm Jumeirah, the dining experience for two by Social draws inspiration from Carmine Faravolo's culinary work across the globe, brimming with signature Italian favourites and accompanied by flavourful pairings. The newly-revamped fine dining venue Social boasts a modern, playful new menu featuring authentic peninsular Italian cuisine.
Discerning diners can look forward to a seven-course set menu and an up-close behind-the-scenes look of the chef in action while viewing each course being skilfully crafted and presented. The menu highlights are Chef Carmine's signature Lobster Carpaccio with osietra caviar and personally-curated dishes made from seasonal ingredients. To conclude the remarkable Chef's Table experience, diners will be gifted a personalized chef's hat and a picture of the evening to mark the unforgettable experience.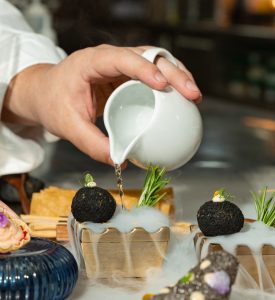 AED750 per guest. AED1,500 per guest including grape pairing and a glass of bubbly. Call +9714 818 2222 or email DXBPD.FBReservation@waldorfastoria.com. Visit website or Instagram.