Sponsored: Indulge in a symphony of festive flavours at Radisson Blu Hotel, Dubai Media City, where culinary excellence meets the spirit of the season
As the year comes to a close, Radisson Blu Hotel invites guests to indulge in exceptional dining deals, offering enchanting Christmas feasts and glamorous New Year's Eve extravaganzas.
Festive Lunch at Certo
Immerse yourself in a palate-pleasing journey featuring a selection of exquisite dishes, including indulgent risotto and pasta, at the acclaimed Italian restaurant in Media City. Relish the authentic flavours of Italy through a specially curated seasonal à la carte three-course menu, artfully prepared with the finest ingredients sourced directly from Italy.
Throughout December. Monday to Friday, from 12-3pm. AED120 for three-course. AED100 for two-course featuring Antipasto + Secondi or Secondi + Dolce. Call +9714 366 9187 or email certo.mediacity.dubai@radissonblu.com.
New Year's Eve at Certo
Embrace the spirit of New Year's Eve in a joyous celebration at Certo within Radisson Blu Dubai Media City this festive season. Revel in an evening of gastronomic delights at Certo restaurant, where a delightful five-course Italian menu awaits. Experience the authentic flavours hailing from both the northern and southern regions of Italy, all while being entertained by the in-house talented DJ.
December 31, from 8pm. AED299 including soft beverages. AED439 including house beverages. AED499 including sparkling beverages. Call +9714 366 9187 or email certo.mediacity.dubai@radissonblu.com.
Celebrate the holiday spirit at Icon Bar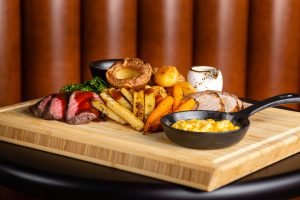 Guests can treat themselves to a delightful festive sandwich, complete with French Fries and Rainbow Slaw, accompanied by a complimentary beverage for AED59. Elevate your Sundays with the exquisite Festive Sunday Roast, beginning at AED99, featuring succulent Roasted Turkey Breast accompanied by traditional trimmings such as bacon-wrapped sausages, roasted new potatoes, buttered vegetables, brussels sprouts, Yorkshire pudding, cranberry sauce, and gravy. Alternatively, guests can relish the Roast beef served with Yorkshire pudding, mashed potato, roasted vegetables, roasted new potatoes, and pepper jus. Warm up winter evenings with the aromatic mulled grape or opt for the refreshing basil grapefruit mimosa crafted with grapefruit juice, basil syrup, and ginger ale.
Available throughout December. Call +9714 366 9137 or email bars.mediacity.dubai@radissonblu.com.
Holiday Takeaway Feast
November 22-January 5. AED479 for 6-7kg. AED599 for 7-8kg. Roasted beef for AED299 per kg. AED359 per kg for BBQ beef brisket. AED25 each for extra sides. Yule log 1/2kg for AED99, 1kg for AED189, and 2kg for AED299. Call +9714 366 9137 or email bars.mediacity.dubai@radissonblu.com
Celebrate the season from the Chef's House