Sponsored: Thanksgiving is looming. If you are hosting family and friends for a special meal, we highly recommend adding chicken to your dinner spread, especially for those who aren't a fan of turkey.
Rangitikei chicken offers customers a taste of fresh protein that's free from preservatives, artificial flavours, colours, GM, hormones and injections. To ensure a top-quality product and tender meat, chickens are fed a combination of grains, minerals and vitamins, receiving a nutritionally balanced diet. That's what makes Rangitikei free range chicken ideal for those looking for clean, nutritious options. The range features the whole bird and in-tray pack portions of chicken breast, thighs, drumsticks and nibbles.
Here are three wholesome chicken recipes for your Thanksgiving feast:
Roast Chicken with Celeriac Mash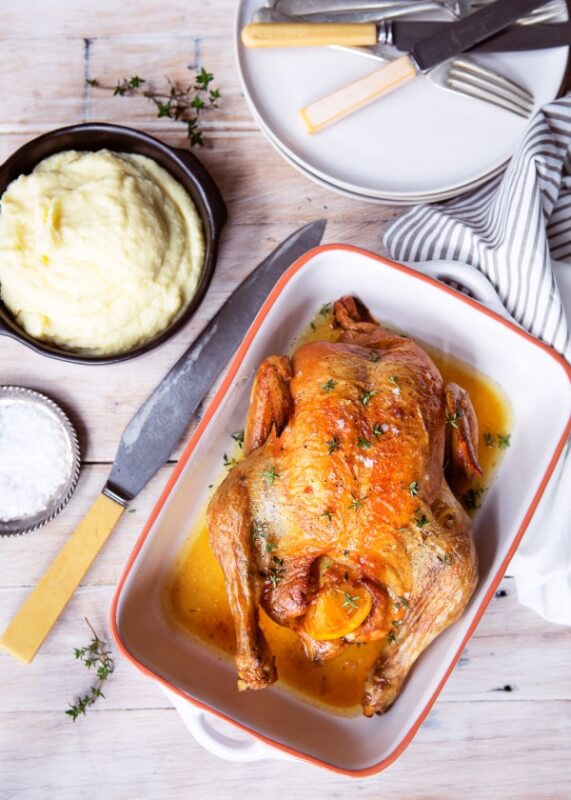 Ingredients
1.35kg whole Rangitikei Free Range chicken
2 cloves garlic, halved lengthwise
1/2 lemon
2 tsp thyme leaves
1kg celeriac, peeled and chopped
1 large floury potato, peeled and chopped
garlic, roughly chopped
100ml cream
25g butter
Method
Pre-heat the oven to 180C.
Remove the chicken from the fridge and rub it with a little olive oil.
Place it in a roasting dish breast side up and pop the lemon and garlic into the cavity.
Sprinkle salt and black pepper generously and scatter over thyme leaves.
Roast for 90 minutes in the lower part of the oven.
Then remove from the oven, cover, and allow to rest for 15 minutes before carving.
Place the celeriac, potato, and garlic in a saucepan and cover with cold water, season with salt.
Bring the water to a boil and simmer for 20 minutes or until the vegetables are tender and then drain well.
Heat the cream until almost boiling and pour into the saucepan along with the butter.
Press through a potato ricer or blend with a stick blender until smooth.
Serve celeriac mash with roasted chicken and steamed greens.
Sumac Roast Chicken with Couscous Stuffing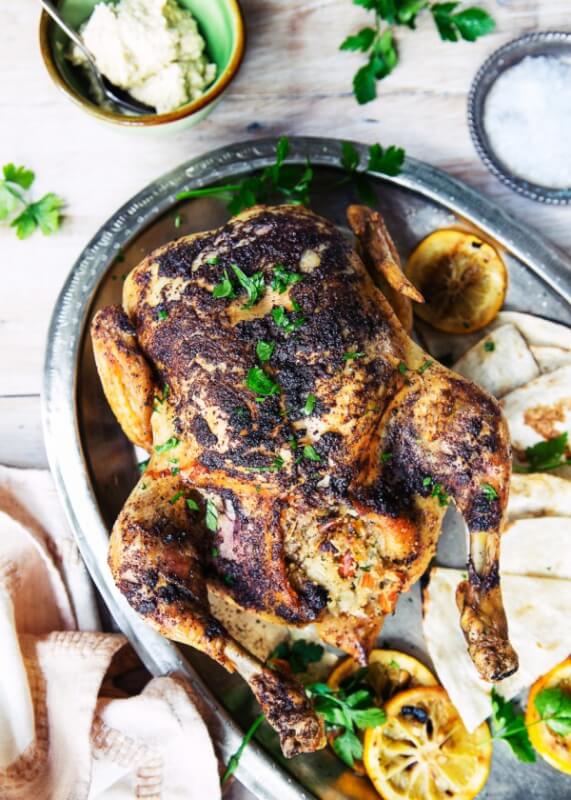 Ingredients
1/3 cup couscous
2 tbsp olive oil
1 medium-sized onion, finely chopped
2 cloves garlic, finely chopped
1/4 cup almonds, lightly toasted and sliced
1/2 tsp ground cinnamon
1/4 cup chopped parsley
5 Medjool dates, chopped
1.35kg whole Rangitikei chicken
1 lemon, finely grated zest and juice
1 tbsp sumac
lemon slices, optional
parsley leaves
Method
Pre-heat the oven to 180C.
Place the couscous in a bowl, pour over 1/2 cup of boiling water, set aside for five minutes and then fluff the couscous with a fork.
Heat the olive oil in a pan over a gentle heat and cook the onion and garlic until golden brown.
Combine the onion and garlic with the couscous, stirring to break up any clumps.
Mix in the almonds, cinnamon, parsley, and dates. Season with salt and freshly ground black pepper.
Spoon enough stuffing into the cavity of the chicken to loosely fill it (leftover stuffing can be served alongside the chicken as long as you take care that it hasn't been in contact with the raw chicken).
Rub the skin with olive oil and lemon juice. Then sprinkle with lemon zest, sumac, and salt.
Roast for 90 minutes or until the thigh juices run clear when pierced with a skewer. Add lemon slices if required.
Garnish with parsley and serve.
Rangitikei Herbed & Spiced Crusted Chicken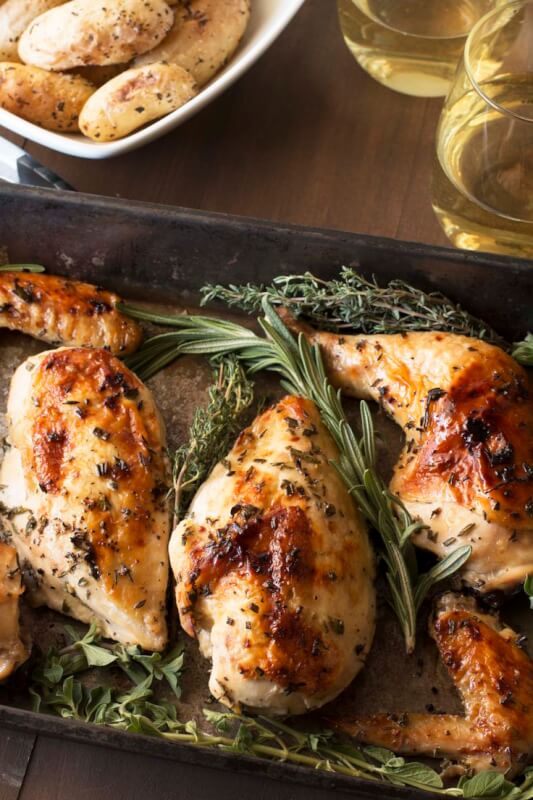 Ingredients
4 Rangitikei free range portions (breast, drums or thighs)
MARINADE
30g chives or parsley, chopped
30g coriander, chopped
30g basil, chopped
1 tbsp red chilli, chopped
2 tsp ground cinnamon
1 tsp turmeric powder
3 tbsp freshly ground black pepper
3 cloves garlic, peeled and crushed
RISOTTO
3 tbsp olive oil
1 red onion, peeled and chopped
1 clove garlic, peeled and chopped
1 tsp ground cinnamon
250g Aborio rice
1 litre chicken stock
4 tbsp black olives seeded, pitted and chopped
1 lemon, juiced
Method
Combine the marinade ingredients, reserving 1/3 of the chives/parsley, coriander and basil for the risotto.
Marinate the chicken and chill for 12 hours.
Remove chicken from marinade and chargrill for six minutes on each side over medium heat, until cooked through (juices should run clear, around bone core temperature should be 72C minimum).
For the risotto, heat olive oil and sweat the onion, garlic, and cinnamon. Add rice and stock and stir constantly for about 18 minutes or until rice is al dente.
Stir through the chopped black olives.
To finish, stir through the lemon juice and reserved herbs just before serving. Add in a tbsp of grated parmesan if desired. Serve chicken over the black olive and herb risotto.
Tip: Adding lemon juice too early will cause the rice to taste bitter, while adding herbs too early will cause them to brown.
Rangitikei free range chicken is currently available at Prime Gourmet, Park n Shop and select Choithrams stores.