Sponsored: Enjoy a fun-filled experience with a delicious Lindt Festive Afternoon Tea, Christmas Eve and Day feasts, festive brunches, and more.
Letters to Santa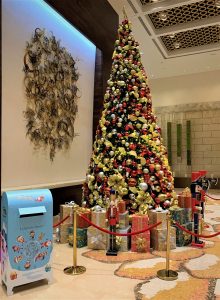 For the Christmas countdown, guests can send special messages and wishes with the help of the Swissotel Elves to deliver "Letters to Santa" from a special letterbox in the lobby. Senders will stand a chance to win a surprise gift and the winner will be announced on Swissotel Al Ghurair's Instagram daily. The final winner for the most-heartwarming message will be unveiled on December 25.
Daily. Until December 24 at 4 pm.
Festive Confectionery Pop-up with LINDT
Located at Yasmine Lounge, get into the holiday spirit with a tour of the Festive Confectionery Pop-up with LINDT featuring Cookies, Yule log, White chocolate mousse cup, Milk chocolate pecan crème brulée, and other festive treats.
Until January 8 from 11am-7pm.
Festive Turkey Takeaway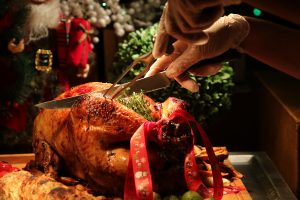 Hosting Thanksgiving dinner? Forget the hustle of cooking and order a feast from Swissotel Al Ghurair that comes with a perfectly-cooked Traditional Roasted Turkey with all the traditional trimmings and classics such as Roasted Chestnuts, Brussels sprouts, Herb-roasted potato, and homemade desserts.
Until December 25 from 11am-9pm. Order 72 hours notice. Orders placed before December 17 can avail 20% discount. AED499 for up to six persons. AED599 for up to ten persons. Order here.
LINDT Festive Afternoon Tea and Gingerbread House-making Workshop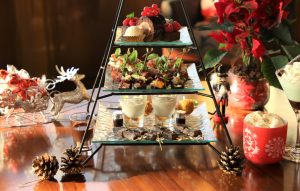 Celebrate the holly jolly season with a decadent festive Afternoon Tea, which features a range of holiday treats such as Smoked salmon pinwheels, Torched duck breast with apricot chutney skewers, Warm scones with mascarpone cream and blueberry compote, Baked turkey empanadas, Chocolate fudge cake, Red velvet Swiss rolls and pistachio and berry cheesecake shooters, selection of Hot Chocolates, and luxury teas and coffees.
You can also sign up for the Gingerbread House-making workshop for children on December 17 and December 24 and create their very own gingerbread house with the help of pastry chefs.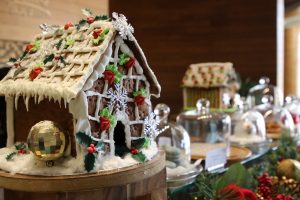 Yasmina Lounge. Afternoon Tea until January 8 from 12pm-6pm. AED135 for two adults and two children up to 12 years. AED39 for additional children.
Gingerbread House-making workshop at 2-4pm. AED175 for two children per two adults who join the Festive Afternoon Tea experience. AED75 for additional children. Pre-booking required.
Festive Brunch
Embark on the award-winning 'Around the World' brunch for the festive season with vibrant festive flavours, offerings and intricate decor. From Chicken Terrine and Mix seafood Thermidor to Festive Plum cakes, this hearty brunch is not one to miss. The little ones also have a lineup of exciting activities to check out while dining.
Liwan restaurant. December 18 from 12:30-4pm. AED159 per adult. AED79 per child between 6 to 12 years and complimentary for children below 6 years.
Christmas Eve Dinner
Bring in Christmas Day with a fine culinary dining experience filled with festive delicacies and a delicious buffet of Turkey roulade stuffed with dates, walnuts, cranberry and apricot sauce, Crusted lamb rack, and cherry-filled dark chocolate Yule.
Liwan restaurant. December 24 from 7-11pm. AED179 per adult. AED89 per child aged between 6 to 12 years and complimentary for children before 6 years.
Christmas Day Brunch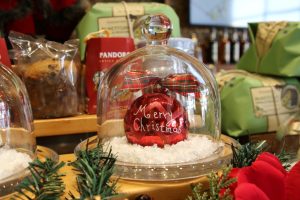 On Christmas Day, let the special Christmas brunch whisk you away with the tunes of jingle bells, gifts from Santa, children's activities, and a lavish spread of Christmas specialties that include Beef short ribs with Yorkshire pudding, Poached salmon with honey-based chutney, Sticky toffee pudding, and more at the multi-cuisine buffet destination.
December 25 from 12:30-4pm. AED179 per adult. AED89 per child between 6 to 12 years. Call +9714 293 3270 or email dining.alghurair@swissotel.com. Visit the website. 
Relaxing Spa Getaway
End the festivities this year with a rejuvenating relaxing spa day at Swissotel Spa with a 60-minute well-being treatment and a fresh haircut to finally bid farewell to 2022.
Until December 31 from 1pm-10pm. AED250 per person. Call +9714 293 3322 or email spa.alghurair@swissotel.com. Visit the website.