Looking for stunning dining venues to dine at? Kickstart your mornings with these breakfast spots in Dubai
YOY
Led by Executive Chef Pavlo Moroz, the bustling venue offers a welcoming ambience to gather your friends or family to explore the restaurant's immersive culinary journey to Ukraine. The tantalizing breakfast features signature highlights including Sunny-side up baked eggs with tomatoes and brynza (feta-style cheese), Cottage cheese pancakes with fire-cooked currants and blackberries, Deruny (potato cakes) with beetroot mousse and coffee, served with chilled sour cream, Pumpkin fritters with clotted cream, Terchaniki (sweet carrot pancakes), and Mushroom toast.
Weekends only. 10am-2pm. Call +97150 947 26 26. 
Lucky Fish
With a focus on Mediterranean flavours and nourishing meals, the award-winning restaurant offers a wide selection of breakfast favourites including freshly baked Croissants, Avocado toast, oatmeal, Yoghurt parfait, Eggs Benedict, Cottage cheese pancakes, homemade Crêpes, and the signature Lucky Fish French toast. Whether you choose to dine indoors or beneath a sun-kissed canopy, you'll be captivated by the St. Tropez charm and idyllic views of Dubai Marina, Ain Dubai, and Palm Jumeirah.
Daily from 10am-1pm. Call +9714 569 3447.
The Tap House, Dubai Hills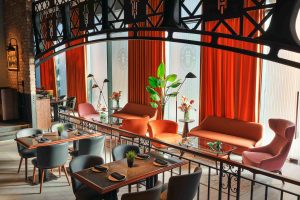 The Tap House welcomes guests to a delightful breakfast experience with a diverse range of dishes including Buttermilk pancakes, a selection of Benedict dishes, Shakshuka skillet, indulgent Brioche French toast, Full English breakfast, wholesome Power bowls, and plenty more.
Weekends only. 9am-12pm. Call +9714 576 4999.
Carluccio's
Experience a delightful culinary journey with Carluccio's breakfast menu with delectable dishes that will tantalize your taste buds. Menu highlights include Egg with smashed avo, Magnifica (choice of eggs, beef pancetta, veal sausage, grilled plum tomatoes, sautéed mushrooms, hash browns & toasted bread), Vanilla ricotta pancakes, and Granola.
Email hello@carlucciosme.com. Visit website.
El Greco
The renowned Greek restaurant has launched its mouthwatering breakfast menu featuring perfectly cooked eggs, flavorful Baked beans, crispy and tender Hash browns, crispy Beef bacon, sausages, and Baked tomato, all accompanied by a cup of coffee. Don't miss the Baked egg florentine, a delightful combination of eggs, cheese, and spinach, served alongside warm pita bread.
Daily from 10am-2pm. Call +9714 376 5666.