Sponsored: Prepare to grab onto a hammer and pop on your apron at the popular restaurant's all-new dining venue. 
The award-winning Aprons and Hammers is bringing its famed seafood buckets and signature dishes to a newly-minted location in Studio One Hotel. The celebratory launch on December 22 will see a lavish family cookout for families and friends to come together and explore the exquisite offerings. 
To amp up the heat with its new launch, the restaurant's menu is also getting a makeover to feature authentic American barbecue as well as seafood buckets and signature shellfish dishes, for diners to take a refreshing culinary trip across the various regions, cultures, and flavours of America. To share a glimpse, the menu highlights are the Jumbo shrimp bucket, Snow crab bucket, Firecracker prawns, Grilled seafood platter, Pepper clams, and more.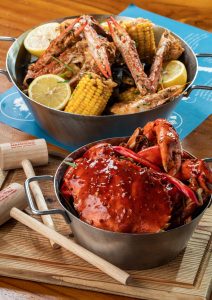 "It is with great pleasure and passion we present our newest addition. Dubai has been home to my family for nearly 30 years, and we have watched it grow and thrive," said co-founder, Nichola Fettis, on the beloved homegrown brand. "From the first day we opened our doors on our dhow, to now, we have been grateful for everyone who has been part of our journey, and look forward to being part of a brand new community."
The Sunday Family BBQ Lunch, in particular, presents a delicious feast that offers a classic American surf and turf style of BBQ shrimp, Lobster, Steak, Brisket, and Short ribs for the perfect weekend out in the UAE. 
Studio One Hotel. Sunday Family BBQ Lunch from 12.30-5.30pm. Call +9714 529 5040 or +97156 2381677.Visit website or Instagram.