A new Italian seafood restaurant has opened at Bluewaters Dubai, and promises to immerse guests in a dining experience that mirrors that of one they could find in the South of Italy.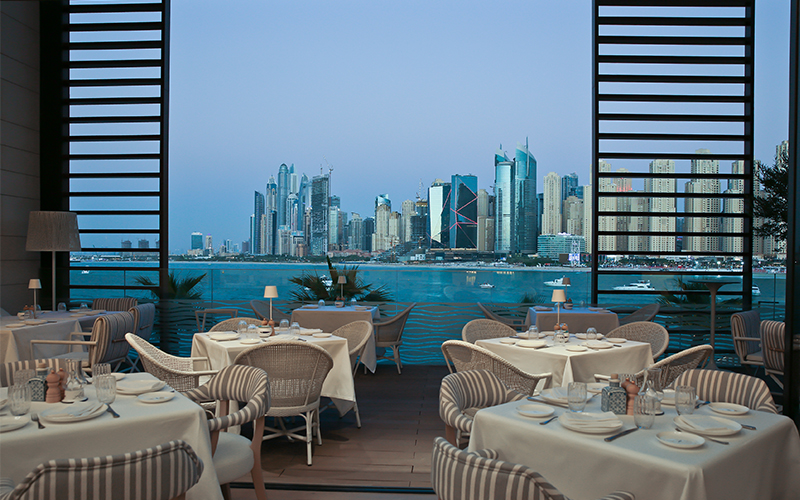 Alici, meaning anchovies in Italian, exudes class and comfort. Intricate detailing, an acute exploration of space, colour and the experimentation of Italian handmade ceramic techniques speak to the chic and unmistakably South of Italy design.
The open façade offers an iconic sea view across to the Dubai Marina skyline, while guests entering the venue are greeted by an entrance full of art and vibrant colours. The entrance door takes you in a beautiful area filled up with Gio Ponti tiles on the floor, a tailor-made corner shop that displays a fine selection of lifestyle items crafted in South of Italy and a hand-painted wall with a ceramic plaque showing the Alici sign.
The menu features Amalfitana and South of Italy specialties, that vary according to season and sea availability. By selecting local and Italian suppliers that minimise the impact of their fishing on the environment, a devoted menu of meticulously selected oysters from local farms, as well as red Mazara prawns, tuna, swordfish from Italy and much more can be expected.
Domenico Santagada, Head Chef of Alici, will serve up traditional and contemporary seafood dishes, including Frisella with anchovies and burrata, Italian finest' caviar selection and Alici's signature crudo dish – the Italian raw seafood platter.
But it's not just food that Alici is looking to bring to the table. A range of lifestyle items, many of them exclusive, arising from collaborations with a list of Italian artists and designers that include Lucio Liguori, Riccio Caprese, Paolo Sandulli, Maru Artigianato Caprese, Panizza 1879 and many others will be displayed and sold in a dedicated corner shop inside Alici restaurant.
Details: For reservations, please call +971 4 2752577 or email reservations@alici.com. Open daily from 12pm-3:30pm, and 7pm-11:30pm. To learn more about other restaurants that are opening at Bluewaters Dubai, click here.