Hotfoot to Akira Back Dubai at W Dubai – The Palm this summer for a limited-edition tantalising culinary creation, as the concept teams up with Haute Sauce for the second time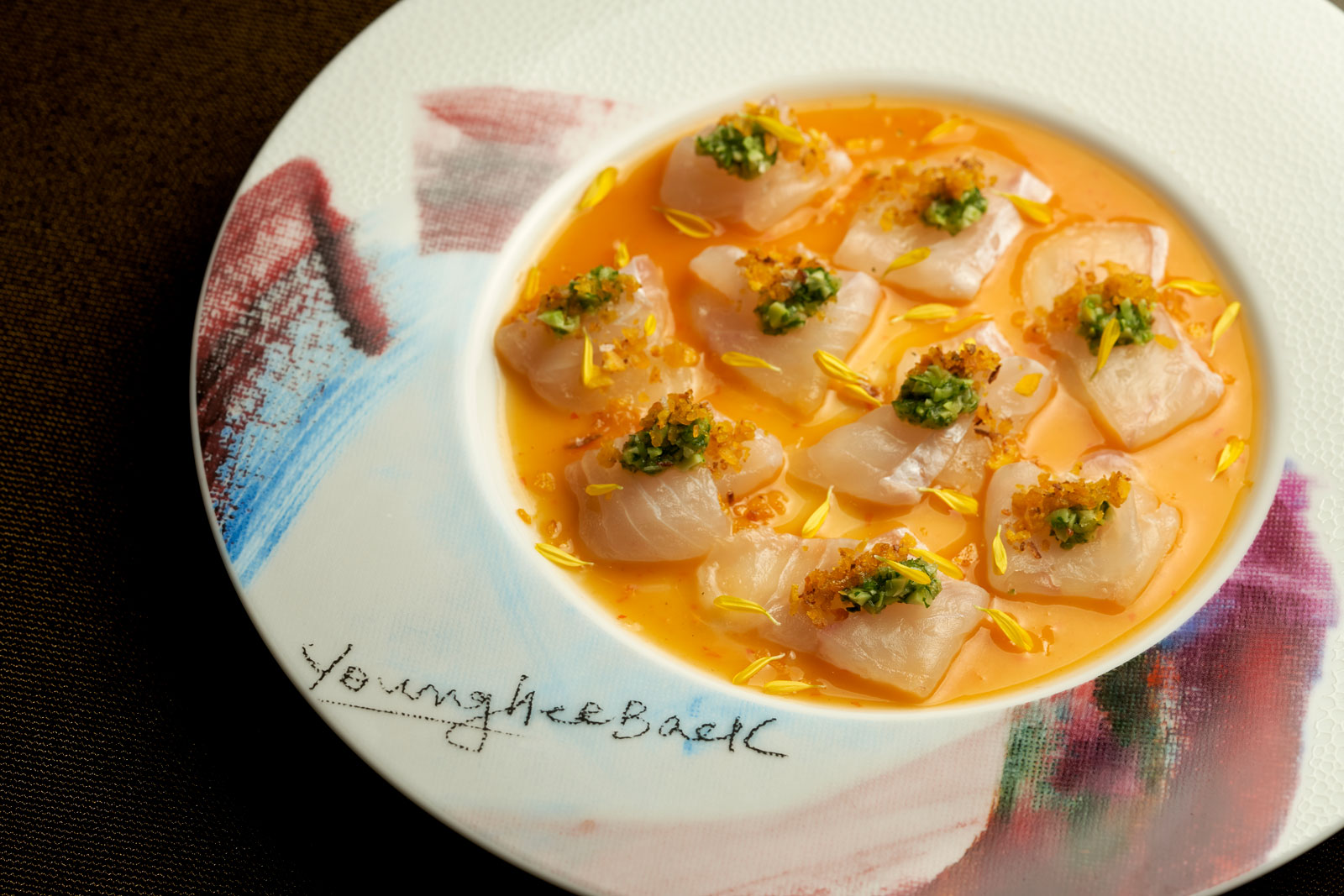 Calling all hot sauce lovers! Michelin-starred chef Akira Back's eponymous Dubai outpost at W Dubai – The Palm has turned up the heat this June, with its second partnership with homegrown hot sauce brand, Haute Sauce. The result of creative collaboration is a limited-edition irresistible culinary special.
The dish 'Haute hirame', features a thinly sliced piece of flounder served on a bed of Puckering Haute Sauce, adorned with aromatic fresh cilantro and ginger gremolata.
The seasonal hot sauce Puckering marries the tartness of raw mangoes with fiery chilli peppers to bring together a sweet, puckeringly sour and spicy hot sauce, evoking nostalgia of drinking cool raw mango juice on hot summer days.
Puckering is one of Haute Sauce's best-selling sauces, making it the perfect addition to the widely acclaimed Akira Back menu. This collaboration marks the second time the artisanal hot sauce brand has worked with Akira Back Dubai. Previously, in November 2020, Mellowing Haute Sauce was one of the key ingredients to be featured in a vegan charred mushroom and pineapple ceviche, which was served at the restaurant.
Conceptualised by Akira Back's Chef de Cuisine, Giovanni Ledon, who said, "I am thrilled to be working with Ambika from Haute Sauce again. We both share a similar love for spicy food that is balanced and packed with flavour. The dish we have worked on this time around highlights Puckering Haute Sauce, made with Indian raw mangoes, harvested at the peak of the season. We can't wait for you to try the dish that we have created."
Ambika Rajgopal, founder of Haute Sauce added that working with Chef Giovanni and the Akira Back team had been an incredible opportunity and they love the culture of community and support that a restaurant of this stature has built up by working with local artisanal producers.
Made from fresh ingredients, Haute Sauce products are completely natural, vegan, gluten-free and preservative-free, making them a perfect partnership for Chef Akira Back's self-titled restaurant.
Available at Akira Back Dubai throughout June 2022. AED120 per dish. Visit Instagram: Akira Back Dubai and Haute Sauce.