The prestigious 12 Chairs Caviar Bar welcomes diners to indulge in a luxurious epicurean experience brimming with caviar and bubbly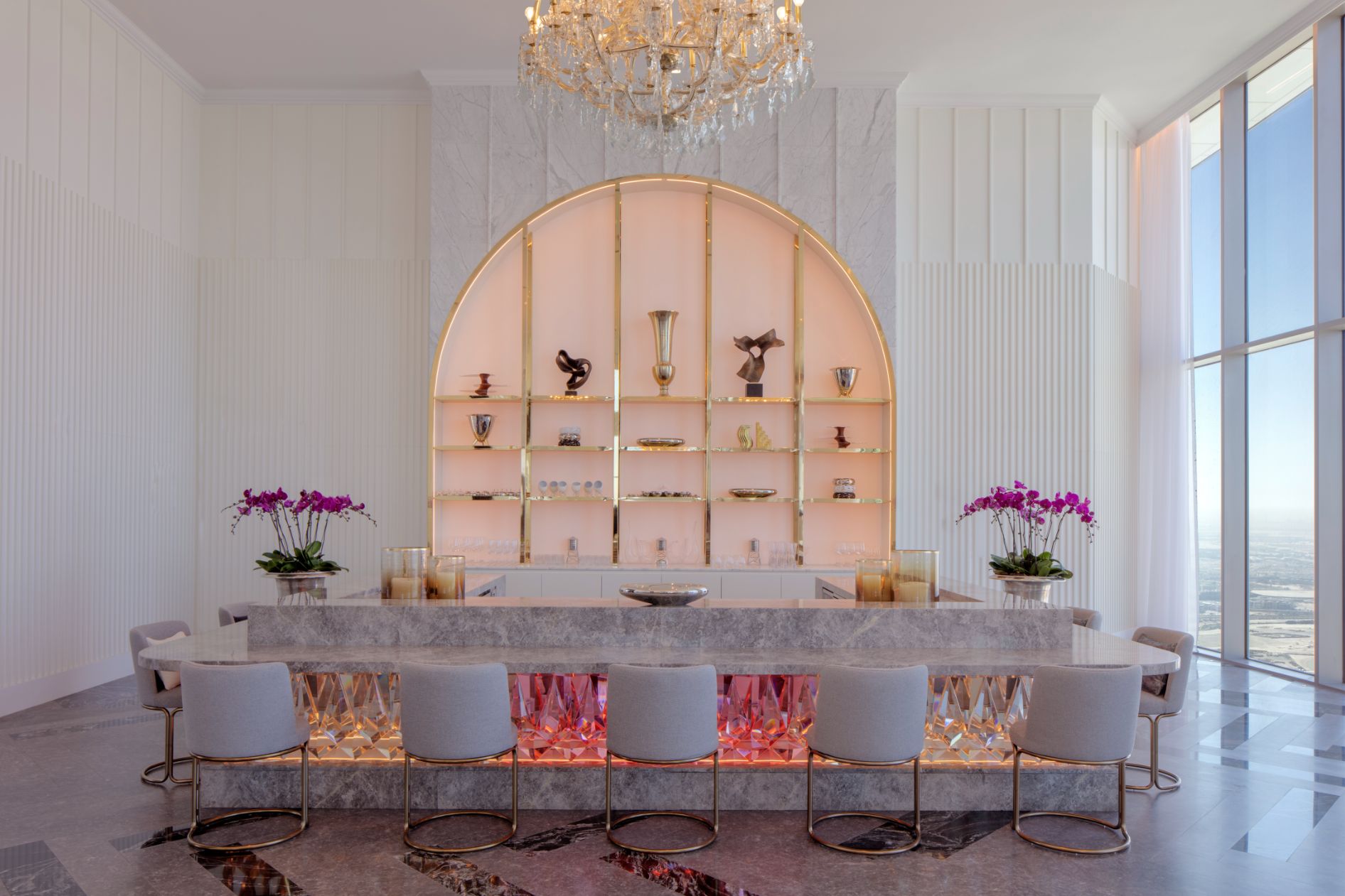 Diners are invited to the luxurious 12 Chairs Caviar Bar, perched upon Level 71 of the impressive 75-storey SLS Dubai. Following on from its success in Doha, the lavish dining concept will introduce the brand's exclusive, one-of-a-kind caviar and bubbly experience to the UAE.
Expect to walk into an intimate and opulent setting, with stunning views over the rooftops of Dubai. A striking marble bar sets the tone for the interiors, which feature gold and pink accents, creating a stylish and modern space that is perfect for a sumptuous dining experience.
Here, 12 Chairs will treat you to the most coveted fish roe and the finest bubbly, pleasing even the most discerning of palates.
SLS Culinary Director Chef Cláudio Cardoso explains that all creations are prepared right in front of guests, who are invited to explore a complex gastronomic experience, whilst being introduced to the culture of caviar and sophisticated drinks.
Diners can look forward to the best, fresh caviar, bursting with clean nutty flavours and a creamy finish. The iconic menu features sinful bites in the form of cones and caviar, fine delicacies and other caviar specialties. Choices of tastes range from the Baerii, boasting a soft and creamy texture with sweet, nutty, and savoury notes; to the Oscietra, with golden brown pearls teeming with almond and floral notes; and the Kaluga Reserve, elegant and indulgent with a multiplex of umami, selected by the caviar master.
In addition to many other exquisite Caviar treats available, the Omakase menu stands out with choices such as the Strawberry cornetto, with tuna, citrus and avocado, topped with Siberian caviar. Diners can also choose Foie gras with Classic Barrii, served with macadamia and gold, as well as sorbet with peach perfectly paired with Oscietra caviar. Sip on bespoke creative concoctions or order a glass of the finest fizz, to enjoy during this unique dining experience.
SLS Dubai, Level 71 from Monday to Saturday from 7pm-2am (last sitting at 10:30pm). Call +9714 607 0737 or email slsdining.dubai@slshotels.com.