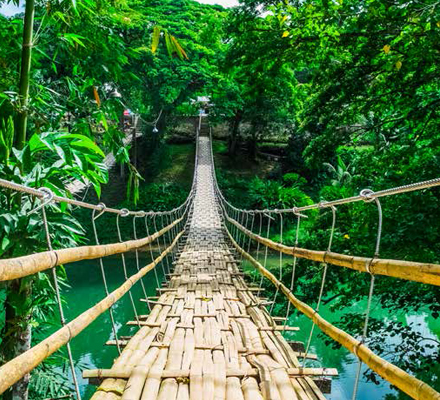 Despite large populations of Filipino nationals working internationally and in the Middle East particularly, food cultures from the island nation remain vastly unknown. The scarce presence of Philippine food outlets in the region leaves me wondering what's cooking in the typical Filipino home. In order to get a closer look at the mysterious cuisine, I dined with a local Pinoy family and spoke to Philippine-born head chef Andrew Paderes at Claw Crab Shack and Grill, Souk al Bahar, for insight.
Constituting a unique blend of eastern and western cuisines, Filipino food has been shaped by a number of factors. Drawing from culinary influences of the Chinese, Malays, Americans and more, a large quantity of Pinoy recipes were inspired by Spanish cooking during three centuries of Spanish colonisation in the Philippines. Add to the mix a variety of cultures, traditions and socio-economic situations from the country's seven thousand plus islands and the result is Filipino cuisine.
Although all of these elements play a role in making the cuisine what it is today, Filipinos are also ingenious cooks who create original, flavourful dishes from globally inspired recipes using special Pinoy touches – family kitchen secrets, local ingredients and indigenous cooking techniques.
To suit the Philippines' tropical backdrop and adapted to the country's varied geography, seafood and fish contribute to many of the traditional dishes, in addition to chicken and pork. Other main food sources include citrus fruits, garlic, onion and tomatoes, with rice as a staple. Signature ingredients of South-East Asia are also present, including coconuts and a pungent fish sauce called patis – although the Pinoys are not as liberal when using chillies as many of their neighbours.
Chef Andrew explains that: "Filipino food is a combination of many culinary influences from countries all of over the world, such as Chinese, Spanish, Malay, Indian and the indigenous combined. Flavours in our food are very rich and have big accents of sweet, salty and spicy. Natural herbs and spices are most commonly used in our dishes and we seldom use processed ingredients like butter and cheese, except on our desserts."
Several dishes represent the native cuisine and are enjoyed countrywide, including adobo, which can be made with a mix of chicken, pork, squid, or vegetables. Adobo, which means to marinade in Filipino, is a dish stewed in vinegar and soya sauce with garlic, peppercorns and bay leaves.
Day to day and a popular serving within the family home is sinigang, a slightly sour broth or soup, which can be made with vegetables, pork or fish. Followed by lechon, a crispy spit-roasted pig basted regularly in a sauce made from pig's liver, vinegar, sugar and herbs, or kare kare, an oxtail and beef stew cooked using a peanut sauce.
Still today, dishes in the Philippines also heavily rely on ingredients used by the country's original inhabitants, such as mango, coconut, pansit noodles and bean curds.
Presence in the food scene
Of the locally residing Filipinos that I spoke to, many agreed that there are few, if any 'decent' eateries in the UAE where they can go and enjoy authentic dishes from their home country, with several revealing that when Filipino food is cooked in a restaurant outside of the Philippines, dishes tend to become flavourless and re-adapted to suit international tastes.
Chef Andrew commented: "Working as a chef and with big restaurant brands for many years, I have always really wanted to see a high flying Filipino restaurant concept in Dubai's food scene that could cater to international palates, in terms of menu, engineering, restaurant design and service. Although it's not yet been adapted here, I remain very optimistic that there will be one in the near future."
He notes, however, that there are a number of Filipino restaurants in the fast food sector established across the UAE. "There are a few big fast food brands from the Philippines that are franchised here and are doing very well, including the likes of Chowking, Max's and Bacolod Chicken BBQ House."
Hinting that there are perhaps authentic Filipino food spots around town, he explains: "I find that the Filipino restaurants that you do find here are really low profile when it comes to location and operation, meaning that they are just here to cater to mostly Filipino expats. I must say that it's also great to see that big supermarkets here such as Geant, Lulu and Westzone offer a Filipino products section."
Keeping it traditional
Typically, Filipinos today will dine with silverware, however in certain places of the Philippines a special style of native eating called kamayan, using only fingers, is still practiced. This style of eating traditionally involves dishes being laid out on banana leaves, where diners will sit around on the ground and eat everything by hand, with no utensils, napkins or bowls. During this practice, don't worry about licking your fingers to clean them off – everyone will be doing the same!
A speciality from the Philippines unlikely to be found in restaurants around Dubai, however, is a 'delicacy' known as balut, a popular street food consisting of a boiled duck egg with a feathered embryo inside. Perhaps not everyone's cup of tea, but one definitely encouraged to try by the locals, though it's not to every Filipino's taste….
In a nut shell, the only way to truly understand and appreciate Filipino food and its identity is to dig in and try it!