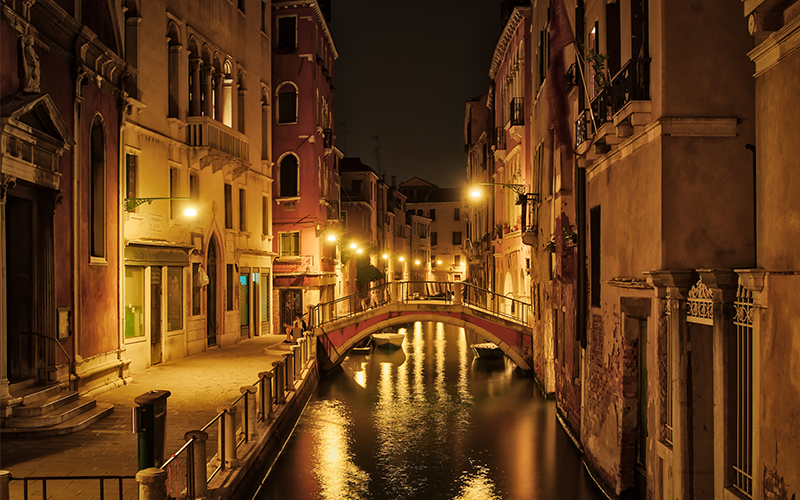 From dinner cruises and fancy galas to street fiestas and record-breaking fireworks, this guide to European party cities for NYE will help inspire UAE travelers to get 2019 off to a flying start!
1. Berlin, Germany
It's no surprise the clubbing capital of Europe does NYE like a party pro. Berlin's biggest bash – and one of Europe's best street parties – takes place at the Brandenburg Gate, with 2km of live music, entertainment and food stalls stretching to the Victory Column. Head to Alexanderplatz at midnight for the fireworks then grab your dancing shoes. Berlin has more clubs than you can shake a bratwurst at, but if you can't decide where to party the 8-in-1 Ticket is the answer. A pretty fair €93 (AED 389) gets you into eight venues, with the chance to hit 26 dance floors if you're really going for it. Drinks are included and there's even a free shuttle bus or ship! The morning after, have a hair of the dog in Markthalle Neun or one of the craft hops breweries before exploring all this historic capital has to offer.
Flights from the UAE starting from AED 1,962
2. Venice, Italy
A concert in the square kicks off the party and fireworks are shot directly from a barge in Saint Mark's basin. NYE is a great excuse to take to Venice's famous canals, so why not hop on a dinner cruise and start the celebrations in style. Get in the mood for love by enjoying mouth-watering local dishes by candlelight before mooring up and admiring Venice's beautiful architecture on the way to the piazza
Direct flights from the UAE starting from AED 3,543
3. Prague, Czech Republic
Prague knows how to party and it's no surprise this buzzy capital is a hit on NYE. Oddly, the official fireworks display is on New Year's Day but there's still plenty going on the night before. You can hardly turn a corner without stumbling across lively locals setting off amateur displays. Celebrations center around Wenceslas, Old Town Square and Charles Bridge, while a cruise along the Danube is a lovely way to admire the pyrotechnics from a safe distance. For something fancy, how about a Mozart Gala Dinner? Taking place across two locations, the Grand Hotel Bohemia's Boccaccio Hall and Sladkovsky Hall at Municipal House, guests can enjoy six courses while some of the great composer's finest works are performed, from AED 1,380.
Direct flights from the UAE starting from AED 2,057
4. Madrid, Spain
The Spanish capital loves to party, and on the biggest night in the calendar the city streets are jam-packed with locals and visitors ringing in the new year. Pack into Puerta del Sol with the revelers to watch the fireworks at midnight, and when the clock strikes 12 make sure you've got 12 grapes to hand. This isn't for a sugar hit before you hit the clubs, it's a great tradition that no Spaniard dares dismiss. It's said that each of the 12 grapes will bring you luck for the next 12 months of the year. Follow your fruity feast with one of Madrid's clubs – Malasaña is the best neighbourhood for dancing until the early hours.
Direct flights from the UAE starting from AED 3,120
5. Paris, France
The City of Lights has even more sparkly allure over the holiday season. New Year's Eve celebrations are suitably sophisticated with a huge choice of dinners and cruises, so you can sip bubbly as you float along the Seine admiring the Christmas lights and toasting the new year as the Eiffel Tower comes into view. Paris saves the fireworks for Bastille Day but head to the Champs Elysées for an equally spectacular laser show. Or if you're in the mood to can-can book one of the legendary cabarets, such as Lido de Paris, which is laying on a six-course dinner before the show on 31 December, from €275 (AED 1,150). If your euros won't stretch to that, join the bonkers NYE party opposite the Eiffel Tower at L'Aquarium (from €44) (AED 190), a club that houses – you guessed it – a giant aquarium! Need somewhere to stay? Read Skyscanner's guide to Paris hotels for every budget.
Direct flights from the UAE starting from AED 3,512
6. Lisbon, Portugal
Pretty as a picture Lisbon is a lovely place for a winter mini break and NYE is a great time to get among the city's vibrant nightlife. Fill your stomach at the Time Out Market, where a huge collection of award-winning chefs whip up culinary delights under one roof, then roll into Comercio Square downtown for the free concert at 10pm and fireworks at midnight. If you fancy a boogie, book a ticket (from €25) (AED 105) to the famous Royal Palace Party. This legendary shindig sees DJs hit the decks at the grand Tapada da Ajuda, which has amazing views over the Tagus River. Not your style? Keep it street by heading to the alleyways of Bairro Alto where you can whittle the whole night away mingling with new friends. If you're still going, watch the first sunrise of 2019 – and enjoy gorgeous views of the city to boot ­– from a miradouro (viewpoint). Check out BBC Good Food Middle East's foodie guide to Lisbon here!
Direct flights from the UAE starting from AED 3,925
7. Reykjavik, Iceland
Icelanders go wild for NYE and Reykjavik has an electric atmosphere on the big night. With fireworks shooting up all over the city, head high to get the best views. From Öskjuhlíð hill you can see almost the whole of Reykjavik as the sky is flooded with exploding lights. They love their bonfires in Iceland too, and the city will see several spots go up in flames on 31 December. Visiting them is a great way to plug into the local traditions – and warm up! There are even bonfire tours you can join. Around 10.30pm there's a break in proceedings when the nation stops to watch the Áramótaskaup, an annual TV comedy show. Then everyone piles back on to the streets for the final showdown. If you'd rather avoid the crowds, ring in 2019 on a fireworks cruise, which depart from the Old Harbour at 11pm. You could continue the adventure by hunting down the Northern Lights – Iceland is one of the best places to see them in Europe.
Flights from the UAE starting from AED 3,826
8. Stockholm, Sweden
NYE in Stockholm covers all bases with the chance to party like it's 1999 or indulge in some lagom (the Swedish version of Hygge). Wrap up warm and start the night with a swish or a stumble around the ice rink at Kungstradgarden, which is modelled on the famous rink in New York's Rockefeller Center. Then head to the open-air museum Skansen for the reading of Alfred Lord Tennyson's Ring Out Wild Bells. The poem has been read by a famous Swede every year at midnight since 1895 and is a beautifully reflective tradition. Afterwards, 'ooh' and 'ahh' at the fireworks reflected in the water near Skansen, or admire them from the inner harbor at Stockholm's old town. If you're in it for the long haul head to Södermalmstorg, an area brimming with bars and restaurants where residents and visitors gather before heading off to local clubs.
Direct flights from the UAE starting from AED 2,100
9. Istanbul, Turkey
The wild card in our list, Istanbul goes all out on NYE. One of the best ways to spend it is at a restaurant or one of the big hotels, which lay on special menus and parties for the big night. Try to book one with a rooftop bar close to the shores so you don't have to scarper at midnight to find a firework viewing spot. If you want to keep it civilized, board a New Year Bosphorus dinner cruise and enjoy a delicious Turkish feast to the sounds of traditional folk music and DJs as you cruise past the illuminated Fatih Sultan Mehmet Bridge, Blue Mosque and Dolmabahçe Palace. Or stay on dry land and join the locals in the side streets off Taksim Square, which are packed with intimate bars and pubs. Chairs and tables overflow on to the street, music fills the air and boisterous revelers chat and dance their way into the new year. Check out BBC Good Food Middle East's foodie guide to Istanbul here!
Direct flights from the UAE starting from AED 1,542
Courtesy of Skyscanner.