When in Amsterdam, make a reservation at this One MICHELIN star restaurant for specialities that stem inspiration from the South of France and Italy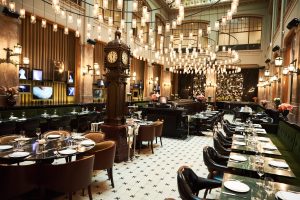 The experience: 
Embark on a captivating culinary journey as you ascend a grand staircase from Spuistraat, leading you into the former KAS Bank building at the W Hotel Amsterdam. This enchanting Belle Époque brasserie brings forth the elegance of traditional London hospitality merged with Viennese grandeur. 
Under the magnificent stained-glass ceiling, you'll find sleek black-marble tables and immense circular lighting fixtures. Gold accents and a mirrored bar infuse a touch of glamour to the surroundings, balanced by the intricately tiled floor.  The dining experience is equally impeccable, with the brasserie delivering the artful fusion of refined flavours from Southern France and Italy, best known as Nouveau-Niçoise cuisine. Prepare to be stunned by a menu that boasts a rich tapestry of eclectic classics.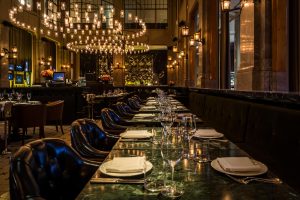 Culinary highlights: 
Our meal commenced with an assortment of Hors-d'oeuvres, encouraging communal indulgence. Opting to share, my dining partner and I devoured the Royal beef tartare atop buttery brioche. The combination of tender beef, smoked eel, and truffle elevated this classic starter to new heights, creating a symphony of flavours. While spaghetti isn't a conventional appetizer choice, we regret not ordering a plate for each of the undeniably moreish dishes. Adorned with Beluga caviar, each velvety strand enrobed in a luscious butter sauce creates memorable taste notes. 
Les Plats followed, initiating our mains with a medium-rare Entrecôte, which graced our palates with its tender succulence. Presented in a pool of peppercorn sauce, the elixir transformed the humble steak, beckoning us to relish every drop. We recommend ordering fries or bread to dunk into the leftover sauce. An impeccable pairing awaited us in the Ten types mushroom risotto, a dish that skillfully combined a diverse array of mushroom varieties and textures. With each spoonful, our palate led us through tender, dried, crunchy, and crispy sensations, creating a remarkable amalgam of flavours that flawlessly complemented the succulent steak.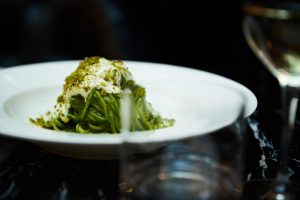 Desserts are generously portioned, so if you want to share one, The Duchess Cheesecake is a masterpiece crafted with camembert, teeming with luscious character. The addition of cherry ice cream and berries added a welcome tangy twist. For devoted chocolate enthusiasts, the Chocolate Dream highlights decadent ganache, moist brownie bits, delicate chocolate snow, and a crown of cacao nibs ice cream. With every bite, these desserts proved to be an irresistible culmination of our remarkable culinary experience. 
Book now
Address: Spuistraat 172, 1012 VT, Amsterdam. Contact +31 20 811 3322. Visit website.