Now that countries have reopened their borders, it's time to explore the world again. We take a trip to Amsterdam this fall, embarking on a culinary journey that spans from Asian specialities at Conservatorium to Dutch cheese and baked goods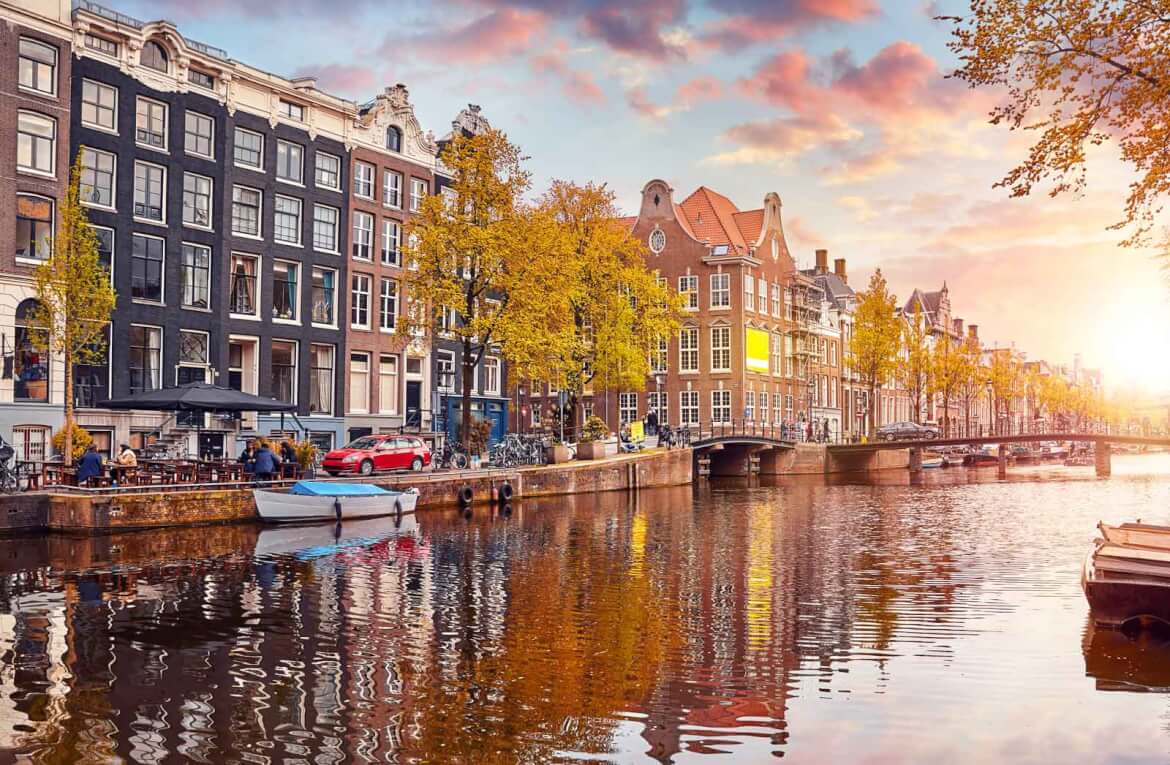 Amsterdam is one of those picturesque cities that retains its charm year-round. Spring sees tulip fields and cherry blossom trees in full bloom, while in the summer, the city plays host to tourists for music, art and cultural festivals. Imagine buskers in Vondelpark (a sprawling 47-hectare urban park) canals teeming with boats of all sizes, gelato pop-ups on every corner, and children splashing around at just about any water feature they can find. On sunny days, locals hotfoot to the nearest park for picnics or hop on a boat to tour the canals.
Autumn brings about an entirely different experience, especially for those in the Middle East who want to escape for cooler climes. The leaves turn to vibrant shades of yellow, orange and red, while the crisp, cool breeze kisses your cheeks as the sun plays hide and seek.
Amsterdam's canal belt (recognised as a UNESCO Heritage Site) sees charming canal houses showcasing ornate facades and gables, all of which hark back to centuries ago. Tour the streets lined with fiery foliage by foot, bike, tram, bus, or hop on a boat, and take in the intricate details of these narrow, often tilted, buildings.
It's no surprise the city attracts history, art and culture buffs, luxury travellers, honeymooners and backpackers alike. Amsterdam offers something for everyone. You can spend hours at the renowned Rijksmuseum, admire art at Van Gogh and Museum het Rembrandthuis, and visit Moco for the Banksy exhibit and contemporary artists including the likes of KAWS, Hirst, Basquiat and Haring. Cultural attractions such as the Anne Frank House and The Concertgebouw are also a must-visit, and on days when you want to unwind, the leafy parks beckon. Or better yet, head to a cheese shop for a taste of Old Amsterdam, Edam and Gouda.
As the Locals Do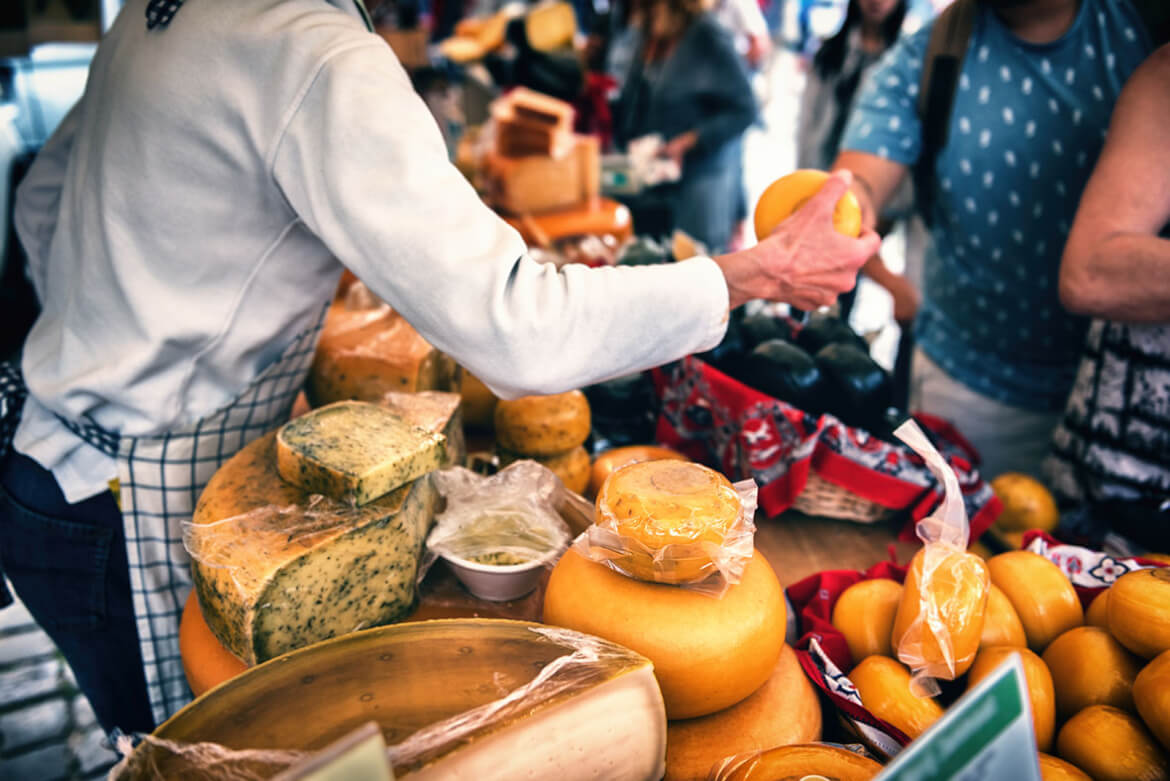 The quaint streets of Amsterdam offer plenty for discerning travellers. Take a cue from the residents and enjoy these hidden gems and local treats.
Getting around
If you're looking for shelter from the rain, or prefer relaxing before you stroll the city centre, hop on one of the city's blue-and-white trams; a reliable and economic way to get around. The Citymapper app is handy for navigating the public transport system, especially if you need to switch between trams, buses, metros and/or trains. Those looking to cross over to Noord can take one of the complimentary ferries across the IJ river, from Amsterdam Central Station. For quicker journeys by road, download Uber or the Bolt app.
Eat this
Besides the extensive assortment of Dutch cheeses and glorious thick-cut fries with heaps of toppings, there are plenty of snacks to try while wandering around the city.
Frikandelbroodje: a savoury puff pastry roll with frikandel (type of meat that's shaped like a sausage) and curry sauce. A popular Dutch snack, it's best eaten warm. Available at supermarkets across the city.
Stroopwaffel: a wafer waffle made from two thin layers of baked dough with a caramel filling sandwiched in between. Try the freshly made version at Albert Cuyp Market; Van Wonderen or Lanskroon.
Poffertjes: small, fluffy Dutch pancakes made with yeast and buckwheat flour. Have it served with powdered sugar and butter at De Vier Pilaren (Stadhouderskade 11, 1054 ES) and Café de Prins.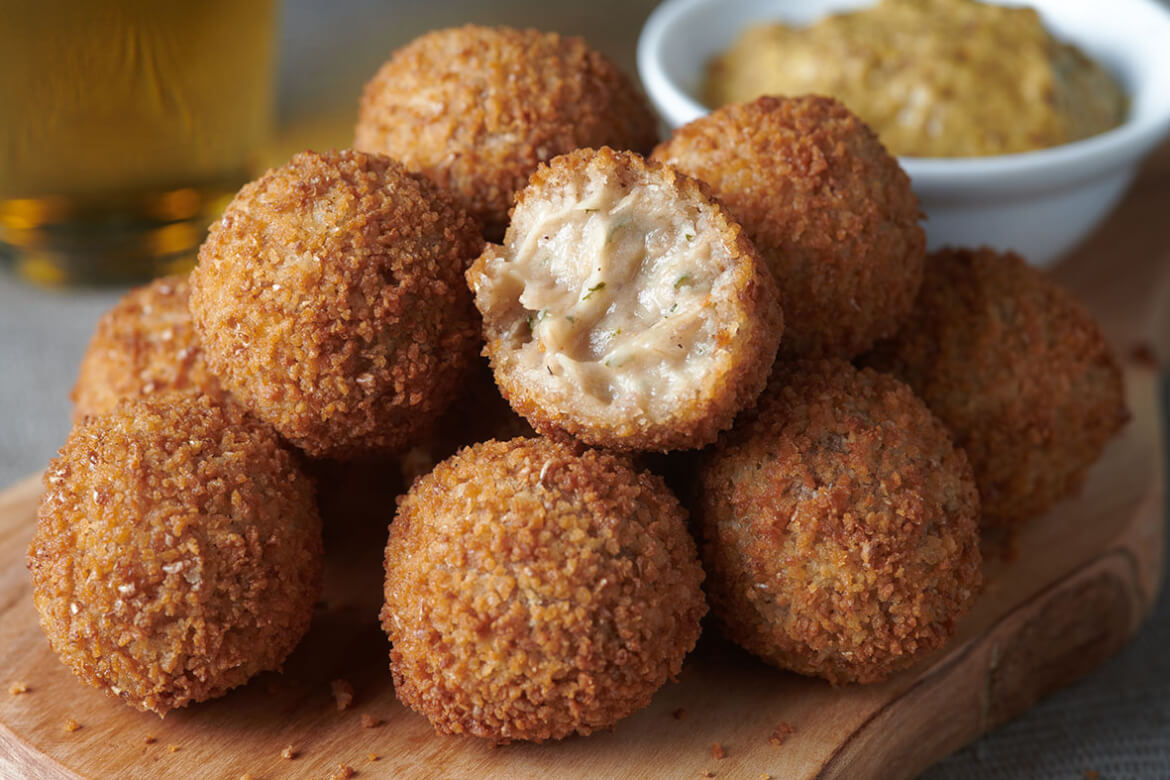 Bitterballen: deep-fried crispy balls with a creamy meat filling. These are best eaten at a Dutch pub and can be found at most eateries.
Raw herring: served at fish and seafood kiosks and shops across the country, this fatty fish is eaten with onions and a slightly sweet pickle. Ask for broodje haring if you'd like the raw fish in a bread roll.
Kibbeling: these battered and deep-fried fish pieces are usually served with herb mayo or tartar and lemon. Try it hot, after the herring.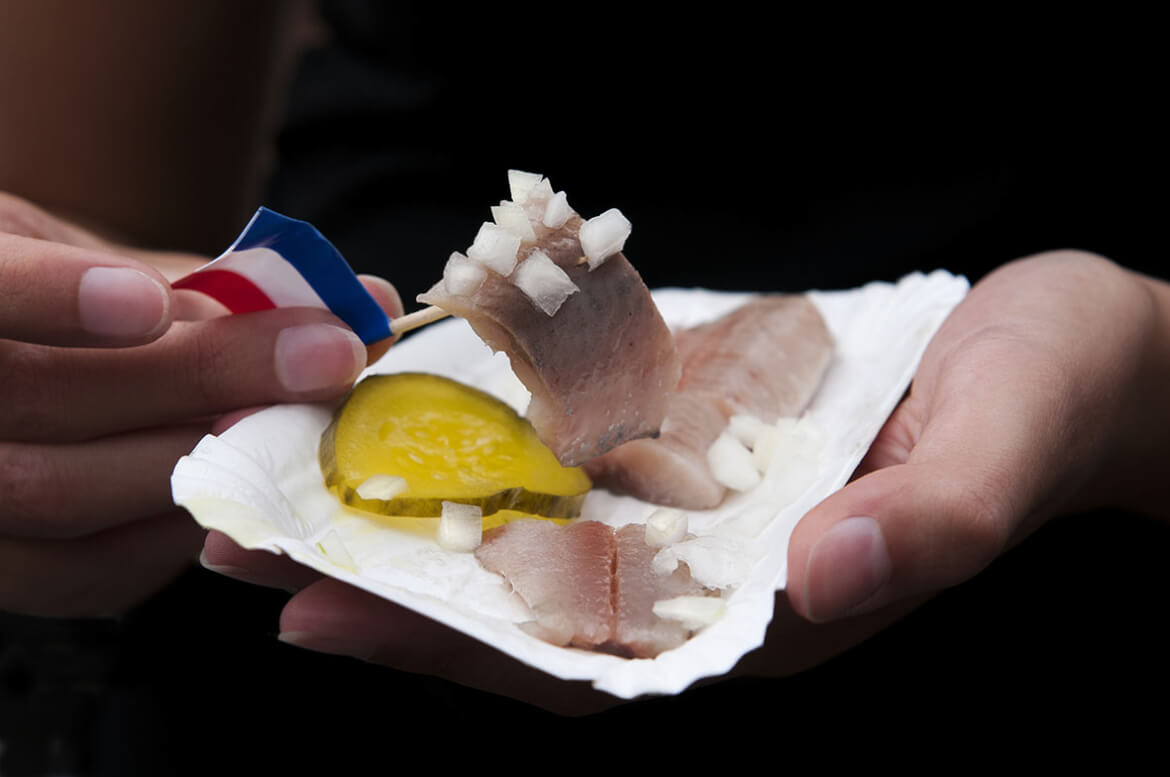 Croquettes: you will spot FEBO across the city. Head to one for everything from hamburgers to beef and cheese croquettes, displayed behind little glass doors in a vending machine.
Ontbijtkoek: a ginger cake that's sold in loaves at local bakeries and supermarkets. Usually eaten at breakfast or tea time.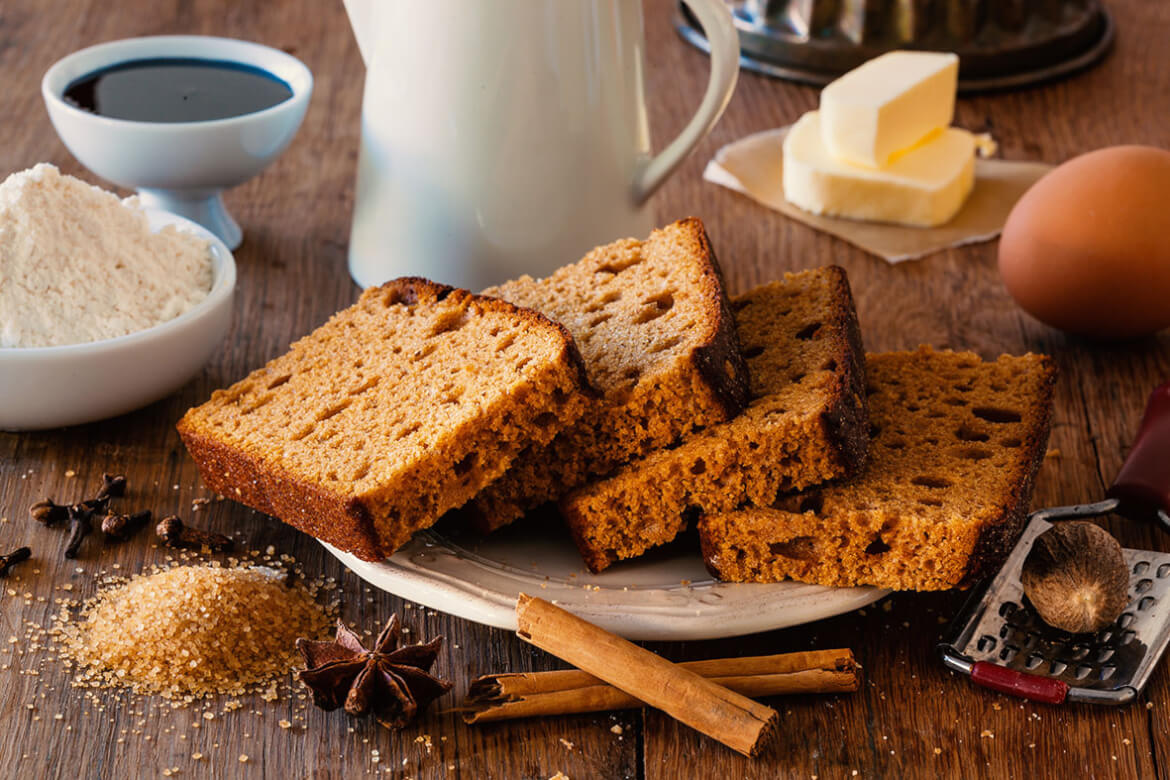 Stampot: a traditional Dutch staple that comprises mashed potatoes with veggies. It usually includes variations with sauerkraut, carrot, onion or kale, served with sausage. Visit Moeders Restaurant.
Liquorice: Dutchies love their salty black 'drop' that's also available in cola, salted caramel, sherbet and more interesting flavours.
Tompouce: cream-filled rectangular pastry with pink icing on top and a cream-filled centre. It's a messy sweet treat but oh-so-delish! Available at local supermarkets and bakeries.
Kapsalon: a fast-food dish created in Rotterdam, consisting of a sizeable portion of French fries topped with doner, shawarma or gyro chicken/meat, melted Gouda cheese, a layer of shredded iceberg lettuce, garlic sauce and spicy sambal. Available at Turkish restaurants and Eetuhuis (snack bars).
Dining Experiences
The city is home to eight one-star and two two-star Michelin star restaurants that are also worth a visit. For a special meal, dine at these three hotspots.
Indonesian Rijsttafel: The strong Indonesian influence on Amsterdam's food scene can't be missed! Order a rijsttafel (rice table), which includes small dishes from all over the Spice Islands, developed in the times of Dutch colonisation to allow colonials to sample dishes across Indonesia. Available at most Indonesian restaurants.
Restaurant De Kas: Nestled at an old greenhouse in Oost (East), the daily- changing menu features vegetarian dishes with 90 per cent of ingredients from the venue's surrounding gardens. The award-winning restaurant, which holds a Green Michelin star, 15 points in the Gault & Millau guide, and listed on the World's 50 Best Discovery list, showcases over 300 varieties of fruit, vegetables and herbs at The Garden, which guests are welcome to tour. Visit the website.
Foodhallen: This indoor food hall in the De Hallen cultural centre offers some of the best street food vendors and a spot of shopping. Visit the website.
Getting there
Direct flights from Abu Dhabi to Amsterdam Airport Schiphol are available via Etihad Airways, and from Dubai via Emirates and KLM.
Read our Autumn in Amsterdam: Travel Guide here.