Aman Venice tempers classic Venetian grandeur and sustainable haute cuisine with a relaxed, unassuming vibe
Tucked away on a discreet street-side entrance within the San Polo district, you won't realize you're at the Aman Venice until you take a closer look at the wall plaque by the entrance. With no flashing signs or grand entryway, this celebrity-approved stay – George and Amal Clooney tied the knot here at a star-studded ceremony – embraces a muted chic aesthetic, even though it's one of the eight monumental palazzos on the Grand Canal.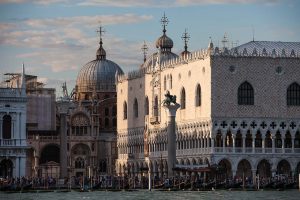 Formerly the late-Renaissance Palazzo Papadopoli, Aman Venice is housed in a 16th-century palazzo with elements from the past prevalent in the elaborate architecture, age-old Murano chandeliers, gilded mirrors, a grand stairway that leads to the Piano Noble, Rubelli silk wall coverings and 18th-century painter Giovanni Battista Tiepolo cherub-adorned ceilings. The historic library, perched on the fourth floor, boasts views of the Grand Canal.
A paradise for bibliophiles, it features majestic wooden bookshelves gleaming with books from Count Giberto Arrivabene Gonzaga's personal collection, and gold-leafed pages that lend a distinctive, nostalgic aroma. The private gardens – a rarity in this floating city – provide a welcome respite after a day of meandering through the narrow alleys of Venice.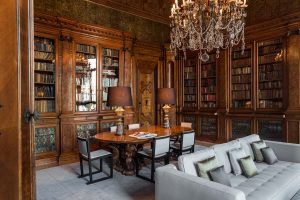 Centrally located, the palazzo is just a short walk away from Rialto bridge, Piazza San Marco and San Tomà, making it the ideal spot from where you can explore the romantic city and its hidden gems. Guests can arrive at Aman Venice by foot, or in true Venetian style, via a boat that docks at the palazzo's private jetty that paves the way to an opulent reception fitted with marble chequered flooring. Check-in takes place within the privacy of one's suite, making guests feel as comfortable as possible from the minute they arrive.
THE SANSOVINO STANZA
Featuring a remarkable 16th-century carved fireplace designed by Jacopo d'Antonio Sansovino (an Italian Renaissance sculptor and architect), wood panelling, a painted frieze, and a carved ceiling, this suite titled 'The Hall of Four Doors' is an open-plan space that comprises one large room featuring the living area complete with a desk, sofa and twin lounge chairs, a rotating TV, armoire with a complimentary in-room bar featuring Italian delights, and a king-size bed.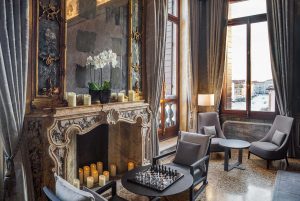 The bathroom with dressing area has everything you need, from soft robes, aromatic soaps and wooden hair accessories to Venetian-style room slippers. You're likely to spend most of your time in the suite, admiring the stunning fireplace, when you're not indulging in a hot soak while appreciating the partial Grand Canal views.
CULINARY OFFERINGS
Step into the opulent dining room of Arva, the palazzo's signature dining restaurant, adorned with frescos and paintings that hark back to centuries ago, that pays homage to Italy's rich culinary roots. The menu, curated by Executive Chef Matteo Panfilio, and enhanced by consultant and Michelin-starred chef Norbert Niederkolfer – hailed for his 'Cook the Mountain' philosophy that earned Restaurant St. Hubertus of the Rosa Alpina Hotel three Michelin stars – spotlights sustainable, seasonal produce, and fresh fish and organic meats from the Rialto market, the Venetian lagoon and neighbouring islands.
Diners are in for a memorable meal brimming with Italian flavours, executed with innovative contemporary flair. An exquisite pairing list complements each course, and impeccable blends are served to those who desire a nonalcoholic variation of their favourite concoctions. The warm, soft Potato focaccia with olives and Datterino tomatoes is hard to resist, but try not to fill up on it, as antipasti showcase crunchy Octopus on a bed of beans hummus, with nduja, red onions and a drizzle of thyme oil, followed by Spider crab ravioli doused in a moreish tarragon and gingerinfused broth.
A fine piece of seabass fillet is best savoured for mains, accompanied with roasted cauliflower cream and cabbage salad. Polish off your meal with mango topped with coconut foam, pineapple sorbet and a chia-seed tuille, or the divine chocolate tartlet with a decadent chocolate ganache and raspberries.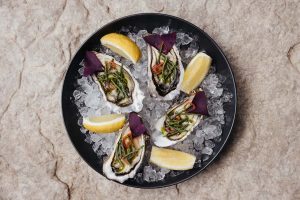 The Yellow Dining Room, adjacent to the ballroom, is where guests can relish an a la carte breakfast menu. Highlights include classics such as the Lobster benedict on a steamed English muffin, Avocado toast and a spicy Thai omelette with spider crab, for savoury options. Delectable, sweet treats include Cinnamon French toast with banana and walnuts, Pancakes with Chantilly cream, and an assortment of croissants and homemade marmalade, alongside usual suspects such as granola, oats and fresh fruit.
A MEMORABLE AFFAIR
Aman Venice offers a plethora of experiences, from chef-led tours of the Rialto market to discovering the Italian adventurer Giacomo Casanova's childhood home and rowing the Venetian way. One to book is the Sunset Aperitivo private Aman boat that sails along the Grand Canal, passing through the winding waterways, taking you out into the Venetian lagoon where you can take in the enchanting sunset while sipping on bubbly accompanied by cicchetti (Venetian finger food).
BOOK NOW!
Room rates from $1,455 (approximately AED5,340) per night. The Sansovino Stanza is available from $4,000 per night inclusive of a full American breakfast for two and mini-bar (including all beverages). Visit website.