Kandima Maldives is unlike any other island resort in the archipelago. Sure, it has that castaway feeling that allures visitors for a tranquil retreat, but beyond the wellness aspect, it's a lifestyle destination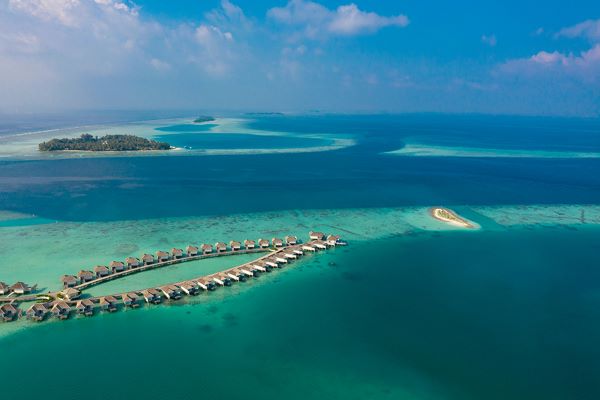 Kandima is best portrayed as a 'kool' escape coupled with adventure and rejuvenating experiences, making it apt for honeymooners, families, water sport-lovers and those who want a one-of-a-kind holiday curated to suit their needs. Sited on the Dhaalu Atoll, surrounded by a large natural lagoon, Kandima Maldives is a scenic 45-minute seaplane journey from Malé, followed by a quick boat ride to the resort.
Our dreamlike stay on the island began as we set foot on the jetty and made our way towards the long stretch of soft white sand, flanked by the pale blue lagoon and ocean. Verdant landscape heaving with palm trees and bougainvillaea line the path as you meander through the family infinity pool, cafés, restaurants, spa, art studio, boutique, and the adult pool complete with a swim-up bar.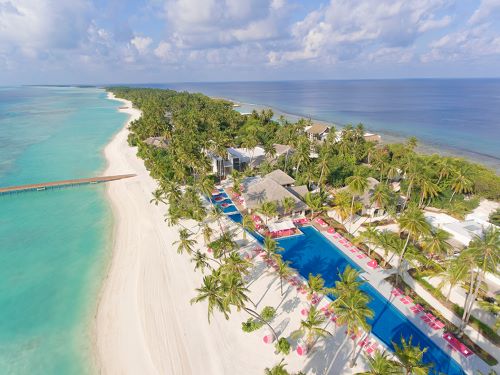 Day 1
Our first stop on the island was the bike rental shop to pick up our mode of transportation for the duration of our stay, followed by a stop at Aquaholics water sports and dive centre for snorkelling gear. A slight breeze greeted us as we biked south to our Aqua Villa with Swirl Pool, admiring the blue waters as we rode through the expansive jetty with overwater villas.
The contemporary chic villa designed in ocean hues, opens to the bedroom and comfortable couch, facing the private deck with swirl pool, sun loungers and a ladder with direct access to the lagoon. Tempted to explore the reef with our snorkelling gear, we opted for a hot soak instead, appreciating the serene view of the sea from the floor-to-ceiling windows by the tub.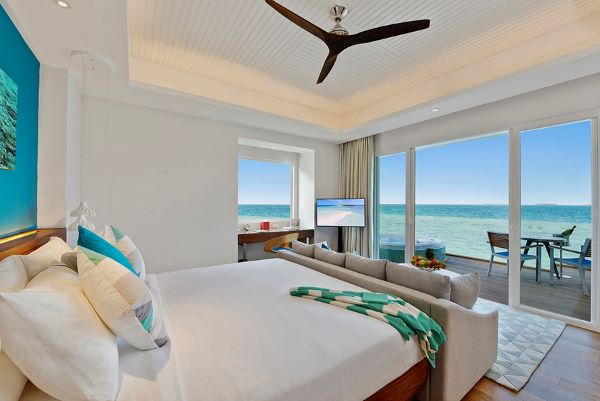 What's great about this villa option is that it includes a complimentary stay for two children, 30-minute complimentary photo shoot, 24-hour check-in and check-out service and special benefits for honeymooners. Since we tied the knot a couple of days before the trip, we were treated to a bottle of bubbly and chocolate upon arrival.
Additionally, the villa features a 40-inch LED TV, typical hotel facilities (mini bar, hair dryer and a coffee machine) and aromatic, all-natural bathroom amenities.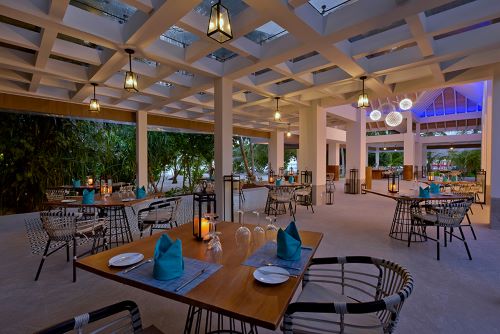 When the hunger pangs kick in after a swirl pool session and swim, hotfoot to Smoked restaurant, which offers a BBQ lunch comprising an extensive salad bar, grilled crustaceans, fresh fish and spiced meats with an assortment of sauces and sides. End with the cooling homemade mango ice cream.
Jaded travellers may be in dire need of a relaxing massage. The lush, open-air esKape Spa boasts soothing tones of white with lush greenery. After quenching our thirst with a refreshing ginger drink, we were taken to a sea-facing treatment room for the Healing aromatherapy massage. With a gorgeous sight and the sound of waves lapping against the shore as the backdrop, we were eased into a state of languor, as the masseuse released tension in the upper back and shoulders, with long sweeping movements. Getting deep into stiff areas that required focus, the desired medium-strong palm pressure was on point, allowing our bodies to be restored.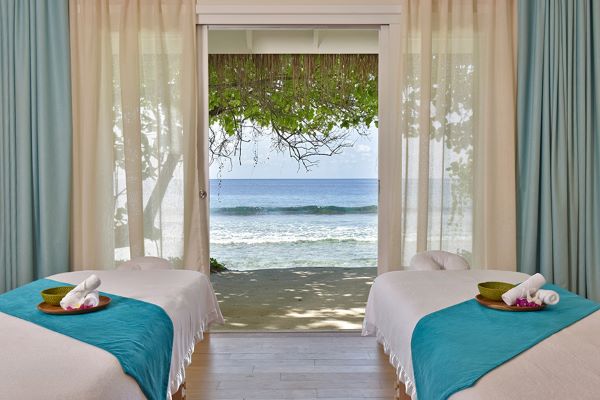 After an hour, we headed back to the lounge to prolong our Zen with tea, on a day bed facing the ocean. Sundowner hour takes place at the quirky Beach Club UFO, on the waters. Book this memorable K'Experience with friends, or your significant other, and enjoy bubbles and bites as you take in the enchanting sunset. Around dinner time, take a stroll or hop on a bus (stations are plonked all around the resort with services every 10-15 minutes) for a beachside dinner at Azure, presenting a Mediterranean spread set by the ocean.
Expect an intimate ambience with beach lanterns as you whet your appetite with grilled octopus and a mezze platter followed by a generous portion of delectable lobster linguini and the fresh catch of the day, local reef fish from the waters of Dhaalu Atoll. The scrumptious chocolate olive oil cake is the perfect ending to a lovely meal.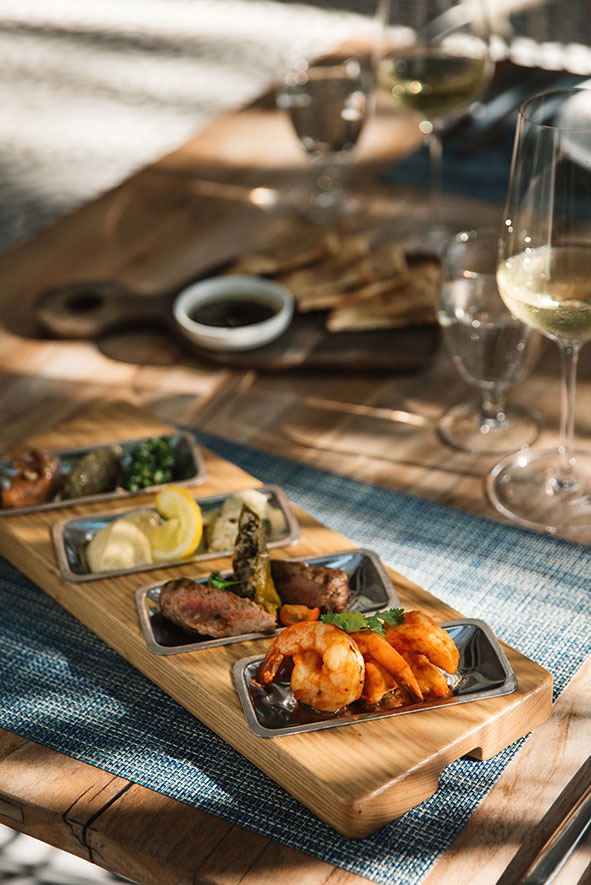 Day 2
Kick-start your day with fresh orange, mango or guava juice, before you peruse the widespread breakfast offerings at Flavour. Catering to a varied palate, the buffet comprises the usual suspects of oats, cereal and pastries, including gluten-free options, and a cold room offering cold cuts, cheese, fresh fruit, muesli and parfait puddings.
The hot counter offers Pan-Asian specials such as fish balls, dumplings, noodles and more, alongside Middle Eastern dishes such as shakshuka and foul medames. Dosa and uttapam (savoury Indian pancakes with onions) are made on the spot, to be enjoyed with curries, chutneys and sambal. Try the seafood curry with fresh coconut roshi rotis (coconut flat bread), paratha or idlis.
Over at the egg station, you can get omelettes and special egg-based creations, best eaten with bacon, sausage and mushrooms. And if you're interested in trying an array of honey, head to the curated corner for honey infusions as a drizzle on granola, pancakes and waffles. The infinity pool is located right in front of the breakfast venue, so do take along a book and sunscreen for a sunbathing session right after.
If you prefer a post-meal stroll, the beach stretches to the eastern coast, where you can find a deserted island and occasionally spot pups (baby manta rays) in the shallow waters. A more immersive sea life experience is the Turtle Quest, where guests are taken out to sea to get a glimpse of underwater life. We were mesmerized by the fish in colours of electric blue and yellow and swam far out to observe tropical reef and unknown species – whose names we learned later on the boat.
Angel, banner, parrot, and butterfly fish were some we spotted, alongside a turtle in the far distance. With a few hours left to unwind before our next experience, we rode to Beach Club for fruity concoctions at the adults-only pool. Kandima offers a curated beverage menu that's available across all F&B outlets, so if you find a Kool Kandima signature drink you like, you can have it while dining, by the pool and beachside. Our favourites were the Kiddingly (with passionfruit and bubbles), Kanny (with mango infusions) and Kooky (blended with coconut, banana and pineapple juice).
Just before sunset, we met with our fitness instructor for Hatha Yoga on the beach. The slow pace and controlled breathing and stretching movements were a stimulating experience even for a first-timer, my partner. By the end of our practice, we were thrilled to have completed a couple's activity that encouraged mindfulness.
Having skipped lunch, we were famished by dinnertime. A romantic tepee tent, on Smoked beachfront, allowed for an intimate dinner for two. Maki rolls and nigiri were served before the generous Ocean platter starring grilled lobster, charred prawns, octopus, mussels, scallops, squid and fish fillet. Each piece was juicy with the right amount of smokiness and paired well with the rice, sauces and roasted veggies.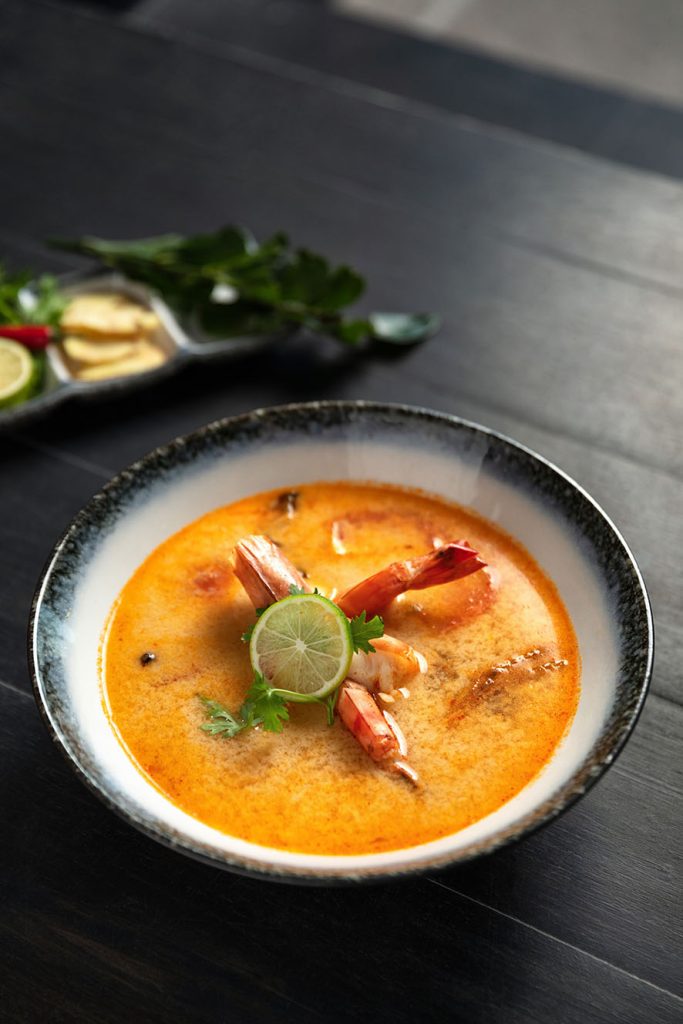 Not ready to call it a night after dinner, we made a beeline for Breeze Bar, showcasing white walls, pops of pink in the décor, shisha and our favourite concoctions from the signature menu. Maldivian band, Kabans, liven up the mood on certain evenings – when the DJ isn't on decks – and we were lucky to catch a show as they performed old-school hits.
Day 3
To experience another accommodation offering at Kandima Maldives over the next two nights, we relocated to the stunning Ocean Pool Villa that's semi-beach and semi-over water. Unrivalled views of the Indian Ocean meet your eye as you enter, from your private pool and a deck that's spacious enough for an al fresco gathering.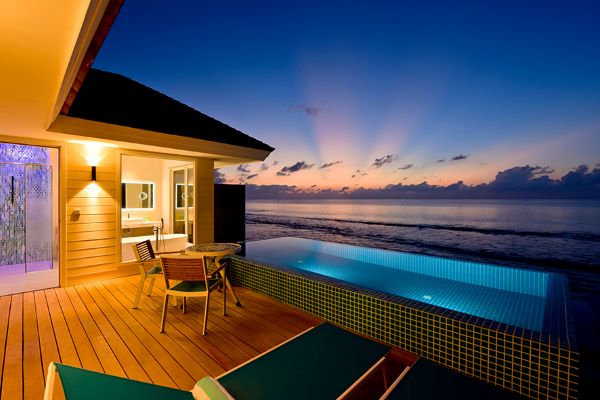 Excited for our next set of adrenaline-fueled water activities, we went parasailing and admired the picturesque bird's eye view of the resort. The feeling of being high up in the air is surreal. Don't forget to take along your GoPro, or borrow one from the Aquaholics centre. If you're feeling peckish around lunchtime, pizza, burgers, sandwiches and grills are available across the resort. We highly recommend a visit to Azure for something more substantial, in a chic beach house setting.
The Mediterranean eatery with Greek flair serves excellent grape from their cellar alongside plates of fresh Mediterranean yellowfin tuna ceviche mixed with yogurt and chilli, and a wholesome Beef cheek stew "Giouvetsi" of succulent meat complemented by flavoursome orzo and a light saffron foam – a comforting dish I'd love to recreate at home. The airy Mille-feuille creamy custard 'Galaktompoureko' is one not to be missed.
To explore more of the lagoon, we hopped on a transparent kayak and navigated the waters around the island. Another experience that allows you to take in the vistas, is jet skiing. For the last water sport, we tried the seabob, a powerful watercraft that's controlled by four power levels. To dive deep under the surface, you lay on the seabob, apply a little pressure to accelerate the craft and press your body against it to go under with speed. This was one of our favourite sporty adventures!
The ultimate sunset experience has to be a private cruise with bubbly, where further out in the ocean, you can spot dolphins and marvel at the sight of the orange and pink-tinted sky at dusk. Back at Smoked, this time around we had to try dishes from the custom-made parrilla grill and homemade giant smoker – what it's renowned for.
An al fresco dinner under the stars, the meal commenced with tacos filled with grilled chicken, pico de gallo and guacamole, as well as a fresh shrimp avocado salad and nourishing bowl featuring beetroot, walnuts and feta. Mains included a perfectly grilled Iberico chop with apricot glaze and fresh local fish. You can also find premium cuts of steak, burgers and the protein of your choice.
Day 4
What's a visit to the Maldives without the traditional floating dining experience? We were treated to a sumptuous local lunch in our villa's private pool – ideal for those who want to laze around in the comfort of their villa while savouring an authentic meal. The wicker basket, placed on a float, held bowls and plates of tuna cutlets with potato, tuna salad with spinach, tuna and pumpkin salad with coconut, chicken curry, prawn curry, a delightful Maldivian chilli paste with a pungent kick, rice, parathas and roshi roti. The float is meticulously put together and features a fruit platter and coconut-based pudding
for dessert.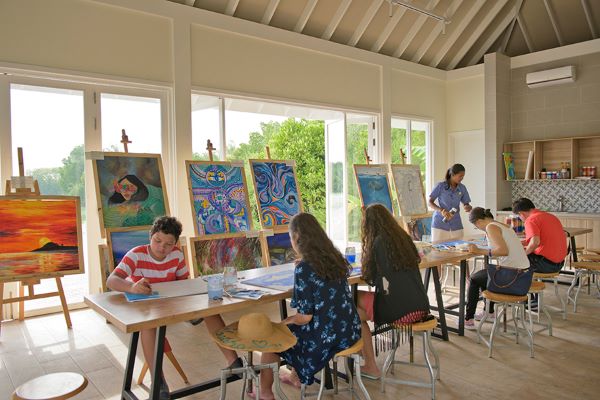 One of the cosiest nooks on the island to while away with a good read, is the serene deck at Aroma Café. Perched over a natural lake, this café is a must for their exquisite slow-drip coffee and bite-sized cakes, macarons and pastries. A few steps away, Kula Art Studio's resident artists guide you in unleashing your creativity. Our friendly guide demonstrated paint strokes, assisted with colour mixing, and let us take charge as we sipped on fine grape while painting.
A therapeutic, bonding experience, an art class is a great way to explore other creative outlets. We were impressed with our skills and took home our art to frame. You can also purchase paintings from local artists at the Studio. The place to dine at the night before you depart –especially if you're looking for a memorable dinner to commemorate the end of your holiday – is the opulent Sea Dragon.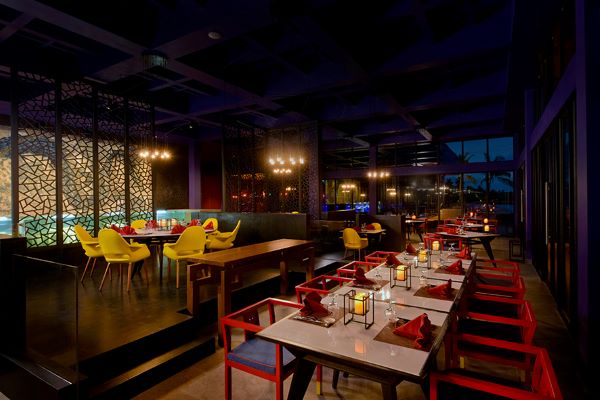 The refined dining setting, inspired by the ancient architectural sights of the Far East, boasts glamorous décor elements and display tanks filled with freshly caught fish, live lobster and crabs. The terrace offers a slight breeze on cool summer evenings, where you can feast on epicurean delights such as Thai chicken satay marinated with curry spices, doused in a luscious peanut sauce, papaya salad with spicy notes, pan-fried chicken Shanghai dumplings, steamed BBQ buns, wok-tossed noodles, and Panang curry gai (chicken in a ground peanut and coconut milk gravy) served with steamed rice. The undeniable star of this meal was the lobster in a moreish Singaporean sauce with chilli and egg drop – you can choose from seven Asian styles.
The verdict:
Kandima Maldives presents a multitude of activities alongside an epicurean voyage for those seeking a lively, adventure-rich escape.
Getting there:
Kandima is in one of the farthest atolls in the Maldives and can be accessed via a seaplane. Travellers flying in from the UAE can head to the arrival zone, where a member of the Kool Airport buddies team will transport you to the domestic transfers lounge via a comfortable luxury vehicle. The lounge is a great space to unwind and offers refreshments and a selection of sandwiches and pastries. The resort transfer with Manta Air is incredibly comfortable, priced at $595 (approximately AED2,185) per person and $395 per child (between ages 2-11).
Book a Stay: 
Kandima Maldives offers full board and platinum all-inclusive meal plan packages. The Aqua Villa with Swirl Pool is priced at AED1,285 per night for two adults, and the Ocean Pool Villa starts from AED1,570 per night. Visit the website for more information.