A staple in every culinary enthusiast's toolkit, a high-quality non-stick frying pan can make all the difference in achieving perfectly cooked meals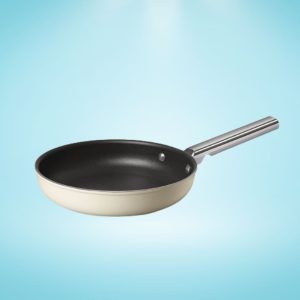 As technology and innovation continue to advance, we've curated a selection of options that cater to various cooking preferences, dietary needs, and design preferences.
Here are the non-stick frying pans to buy
Ninja Foodi ZEROSTICK frying pan
Crafted with durability and resilience, this non-stick skillet stands as a testament to its robust design. Furthermore, its versatility extends to being oven-safe up to 260°C.
AED274. Shop here.
Meyer Accent Series Ultra-Durable Chef's pan
Presenting an unconventional addition to our guide, this pan stands out with its wok-like sloping sides and substantial depth. Compatible with all types of cooktops, its hard-anodized aluminium construction, boasting a triple-layer non-stick surface, is complemented by a pair of ergonomically designed handles, thoughtfully shielded with silicone for enhanced comfort and grip. The pan's deep rim facilitates seamless and controlled pouring, adding to its practical appeal.
AED249. Shop here.
HexClad Hybrid Frying pan
While the notion of hybrid cookware is not a recent innovation, the HexClad series distinguishes itself by amalgamating not just two, but three distinct pan styles. Combining the attributes of stainless steel and non-stick materials, along with the unique requirement for pan seasoning, this range ventures into the realm akin to cast iron cooking traditions.
AED1,241. Shop here.
Smeg frying pan
Positioned as a premium choice, this non-stick skillet exudes a sense of luxury, highlighted by exquisite finishing touches and an elongated, robust handle that ensures both durability and ease of use. Its culinary performance is truly exceptional, boasting impeccable cooking results without any food adhesion. While being dishwasher-safe, the need for such cleaning is bound to be a rarity given its effortless cleaning properties.
AED465. Shop here.