Sponsored: Simplify your everyday cooking experience with LuLu's private-label products showcasing top-tier food items and delectable flavours. Explore the delightful aroma and flavoursome notes of our biryani recipe, perfect for your upcoming get-togethers with family and friends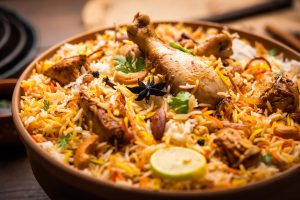 Chicken Biryani
Serves 4
For the chicken
500 grams Lulu chicken, cut into pieces
1 cup Lulu yoghurt (curd)
1 tablespoon Lulu ginger-garlic paste
1/2 teaspoon Lulu turmeric powder
1 teaspoon Lulu Kashmiri chilli powder (adjust to taste)
1 teaspoon Lulu garam masala
Lulu iodised salt, to taste
Rice
2 cups Lulu Premium Basmati rice, washed and soaked for 30 minutes
Water for boiling rice
2-3 Lulu green cardamom
2-3 cloves
1-inch cinnamon stick
1 bay leaf
Lulu iodised salt, to taste
Biryani layering
2 large onions, thinly sliced
1/4 cup mint leaves
1/4 cup fresh coriander leaves
1/4 cup warm Lulu fresh milk
A pinch of Lulu saffron strands
2 tablespoons Lulu pure cow ghee (clarified butter)
Biryani masala
2-3 Lulu green cardamom
4-5 cloves
1-inch cinnamon stick
1 bay leaf
1/2 teaspoon Lulu cumin whole
In a bowl, combine the chicken pieces with yoghurt, ginger-garlic paste, turmeric powder, red chilli powder, garam masala, and salt. Mix well to coat the chicken evenly. Cover and refrigerate for at least 2 hours, or overnight for the best results.
In a large pot, bring enough water to a boil. Add the soaked and drained Basmati rice, along with green cardamom pods, cloves, cinnamon stick, bay leaf, and salt. Parboil the rice until it's 70-80% cooked (grains should still have a bite to them). Drain the rice and set it aside.
Heat ghee in a heavy-bottomed biryani pot or a large, deep pan. Add the sliced onions and sauté until they turn golden brown and crisp. Remove half of the fried onions and set them aside for garnish.
In the same pot with the remaining onions, add the marinated chicken. Cook on high heat for a few minutes until the chicken changes colour.
Reduce the heat and add mint leaves, fresh coriander leaves, and saffron-soaked milk. Mix well.
Layer the partially cooked rice on top of the chicken mixture.
Drizzle any remaining saffron milk over the rice and top with the fried onions you set aside.
To make it a dum biryani, seal the biryani pot with a tight-fitting lid or aluminium foil. Cook on low heat (you can place a heavy pan under the biryani pot to prevent direct contact with the heat source) for 30-40 minutes. This slow cooking process allows the flavours to meld, and the chicken becomes tender.
Once done, gently fluff the Chicken Biryani with a fork, ensuring you don't break the rice grains.
Serve hot with raita (yoghurt side dish).