Sponsored: Experience the epitome of culinary excellence at the world's highest 360-degree infinity pool, where British Chef Craig Best spearheads an exceptional sharing-style menu with an Asian twist
Chef Craig Best embarked on his culinary journey in Bedfordshire before kickstarting his professional career at Gordon Ramsay Group in London as a Demi Chef de Partie. With an unwavering commitment to excellence, he subsequently worked with renowned venues including La Trompette, Michael Nadra Brasserie, Marcus Wareing, Gordon Ramsay Hell's Kitchen Dubai, and Jason Atherton's Social Company. Ahead, he shares one of AURA Skypool's standout creations, the Gochujang cauliflower popcorn.
Gochujang cauliflower popcorn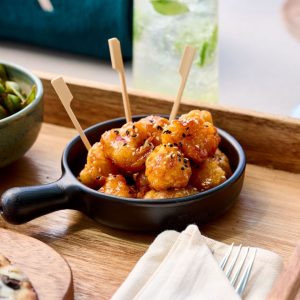 Serves 5
For the gochujang glaze
200ml sweet soya
50g sriracha
100g honey
250ml non-alcoholic mirin
75g gochujang paste
75ml sesame oil
2 garlic cloves
50g onion
5g sesame seeds
1 spring onion
For the batter
250g tempura flour
250ml cold water
1 cauliflower head
To prepare the Gochujang glaze, combine all the ingredients in a large saucepan. Bring the mixture to a boil, then reduce the heat to a gentle simmer. Allow it to cook on low heat for a duration of 30 to 45 minutes.

After cooking, use a hand blender to quickly blend the mixture and strain, then set aside.

Heat a pan of vegetable oil to a temperature of 180 degrees.

To prepare the Cauliflower popcorn, begin by trimming the cauliflower into bite-sized florets, approximately 2cm in size.

Create the tempura batter by whisking together equal amounts of tempura flour and cold water until the mixture is silky and smooth, ensuring there are no lumps.

Add the Cauliflower florets to the batter and evenly coat. Carefully place each floret individually into the hot oil and leave for around 2 minutes. Once cooled, fry again for another 60 to 90 seconds until crisp and golden. 

Place the popcorn in a deep bowl and pour over the Gochujang glaze. Garnish with sesame seeds and sliced spring onion.
AURA Skypool offers Gochujang cauliflower popcorn as part of its Lunch in the Sky and Night Brunch in the Lounge menus. For more information, contact +9714 566 2121. Visit website.