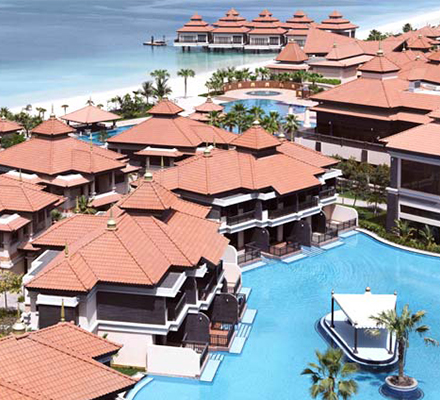 Where: If you're looking for a weekend escape but don't want the hassle of airport travel or Thursday night traffic out of the city, Anantara Dubai located on the East Crescent of Palm Jumeirah, is the perfect place to head. It's a resort that not only boasts stunning skyline views of Dubai and a fantastic range of varied F&B outlets – it's a trip to the beautiful surroundings of Asia– minus the long-haul flight. From the moment you arrive at the Thai-inspired property, expect to see classy little tuk tuks transporting guests from A to B, friendly front of house staff offering greetings in the renowned,traditional Thai way (gorgeously scented lemongrass towels and all), and the most awe-inducing flower display as you enter the lobby. With 293 luxurious rooms and villas on offer (including fabulous Maldives-style over water villas), you'll be spoilt for choice – particularly because the resort is build around an idyllic lagoon(AKA a very cool, giant swimming pool!), which you're able to swim into directly for most room balconies.
Facilities & amenities:
If swimming around the lagoon isn't enough to keep you busy, Anantara Dubai is set upon a 400-metre beach, where you'll find another swimming pool to cool down in. There's not only a club for the children, but also a separate pool, play area and teenagers club, plus two tennis courts, state-of-the-art gyms and a range of fun water sports available. Whilst the kids are taken care of, take a trip to the Anantara Spa, where you'll find European-style wet facilities, heated Ayurvedic tables, a Hammam suite, Thai massage suite and more to ensure optimum relaxation.
What we ate:
Taking our Thai experience to the next level was an evening spent at Mekong, the resort's Asian restaurant, which interestingly combines Thai, Vietnamese and Chinese cuisines under one roof. We kept things Thai, and enjoyed dishes including a flavour some green Thai curry, cashew chicken, a range of starters (including items from the pork menu), and my favourite to finish – mango with sticky rice. Mixing things up a little on the second night, we opted to transport down under for rustic Aussie fare at Bushman's Australian Bar & Grill. This was probably my favourite restaurant of the staycation. Offering a really welcoming, relaxing atmosphere, paired with chilled sounds of a live guitarist singing the likes of John Mayer, Ed Sheeran and Jack Johnson, the eatery is cosy and features a look-in kitchen. To eat, we shared a starter platter that allowed us to sample specials from down under, including seared Emu fillet, Eucalyptus smoked Tasmanian salmon, goats cheese and more. For mains, we enjoyed a meaty feast of Wagyu tenderloin and Kangaroo sirloin – it was an authentic experience to say the least. Other outlets at the resort include The Beach House,which is perched beach side, serving Mediterranean cuisine. For before or after dinner drinks or snacks, there's also The Lotus Lounge (a perfect spot to watch the sunset!), or alternatively the Mai Bar (Arabic for water), a swim-up bar where you're able to enjoy a wide-range of cocktails and mocktails. To kick-start the day, a midday snack, dinner, or an extravagant brunch on Friday's the Crescendo restaurant is Antantara's all-day international outlet, serving up delicacies to suit all tastes.
Best for: A relaxing, luxurious weekend away with your other half,family or friends.