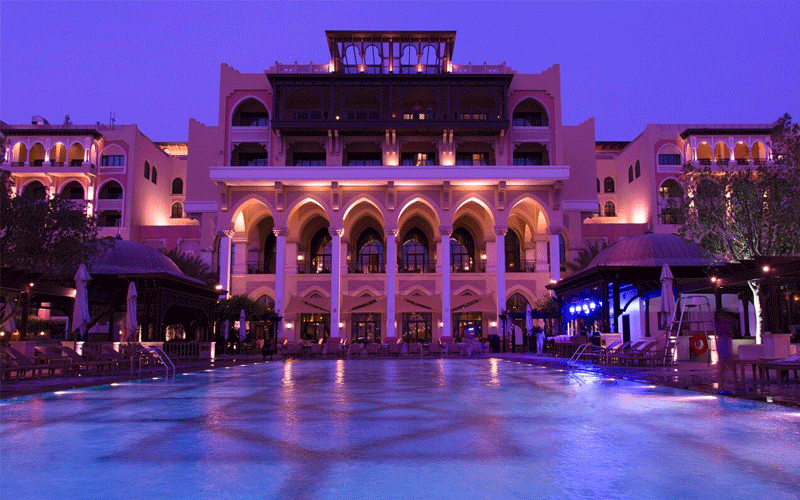 What's the hotel's character and style?
Situated on the bank of the Abu Dhabi Grand Canal, this 5-star beachfront hotel is a fusion of Asian heritage (the hotel chain is based in Hong Kong), local Arab culture and the 1930s novel Lost Horizons by James Hilton that coined the term "Shangri–La" (watch out for hints towards the era, such as the set of 1930s style telephones just off from the ground floor lobby).
Room highlights?
BBC Good Food Middle East stayed in a deluxe room. The standout feature was the large balcony (almost equal to the size of the room), which had fantastic views of the Grand Canal and Abu Dhabi Grand Mosque. Another notable feature was the large marble tub and flat screen TV in the bathroom. The room came with free WIFI and 24-hour room service.
What's the service like?
Despite the size of the hotel (there's 374 guest rooms and suites) the service was personal and punctual. Although no room service was ordered, the delivery of luggage and water took less than ten minutes, and all staff were friendly and helpful when asked for help navigating around the hotel.
Food highlights?
For dinner, BBC Good Food Middle East dined at Bord Eau, the hotel's French restaurant (the review can be found here). Breakfast was served in its Sofra bld restaurant, where you can dine al fresco during the cooler months. Highlights were the live cooking stations (chefs were on hand to cook beef bacon, beef sausages and eggs along with pancakes and waffles), and the fresh detox vegetable and juice bar. The hotel also has several other restaurants, including P&C by Sergi Arola.
Standout features?
The hotel's pool bar is open until around midnight, and is a hot spot for after dark drinks. Expect low-key lounge music, drinks and shisha against the picturesque backdrop of the canal and pool. Although under construction when BBC Good Food Middle East visited, the hotel also has a private canal running round the property, which when in use allows guests to travel on board a gondola to different parts of the hotel premises.
What facilities does the hotel have?
5 Restaurants & 3 Bars
24-hour Room Service
Health centre
Laundry
Parking
Pool
Beach
Spa
WIFI
Baby sitting services
One night's stay in a deluxe room costs around AED950 plus AED 117 per person for breakfast at Sofra bld. Shangri-La Hotel, Qaryat Al Beri, Abu Dhabi, UAE. For more information visit shangri-la.com/abudhabi/shangrila