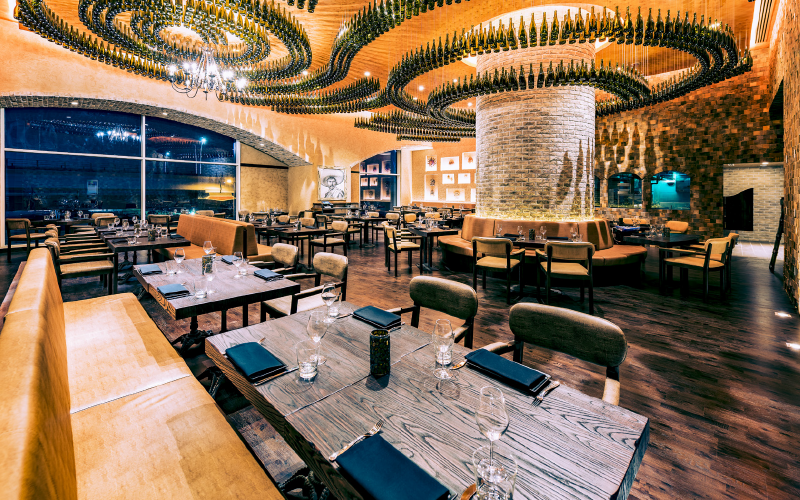 What's it like?
There's a new Mexican come Latin American eatery in town and it exudes authenticity. Zoco's interiors are impressive and eye-catching. The venue comprises a restaurant, cocktail bar and lounge, and although floor space is plentiful, the décor is successfully welcoming and warm. With upbeat Latin tunes playing the background and skilled barmen twirling cocktail shakers in the lounge area, Zoco is a place to come for fun – it's alive with spirit. Up top, the ceiling is adorned with glass bottles, gorgeously displayed in an artistic pattern, while rustic brick walls bring character to the outlet. We're told that during Friday brunch each week a Latin band gets the place moving, and I can imagine the atmosphere to be quite electric when the fiesta gets going. If visiting, I'd recommend requesting window seats that offer stunning views over the new Dubai Canal, where you'll see boats passing by and colourful lights dazzling through the water.
What are the food highlights?
We visited Zoco to experience the newly launched D'gustando menu, which is available every week from Sunday to Wednesday for dinner. Really reasonably priced, the six-course tasting menu allows you to enjoy a beautiful range of traditional Latin American dishes. To begin, a hearty bowl of smoked black bean soup is served and is one of my favourite dishes of the evening. It's not the most appetising dish to look at, but with just one spoonful, the burst of flavour from the thick, velvety soup is extremely good. It's packed with Mexican aroma and full of soul – the type of dish that left me seeking out an authentic recipe to whip up at home. Next up is a light quinoa Mexican salad with avocado and zesty orange – great for refreshing after the soup. This was followed by a tangy snapper ceviche toastada with radishes, avocado, burnt habanero, lime and pink shallots. After a playful serving of mango chili sorbet sorbet to clean the palate, the main of 'filete ranchero' came – skirt steak 'al punto' with chorizo, salsa roja, pickled cactus and charred spring onion. The meat was tenderly grilled, and the sauce offered a balanced kick of heat. To round up the experience of exciting flavours came an incredibly mouthwatering dish of deep fried sugar-coated churro doughnuts with hot chocolate dipping sauce. It was as great as it sounds – crispy on the outside and moist, warm and soft on the inside.
How was the service?
Service was prompt and thorough. If you have queries about the dishes, the restaurant's head chef Jimmy Rojas Lopez is the man to request. He's on hand to answer any questions and is so passionate about the food he serves, which really adds to the experience.
The bottom line: A great casual spot for catching up with friends of family over an authentic meal.
Details: Priced at AED 200 for a 6-course menu and AED 250 with grape pairing, the D'gustando menu is available Sundays to Wednesdays from 5pm. For reservations call 04-4370044 or e-mail reservations@zocodubai.com.