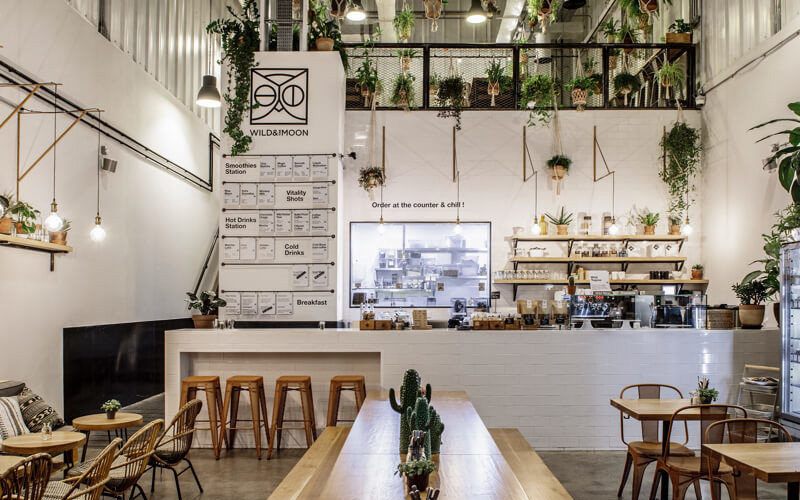 What's the concept?
Situated in Dubai's art hub Alsercal Avenue, this hip health food café was launched by Emma Sawko (the entrepreneur behind Jumeirah's health café Comptoir) and vegan chef Sati Faulks last year. The pair describe the quasi-vegan café as committed to food that's "not only good for you, but good for the planet and above all delicious."
Food highlights?
The menu is largely vegan, and all ingredients are organic, gluten free and most are dairy free – so there's plenty of tasty options on offer for both health foodies and those with food intolerance. The wild dhal super bowl, tomato and beet foccaica, pumpkin and carrot soup and avo toast are all delicious and worth a try. From Wild & The Moon's cold press juice collection "The Tiger" (which promises everlasting stamina) and "Easy Green" (with the tongue-in-cheek slogan "bottle of youth") are equally tasty. For dessert, try the yummy guilt-free chocolate truffles, made with walnuts, cocoa butter, coconut oil, cocoa powder, dates, vanilla, almonds and sea salt.
How was the service?
The staff at Wild & The Moon, are all health food enthusiasts and can easily discuss and recommend items on the menu. When BBC Good Food Middle East visited, service was quick, with staff even going as far as to help guide lost guests to the venue in the Google-map adverse neigbourhood (the easiest way to the café is taking the first right from the "Alserkal Avenue" lit up sign, then the first left).
What was the atmosphere like?
it's easy to see why Sawko and Faulks chose Alsercal Avenue to launch their new health food café. With an open plan design and white wash walls covered in tropical plants, Wild & The Moon would blend in effortlessly in Melbourne's trendy Fitzroy district or Brighton's Lanes. When BBC Good Food Middle East visited the café was half full of groups of friends and people dining alone, taking advantage of the good Wi-Fi and delicious bulletproof coffee.
Details: A meal for two costs around AED 250. For more information visit Wild & The Moon.
Email contactdxb@wildandthemoon.com or call + 971 4 343 3392. Wild & The Moon, Unit #77, Alserkal Avenue, Dubai, UAE.