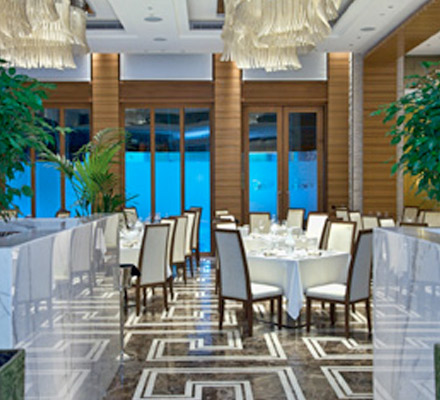 What's it like: Marco Pierre White's name on the door is what may have drawn people to this restaurant at first, but it's the food that will make them keep coming back. Keeping it simple on the décor front, with classic white linen, marble bar counters, and a nod to the seafood theme in the wave-like ceiling fixtures, the restaurant offers a sophisticated ambience.
The refreshed summer menu features a variety of seafood of course, but a range of meat items to satisfy non-fish lovers too. I opted for the roast quail breast and leg with hazelnut and young leaves for starters – and thoroughly enjoyed the tender, melt-in-the-mouth meat. My partner couldn't resist the marinated burrata and tomato tart which was polished off in minutes. For mains, I went with the oven baked cod and pepper coulis and sauce grenoble while he chose the corn fed chicken with creamed cabbage and thyme jus, and we shared two sides of parsley new potatoes and dressed green beans. The fish was flaky and light, with the flavourful pepper coulis setting it off perfectly, and the chicken was juicy and tender, but the standout of the meal was the baby potatoes! So deliciously sweet, you just know it is seasonal and fresh, lightly tossed with parsley – I could have just eaten that and gone home happy! Just goes to show how tasty simple food done well, can be. In fact, I wish I had, as the summer pudding with berries which we shared for dessert, while fresh, was a bit too tart for my liking. That, and the service, which was a bit hit-and-miss, would be the only blips on my Wheeler's radar.
If you want to go: Around Dhs600 for 3-course dinner for two, without drinks. Call 04-3860899.
Best for: An elegant yet relaxed evening
– Sudeshna Ghosh