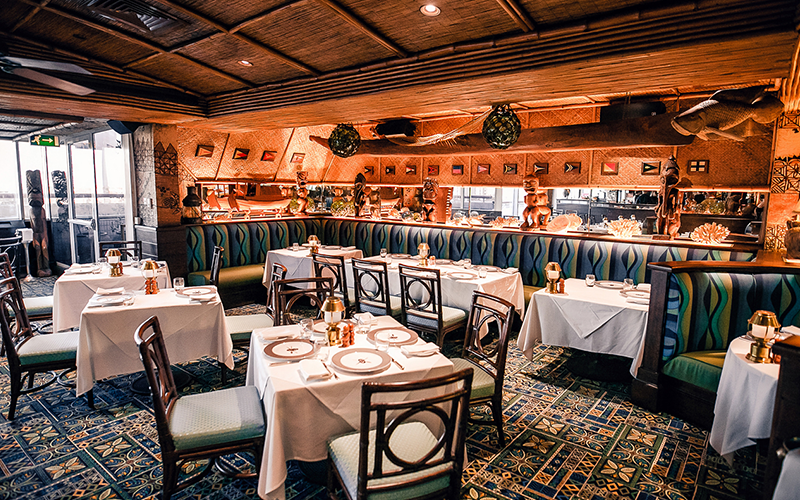 What's it like?
Step into a Polynesian paradise at the newly refurbished Trader Vic's at Crowne Plaza Dubai – the very first Trader Vic's to open doors in Dubai 22 years ago. Located on the third floor, the restaurant and bar is accessible independently from the road or via the hotel. Upon entering, prepared to be met with an exotic ambiance that's energetic and full of character and charm, with carved tribal masks and bamboo-style finishes throughout. The vibe is high-spirited, fun and instantly puts you in the mood to have a good time (dancing included, as the live Latin band livens things up after dinner). Home to international specialties and tropical cocktails, including the must-try famed Mai Tai, the offering at Trader Vic's sets the stage for a tasty culinary experience.
What are the food highlights?
Transported to an island setting inside the restaurant, it only seemed fitting to begin dinner with a sharing starter of 'cosmo tidbits' – the Trader Vic's original pupu platter (is a tray of American Chinese or Hawaiian food), which comes with succulent lamb ribs, crab Rangoon and beautifully crisp prawns. In addition, we shared a hearty serving of gorgeously fresh ahi tuna poke that offered a pleasant spicy kick. A special feature at Trader Vic's is the large wood-fired oven, which sees meats and seafood suspended for hooks and slowly cooked over a hardwood fire, which leaves the ingredient with a unique, smoked flavour. With this being a speciality, I opted for the wood-fired tenderloin, which was cooked to perfection and so full of flavour that I actually opted out of pairing with the side of peppercorn sauce. To wrap things up, the tableside crepe Suzette preparation was expertly performed and most certainly ended the experience on a sweet note.
How was the service?
Attentive but not overbearing. The team here are so passionate about the offering at Trader Vic's, and their friendly enthusiasm is endearing.
The bottom line: High-quality food and beverage, in a fun and relaxing atmosphere. Ideal for an upbeat night with your other half or a group of friends.
Details: Priced at around AED 250 per person for three-courses, without beverages. Call 800-276963 or e-mail fbreservations.cpdubai@ihg.om